Cellilux Glacier Mineral Gel: deep sea beauty secret
Don't I just look cool with this mask, kinda like Mystique in X-men? Well, the truth is there's no other way to look simply because I can't talk or smile with this much of clay on my face! You won't know it but I also smell like I've just emerged from some underground base in British Columbia, Canada, full of glacial clay. Not smelly mind you but just earthly…LOL! And the clay is supposed to be quite ancient, as they came from glaciers that formed and melted over 10,000 years ago. Ha!
Removes impurities & toxins from deep within the skin
Okay, what really happened is that I had the luxury of using the high-end, spa grade Cellilux Glacier Mineral Gel containing glacial clay with the highest concentrations of the most important trace minerals on earth. These minerals are stated to have a negative ionic electrical charge which attracts positively charged impurities upward through the deepest layers of the skin so they can be eliminated. With the combination of the highly mineralized clay and the glacial water, this mask is really an exfoliant to remove the dead and dry skin cells from the surface of our skin. How it works is that the ingredients in the mask bond to the impurities and toxins hiding deep within the skin and as the gel dries and contracts itself away from your skin, it removes all those impurities and dead skin cells with it. So this is why this product has also been positioned to smoothen skin, lighten pores and help with acne.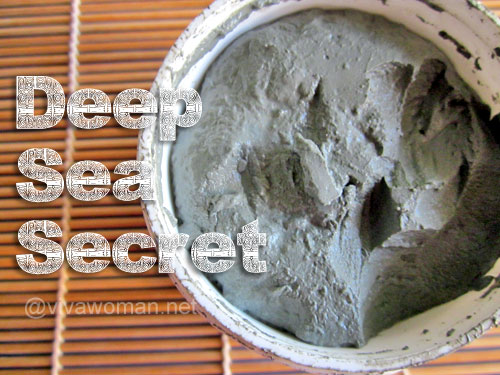 Cellilux Glacier Mineral Gel | 6oz
Ingredients:
Glacial Clay (Canadian colloidal clay), Glacial Mineral Water, Glycerine, Organic Açaí Fruit Extract, Organic Green Tea Leaf Extract, Lavender Oil
Ingredients
Expect a warm, tingling sensation upon application
Like any other mask, this one is easy to use. Just apply a layer covering your cleansed face, wait 20 minutes or so, and then wash off. However, what makes this mask different is the sensation it leaves on the skin. When I first applied this mask, I thought my skin was done for because there was a really warm, tingling sensation. It was the first time I've experienced such a sensation and I was alarmed. In fact, I thought my face would probably be burning red afterwards. Good thing though, my concerns were unfounded and my skin appeared just clean, fresh and most importantly, intact.
Skin appears smoother with less bumps
I started out using this mask frequently but it's now down to twice a week. I was told that I would see almost instant results on my neck and so I decided to take some before and after pictures just for records. I really don't see much of an improvement to the lines but what I'm seeing is an improvement to the skin texture. Now, I have these "goose bumps" on my neck and I'm not sure if they're keratosis pilaris; they've been there like since I was young. So what I noticed is that the skin on my neck has somewhat improved after using this mask for over a few weeks – the bumps appear lessened and the skin looks smoother.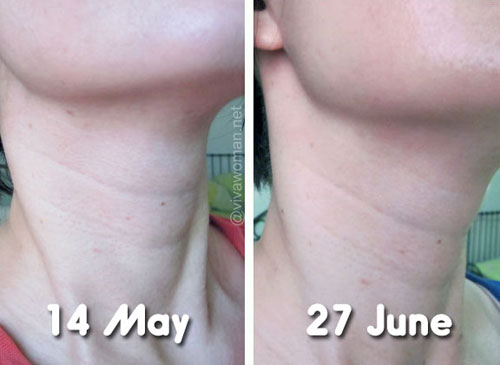 Immediate skin tightening sensation
Beside this mask, I've just been applying a serum to my neck region so I supposed the improvement can be attributed to the mask. As for my face, I don't see much of a difference except that it looks rejuvenated and feels less drying after each use. I understand that I should spray my face with chilled water but what I do is to rinse my face with Cell-Gen Activated Hydrogen Water. My face doesn't feel dry but there is always an immediate tightening sensation after using this mask.
Special Viva Woman pricing
I was sent this tub for a complimentary review. The original price is S$238 for the 6oz pot but it is available to Viva Woman readers at a special price of S$198 for a limited time until 31 July. This spa grade mask is not cheap but according to the company, the tub can be used for a minimum of 30 applications. Well, going by what I've used so far, I think that's true. I won't say this is a miracle product but it does have its merits and I actually like using it for the warm, tingling sensation. You can also read up reviews by other users at their Facebook page to get an idea if this product is worth purchasing. Most of the comments seem to point to the fact that their skin became smoother and cleaner after using the product. And if you're up to getting the product after reading, get it at the special Viva Woman price through this website (click through the link). The company is also offering trial packs at S$5 each and international readers may also visit the link to find out how to obtain the product if you're interested.

Comments