Day moisturizers with no SPF: is there a point?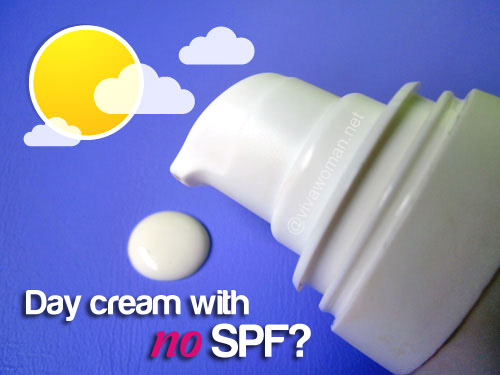 With so much focus on getting sun protection, I'm just not getting why we still see day creams or moisturizers in the market that contain no SPF. Seriously, what's the point? I think it's too much to get customers, especially those of us leaving in tropical climates to slather a moisturizer first, and then a sunscreen. If you ask me, I really think ALL day moisturizers should be made with some sun protection ingredients that offer at least SPF15, although I know many of you would prefer to see a higher number.
Sunscreens can double up as moisturizers
This is why I don't use a moisturizer in the day. It just doesn't fit into my daytime skin care routine as I much prefer to use a facial oil and then a moisturizing sunscreen. Although I've tried to use a moisturizer first and then a sunscreen, it's not something I like to do. In fact, back in 2008, I wrote an article about sunscreens doubling up as moisturizers and I mentioned that I don't use a day moisturizer but just rely on my sunscreen instead. It's been four years since and I don't see my skin condition aggravated because of this.
Using a sunscreen and a moisturizer might clog pores
As many of you know, most sunscreens can get somewhat heavy and so it makes little sense to slather on a moisturizer under it. Additionally, all sunscreens contain some amount of moisturizing ingredients and using two moisturizing products may clog the pores for some of us. I don't mind a face serum with a thinner consistency though. Like I wrote before, unless your sunscreen does not contain sufficient moisturizing contents, or your skin is extremely dry or if you're going through a winter spell, you might want to consider skipping the moisturizer especially if you feel your skin has been laden with too much stuff.
Is there a point for day moisturizers with SPF?
If you ask me, my answer is: they're pretty much pointless for me. While I do have a few day moisturizers without SPF in my stash, they're only there because they are products sent to me for review. If you read my reviews, you'll notice that I always mention that I did not use the day moisturizer for very long. The reason they're sent is because they're part of a product range. And most of the time, I end up using such products on my neck instead. If the moisturizer contains some impressive ingredients, I might consider using it in the night if there isn't a night moisturizer in the first place.
Your preference?
So how about you? I know some of you use a facial oil like me but some of you are using a moisturizer. Are you using one with SPF? Or are you using one without? If your day moisturizer is without SPF, I assume you slather your sunscreen over?
Comments