DIY Beauty: organic wax strips to rid unwanted hair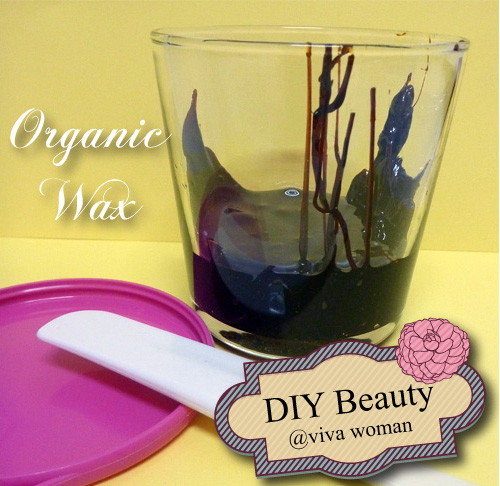 I believe the idea of waxing is no longer a novelty, as more young ladies are making an effort to visit waxing parlors either for that bikini wax or to remove excessive body hair. While the packages and prices in these waxing parlors can be quite steep and a deterrent for some, others could be avoiding such services altogether because they're just uncomfortable to have a stranger wax hair off their intimate body area. If this is the case for you, why not consider making your own affordable wax and have a do-it-yourself session at home then?
Traditional Sugaring Method
This method of waxing using mainly sugar is a traditional one, said to have been first used by the Persians. It is supposed to be less painful than the other waxing methods as the wax mixtures made from sugar does not stick to the skin but only grabs the hair, so that when you pull, it doesn't hurt or irritate the skin as much. Although it lowers the sensitivity incident for those with delicate skin, this may still vary for individuals.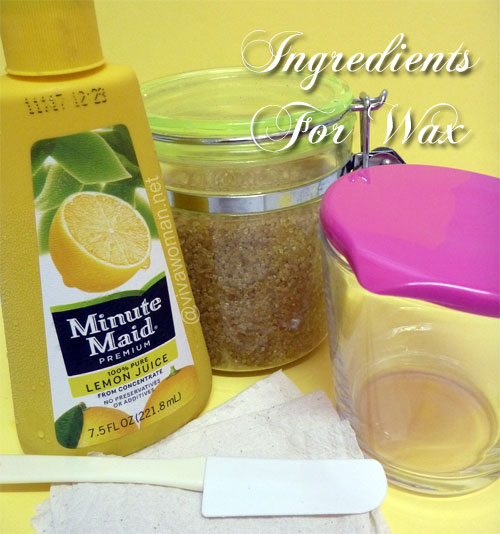 Ingredients needed to make the wax
Organic brown sugar (any brand will do. Or if you prefer to just use white sugar or non-organic sugar it's fine too.)
Concentrate lemon juice (if you prefer to use real lemon, you will need approximately the juice from half a lemon for bigger ones, and a whole lemon for smaller ones.)
A container that can withstand heat and can be microwaved.
A mini spatula or anything that you would like to use to apply the wax onto your skin.
Strips of muslin cloth that is cut up 4 X 2 inches (number of strips depend on how large an area you intend to wax. Cut more strips just in case.)
A cooking pot.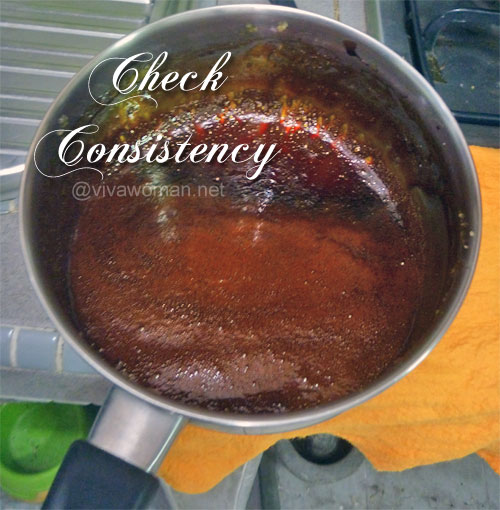 Instructions to make your wax
The amount of sugar depends on how big your container is. For myself, I used the volume of a soup ladle to gauge the quantity. I used two scoops of brown sugar and put it into the cooking pot.
Next, I added lemon juice that filled up ¼ of the same soup ladle. If you are making larger batches and you are using more sugar, always add the quantity of the lemon 1/8 to the total sugar you are using.
Add the same amount of water as the lemon juice you've added.
Now bring the pot to the stove and bring it to boil with low heat (important) and constant stirring.
I kept stirring for about 5 minutes after it boiled until it got to a golden brown with a gooey, honey-like consistency.
Just after it gets just a little bit darker than golden brown, it is ready to be taken out. Sometimes gauging by the colour alone is tricky because different sugar can look different in terms of colour after boiling. The best is to gauge by the consistency of the mixture. If it is sticky, thick and honey-like, it is done. It may be hard to get it right the first time, so don't be disappointed if you failed the first time failed as you can always try again.
Now pour the mixture into your container right away and let it cool in the container. You can use once it's cooled, but it is best to use it about a day later.
When it has completely cooled, all you have to do is put the container in the microwave to heat it up till it becomes warm, not hot because you are going to put this on your skin.
And then take it out, use the spatula to apply the wax onto the area you are going to wax. Do not cover a large area. Only apply to an area that your cut up muslin cloth can cover with allowance all around the sides. It is easier to wax small areas at a time than a large area at once.
After it is applied on your side, cover it with the muslin cloth immediately and wait till it has hardened or dried, and then pull the cloth out again the direction of your hair growth.
Repeat till you're done!

Storing and additional tips
It is important that you use a container that can be microwaved as the mixture when left in room temperature will harden and can't be used for waxing. So every time before you use it, you will need to microwave to heat the mixture up till it gets back to the gooey and sticky texture. I believe you can store this up to 2-3 weeks after making it, if you are using a good air tight container along with practicing good hygiene of using a clean spatula each time you use the pot of wax.

Give it a try yourself
This may be a good idea for those who are looking to try waxing without forking much from their pockets. Not only is it simple to make with ingredients easily available, it provides you the liberty of waxing yourself even for your private areas as long as you're able to tolerate the pain. The last time I tried giving myself a Brazilian wax, I felt like I've developed abs just from the bending, but it was a success nonetheless. Oh, and of course if you are thinking of a Brazilian wax for yourself, a mirror is very important! If you visit the waxing parlor regularly, why not give this DIY method a try? It is cost effective and for most parts, it's fun and that's what motivates me to want to keep this up myself.
Comments