Zip off unwanted hair with Parissa wax strips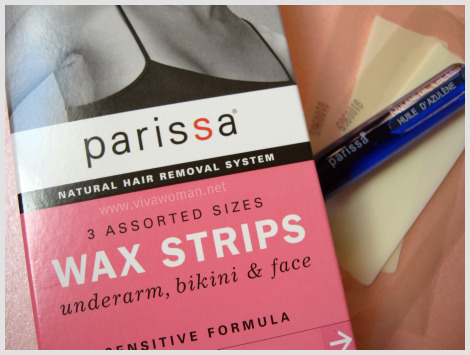 Last weekend, I finally got down to waxing my underarms with these wax strips sent to me for review by Parissa. I was a little hesitant since it's my first time trying and I wasn't sure what to expect. Anyway, I was more worried about the pain than anything else. But surprisingly, it wasn't painful and what I had initially thought was messy, turned out okay once I got the hang of it. The only problem I had was, my armpit hair were rather strong and resistant due to the constant shaving!
Available in 3 assorted sizes
This Parissa wax strips come in three assorted sizes for the underam, bikini and face. I used the big and medium sized ones and they worked pretty well to serve my purpose. Initially, I wasn't quite sure what to do and it took me a good five minutes to figure out how to actually used the strips properly. Once I passed that threshold, the rest was easy.
Anyway, because I was shaving my hair, I had to let them grow out to about half a cm before I could use these wax strips. All I had to do was to warm the double strip by rubbing them between my hands, separate into two strips and press on the area in direction of hair growth. Then I just zipped off quickly, keeping the strip as parallel to the skin as possible.
Do not apply strip on same area once
As indicated, the hair of previously shaved armpits tend to be strong and resistance and so I had to zip on the same area a few times before the hair were completely removed. That wasn't advisable as under normal circumstances, I should not apply strip on the same area more than once to prevent the skin from turning too pink and spotty. Lucky thing was, no damage was done!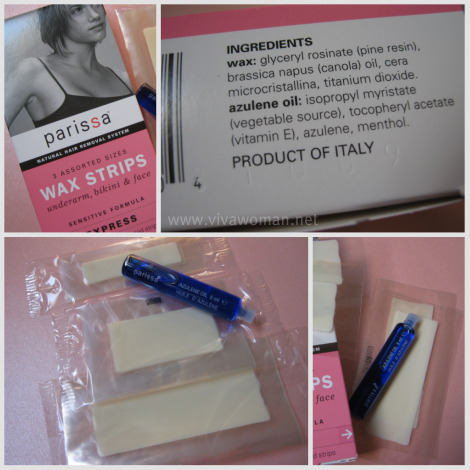 Wash wax with cleansing oil
I didn't plan to show you any before and after picture but I will say that the results were satisfactory. Although I didn't managed to get rid of 100% of the hair there, I managed close enough. And washing up was relatively fuss free. I used my Muji cleansing oil to clean up the wax and proceed to wash with soap before applying the Parissa Azulene Oil to prevent ingrown hair and boost skin cell regeneration.
I won't say my skin is truly smooth and soft but after four days, I'm still hair free. Apparently, regrowth can range from between two and six weeks depending on the individual. So meantime, I'll just wait and see.
Each box of Parissa wax strip kit cost US$12 and contains 24 Wax Strips (12 double-sided), 1 vial azulene oil hair inhibitor and easy to follow instructions. The ingredients are fairly natural and I didn't experience any irritation. There were also no unpleasant smell either so that's a plus for sure! If you're into DIY wax strips, I'll recommend trying these.  I haven't seen these in Singapore but you can purchase them via sprees on drugstore.com
Comments