Loving my hardy and macho looking Tungsten rings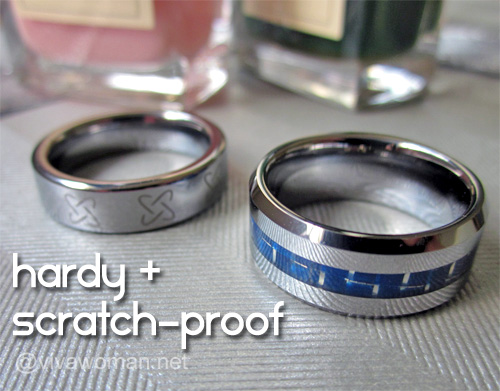 I first came to know about Tungsten Carbide rings in 2009 via the web and gauging by the various online discussions, it seems that such rings are a popular choice for wedding bands because they're less traditional looking. Anyway, I love wearing rings but I'm not good with them and tend to drop them excessively. So this material works wonderfully for me because it is hardy and scratch resistant. I've been wearing mine almost daily for a long time and they have withstand all sorts of knocking and dropping but I don't see any scratches at all. In fact, they still look brand new.
Back in 2009, the prices of Tungsten rings were three-digit numbers but I've noticed that they've been slashed tremendously since. However, the online retail prices can't seem to match the bargain I found at this little accessory shop, JoJo, located at Liang Court #01-19A. I did a double take when I first spotted it. Each ring was going at S$39 and they are the real stuff. However, the designs are rather limited and I was told they haven't been able to source for new ones thus far. Which is such a pity.
All in all, I'm supposed to have three Tungsten Carbide rings but I've lost my very first. The blue carbon fiber design is the latest collection. The design is very simple but it's pretty eye catching too. The other one has got some laser mark designs. I know the material isn't valuable at all but I really like the fact that this ring is scratch-proof and I can wear them any old how. Plus they do look fashionably stylish enough with most outfits.
Well, if any of you know of any cheap sources for such rings, leave me a comment because I'm really happy to amass more of them into my ring collection.
Comments