Soapwalla Kitchen: keeps you fresh & stink-free

HEY HEY HEY…guess which new brand is now in town? It's Soapwalla from New York, peeps! My armpits were literally tingling with glee when I learned that the brand is now available in Singapore at Poppiblue and they were shouting "HIP HIP HOORAY" in their inaudible tones! LOL. And the reason they're so excited? Well, because I had read some raves on the Soapwalla Deodorant Cream and my armpits know they need THE Brooklyn love.
Made to address sensitive skin issues
Yes, the creator and chef of Soapwalla Kitchen is Rachel, a Brooklyn girl who formulated the products under the range for her sensitive skin issues caused by lupus. So the Soapwalla organic soaps and body products are specifically designed to cleanse with natural ingredients without stripping the oils that our skin naturally produces. Soapwalla is also said to be made with organic and food-grade ingredients, never questionable additives such as sodium lauryl sulfate, parabens or harsh and synthetic ingredients. Additionally, all Soapwalla products are vegan, and are never tested on animals.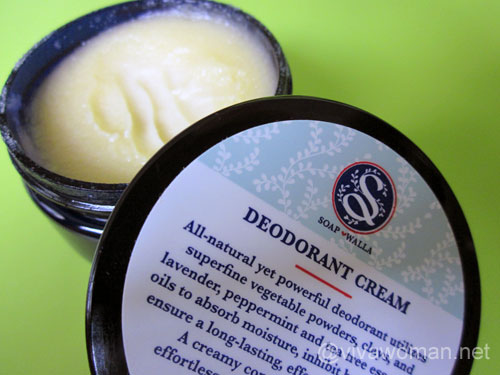 Soapwalla Kitchen Deodorant Cream | 2oz, S$21
Okay, the Soapwalla Deodorant Cream is described as an all-natural yet powerful cream that absorbs moisture, inhibit bacteria and ensures a long-lasting and effective stink-free day. This deodorant contains no harmful chemicals, petroleum, or aluminium. Instead, it is made up of superfine vegetable powders, clays, and lavender, peppermint and tea tree essential oils. The scent of the product is pleasant but the tea tree smell is detectable. I was actually disappointed to see the soft, balmy like texture because it meant I had to either apply it with my fingers or use a mini cosmetic spatula for the purpose. I was also concerned that the cream might stain my clothes. But it was nothing like that as the frosting-like consistency actually ensured quick absorption. Application was a bit of a hassle but I soon got used to applying the cream with a small spatula.
So does this deodorant work?
Those of you who need a deodorant know that testing a new product can be iffy. If it works, it's great but if not, your armpits are really going to stink like the pits for the entire day! Now the Soapwalla Deodorant Cream worked well for me on the first day, and then my right armpit started smelling a little on the second day. On the third day, I basically smelled like a sweaty teenage boy and I was darn conscious of it the entire day! And this means the deodorant cream failed big time isn't it? Well, not so. I know from experience that natural/organic deodorants can cause my armpits to smell worse then before for a day or two or three because it causes some sort of a detox there. Ha. Armpits detox! But after crossing over that stage, the deodorant will work effectively. And this is exactly what happened for Soapwalla Deodorant Cream! It's working extremely well for me now and I'm using it confidently on a daily basis with no fear of anyone fainting when they come near me.
However, do note that because this is a deodorant and not an anti-perspirant, so it means it does not keep armpits completely dry. Personally, I'll gladly continue using this product if not for the price. I do scoop quite a fair bit to ensure proper "armpit coverage" and so the 2oz is going to deplete really fast, definitely way before the 6 months it's due for expiry. I do wish that it cost lesser and also that it comes as a roll on. But as I was reading Alexandra's review, I noted her remarks that this product may not need to be applied daily as she managed to stay stink-free even after she stopped using this product for two weeks!
Ingredients
Organic jojoba, sunflower, and rosehip seed oils; shea butter; a combination of all-natural and gluten-free vegetable clays and powders; aluminum-free sodium bicarbonate; organic vegan kosher glycerin; a combination of organic lavender, peppermint, sweet orange, bergapten-free bergamot and tea tree essential oils.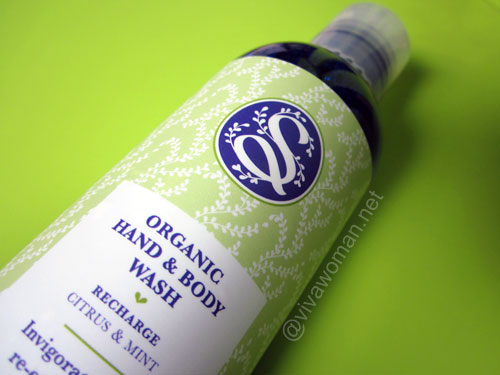 Soapwalla Kitchen Organic Hand & Body Wash | 8oz, S$31.90
Body washes are a favorite for me especially if they foam well enough and if they smell good. So this one kinda meet 80% of the mark in terms of both criteria as it lathers up but does not foam as much. I also have to say the scent is not overpowering but the citrus and mint combination does invigorate and re-energize my spirit. The good thing is, my skin did not feel dry after using the wash. Other than these, I don't really have too much to say about this product. I'm not giving this Soapwalla Hand & Body Wash a higher rating mostly because I find it rather pricey. I think the price needs adjustment as I'm not compelled to part so much for something that literally goes down the drain.
Ingredients
Certified by Soil Association that the product contains 81.98% organic ingredients – Water, Potassium Cocoate (derived from organic coconut oil), Potassium Oleate (derived from organic sunflower oil), Organic Vegetable Glycerin, Sodium Chloride (Kosher Salt)*, Tocopherol (vitamin E)*, Potassium Palm Kernelate (Potassium Salt of Palm Kernel)**, Palm Kernel Acid**, Potassium Citrate (Citric Acid), essential oils ( Citrus Sinensis (Sweet Orange), Citrus Paradisi (Grapefruit), and Mentha Piperita (Peppermint) *Certified Organic **Certified by the UK Soil Association to be free from harmful chemicals.


Availability & special promo code for Viva Woman readers
Other than products from Soapwalla Kitchen, Poppibleu has provided the team at Viva Woman with a couple more eclectic, hand-picked assortment of green products for a complimentary review. So expect to see at least two more brand reviews later in the week and next. Meanwhile, do take a look at the range of products from the Singapore-based online store as Poppibleu has extended a special promo code for 15% to Viva Woman readers. Just enter viva01 during checkout and the code is good till 22nd July. Oh, international shipping outside of Singapore is also available. So happy shopping!
Update: Poppibleu is no longer in operation. You can get Soapwalla at Living Naturally Co.
Comments