Filthy Farmgirl Soap: quirky bars for showering fun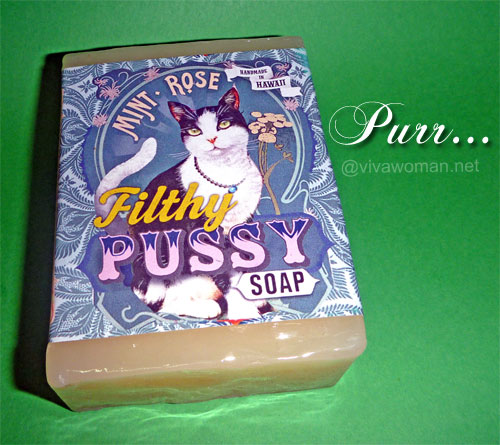 Usually I don't buy soap bars because they tend to dry out my skin easily. But this has caught my attention because of the tongue-in-cheek packaging. In fact, the design and color of these soaps are so pretty that I had to stop myself from trying to grab them all. And even though I've never heard of this brand before, I was glad I ventured to buy one to try because I've been hooked since my first bar and no other body soaps or washes will do for me now.
About Filthy Farmgirl soaps
Believing in being good to the earth and all things natural, Filthy Farmgirl is an eco-friendly company that started small by producing clean soaps with earth friendly ingredients. Being makers of soap for years now, they use 100% natural ingredients in their soaps and some are even self-grown and harvested. Filthy Farmgirl also supports local organic farmers along with their cause of only using clean ingredients in their products. Their soaps use no detergents, surfactants, sulfates, artificial scents, colourizers or petroleum products of any kind. The packaging labels on their soaps are also printed on 100% recycled paper.
100% natural ingredients
Here's a full listing of the ingredients: Saponified Coconut oil, Saponified Palm oil, Saponified Castor oil, Saponified Safflower oil, Kosher Vegetable Glycerin, Purified Water, Beeswax, Rose Butter, Shea Butter, Peppermint Essential Oil, Palmrosa Essential Oil, Rosewood Essential Oil, Sorbital, Sorbitan Oleate, Soy Protein.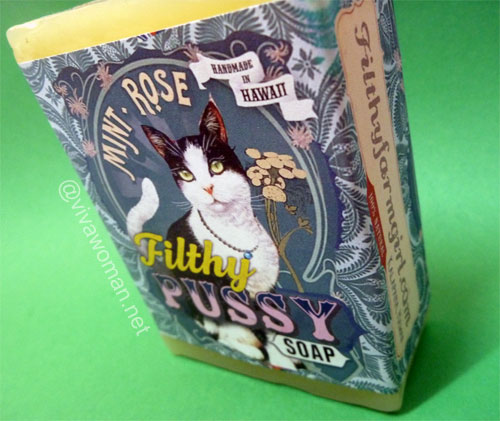 Simple and fun packaging
Each bar of soap comes packaged with a unique and fun name that would make your mother blush if it was a gift to her. The unique names are linked to the even more unique scents in their variety of soaps. I really like the wide variety and the colour of the soaps; some are marbled and coloured, while some are just in one solid block colour. The one I am reviewing today is a cream yellow coloured soap, with a cat on its packaging that says erm.. "Filthy Pussy".
Refreshing minty linger after using it
The scent I got is mint rose, and it leaves a really refreshing minty feeling after use. Although it smells and feels minty, there is a subtle sweetness to the smell that I can't really describe. The closest description I can think of is it smells like a minty sweet. I love how this soap really makes me feel clean and fresh, especially with the minty feel it leaves on me. It works best on days when you come back from a hard day's of work and need a little refreshing shower, or even as a perk-me-up soap to use first thing in the morning. I can't emphasize enough on how refreshing this soap is, even for a person like me who isn't a huge fan of mint flavored things.
A non-drying soap
This soap doesn't specifically moisturize your body when you use it per se. But it definitely did not dry my skin out either. I love that it cleans without leaving my skin that squeaky clean feeling as if all the natural skin oils have been stripped. I find that this particular soap is extremely easy and quick to wash off as well. In addition, it is pretty long lasting considering it took me around four months between sharing with my husband to finish the first bar.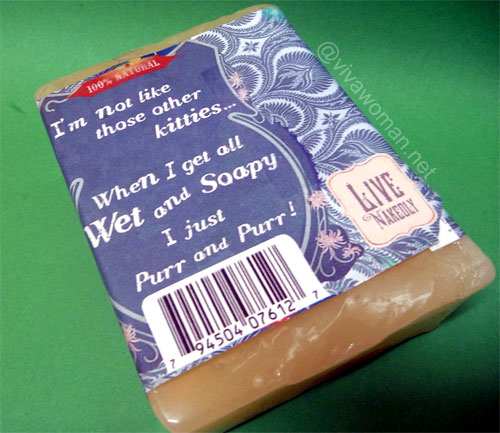 Price and availability
I bought my soap at S$16 at Buds Cosmetics located at Novena Square 2 or Mandarin Gallery. However, Buds only stock a handful of them and if you want to find more unique scents, you have to purchase them online at the Filthy Farmgirl website based in US.
Overview
Apart from enlivening people's senses through their soaps, I find that they also put the fun back in our otherwise mundane and obligated chore of showering with their wide range of quirky soap flavors. Honestly, I have never been this excited about using a bar of soap before. And this is the second soap I am using from Filthy Farmgirl now, I can't wait to finish it and try other flavors! Overall, I would give this product a rating of 4 out of 5 stars. It's short of 1 star because even though they are an eco-friendly company, they still used plastic in their packaging. I understand without the plastic, we won't be able to see the beautiful colours of the soap, but plastic in packaging is not something I associate strictly with an eco-friendly company. But irony aside, I will definitely repurchase this soap.

Comments