I didn't wobble after downing two pints of Erdinger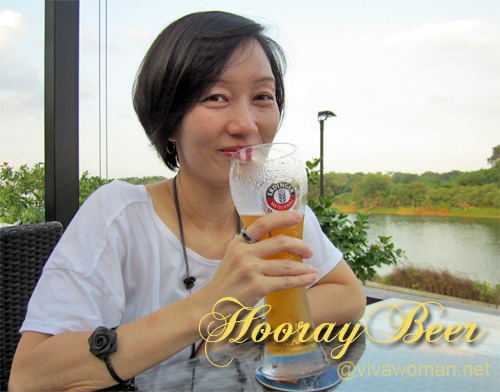 I surprised myself recently when I managed to down two pints of beer without passing out. In fact, I even managed to walk a long stretch in heels without wobbling. That's really a feat because my usual standard is to knock out after just one pint. But I had Erdinger light, which is a pretty light beer and so I guess the two pints really won't cause much drowsiness.
Hidden gem
Oh, this is our new chill out place at Punggol Promenade. It's the Frienzie Bar & Bistro located at 10 Tebing Lane #01-02 Punggol, and it's quite a gem because it serves good beer, good music, decent enough food, and allows us to gaze at scenic river and forest while dining in the open air. You probably won't recognize that this is even a part of Singapore if you head here for the first time.
Delightful promotion
Okay, the beer really got us hooked because the happy hour promotion is ONE-FOR-ONE at S$12! The first time we heard that, we were so delighted, and the whole time we were oohing and aahing while drinking with our eyes so wide open with glee. And it was great that my son loves this place too even though he didn't fancy the food much. But we got him dinner at next door's Popeyes Louisiana Kitchen, which serves well…fried chicken meals.
Beer drinking outfit
Here's my outfit of the day. There's a bit of a story to the white top. I had it for months now because it was a mistaken purchase. Well, I had thought it had some designs when I spotted it at the online store but turned out, it's just a plain, dull white tee. I was so disappointed I had chucked it aside and thought I would never wear it. But looking at it now, I think it makes a decent tee to drink beer after all and so I'm calling this my beer drinking outfit. (#k8SjZc9Dxk-#k8SjZc9Dxk)
So how many of you like to drink beer and do you have a favorite?
Comments