Le Château du Bois: lavender body care range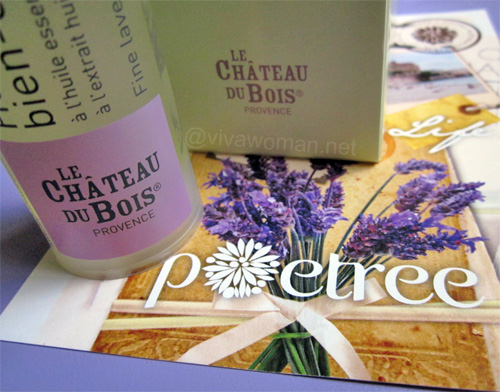 If you're big on lavender, you're gonna love this body care range from Le Château du Bois as all the products come with a rich lavender scent. I wasn't even aware that the lavender scent of the hand cream is that strong until my colleague pointed it out. Personally, lavender is a scent that grew on me over time; I didn't started out liking it much but as I use more of products with the scent, I've learnt to appreciate the soothing and calming aroma.
Using high quality ingredients
As the name reveals, Le Château du Bois hails from France and the products are developed from fine lavender concentrated on Provencal areas in Vaucluse, Alps of High Provence, High Alps and Drôme. Aside from the therapeutic lavender, Le Château du Bois product formulas contain an extremely high level of active ingredients (around 30%) and natural products including essential oils, plant oils and oil extracts. Developed with respect for the environment, the products do not use silicones or mineral oils, colorants, synthetic fragrances, parabens or phenoxyethanol. They are also free of laureth sulfate, PEF and PPF (except for the shower gel for men and the milk bath). They do not contain any animal-derived ingredients, with the exception of honey and none of the products are tested on animals.
Shower cream | S$15 & body lotion | $18
I like most of the products in the range with the exception of the shower cream. I really can't do without foaming shower gels and so this one, which does not lather up well, just doesn't cut it for me. But because the ingredient list look rather gentle, I used this as a pre-cleanse for my face at the end of the day instead and I must say my skin feels all right with it. The body lotion is decent enough and does an effective job of keeping my skin moisturized without feeling greasy.
Tonic gel | S$30 & foot cream S$30
Okay, I didn't quite understand why I needed a product for my legs as I usually just use my foot cream or my body lotion on my legs. But this tonic gel for the legs is interesting as in it gives a very soothing, cooling sensation when applied on the skin. So it's kind of nice when you rub it onto your legs at the end of the day, when your legs are worn out by all the standing and walking. The foot cream is rather thick and very rich. Again, I quite like it because it does a good job of nourishing my dry heels. However, you'll definitely need to put on socks or this might leave stains on your bed sheet.
Hand cream | S$30
Oh I love this hand cream and it's my favorite product of the lot! Besides the soothing scent, I find the performance above average as it kept my hands well moisturized and nourished every time I use this. Application is smooth and there is no feeling of greasiness at all. The 75ml hand cream at S$30 is definitely a splurge item but well worth the money if you would like to try a good quality hand cream.
Body massage oil | S$33
I don't love body oil as much as I do facial oil because some of them tend to be too rich and don't absorb quite as well or quite as quickly. I find the texture of this body massage oil quite heavy and so it's not really great for daily usage. Anyway, by virtue of the name, this should be used as a massage oil more than a pure body oil.
Soap bars
I was also sent these soap bars for review and I'm currently using one of them for all my showers. It works up a good lather and does a good job of keeping my skin clean but not dry. I don't mind using this except that I can't seem to find the price list on the webstore.
Overall summary and a promotion
Going by the price points of the products, I would say the Le Château du Bois body care is a high quality, mid range brand. A few of their items like the body lotion, hand and foot cream are all worth a splurge and they'll definitely make good gifts for girlfriends who are into lavender. So if you're keen to grab some of the items for yourself or someone, check them out at Poetree. The company is offering a 10% discount and a lavender heart sachet gift on all purchases! In addition, those who purchase above S$150 will receive the Une Olive en Provence travel set valued at $35. Promo code to use is viva woman and this code will expire on 30 September, 2012.

Comments