Get a facial detox with NOW European clay powder
I know a number of you like a good facial detox and so today, I'm going to recommend you a really affordable and effective facial detox powder that goes by the name of NOW European Clay Powder. Okay, if you're anything like me, then you might have asked "what, NOW?" Yeah, it's NOW, as in NOW Foods with the range of health foods.
100% natural mineral silicate
Anyway, I'm not going to introduce the brand anymore than what I just did. We'll keep this review short by just focusing on the product on hand. NOW European clay Powder is described as a 100% Montmorillonite, which is a natural mineral silicate that is designed for normal, combination and oily skin types in need of detoxification, as well as smaller pore size. Apparently, this mask will help draw out impurities from the pores and remove debris from under the skin, decreasing pore size and improving skin tone.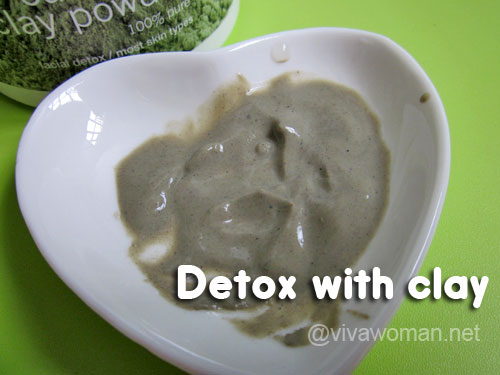 Versatile for all skin types
This product reminds me of rhassoul clay that I was using back in 2008. It also reminds me of a dead sea mud mask. It just smells like mud and I'm sure Nermal would have love this as its mud pack. Me? I love it! It's easy to use: for oily skin, mix 1 tablespoon of NOW European Clay with one teaspoon of water; for dry skin, add a few drops of Jojoba Oil and/or Lavender Essential Oil to the mix prior to applying. Thoroughly cover the face and neck avoiding sensitive areas and the eyes, allow to set for 15-20 minutes, rinse off and apply moisturizer.
Might cause breakout on initial usage
I'm not sure about smaller pore size but for me, the result of using this is a really cleansed face feeling soft and smooth. But I warn you: if you're acne prone or you haven't been detoxing your skin for awhile, you're going to experience some amount of "purging" using this product. I experienced a bit of breakout around my forehead the first time but thankfully, that was all and I now use this about once a week. Anything more, it can become over drying, considering I only add water to the clay and nothing else.
Price and availability
I got this from iHerb for US$4.57. It's a 170g tub and I expect it to last me quite awhile since I don't need to use too much each time and I'm using it just once a week. You can also read up the 300+ positive reviews, with many raving and heaping praises for this clay powder.



Comments