Tips to share: how to remove eye makeup gently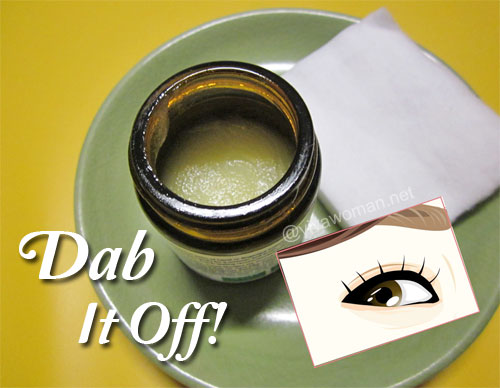 I've never really needed to make extra efforts to remove my eye makeup simply because I didn't wear much of them in the past. However, when I started wearing eyeliner, I realized that I needed more effort to take the color off without rubbing and tugging the delicate eye area. I know oil cleansers or just pure oil are great to remove eye makeup but I don't like the former, and I don't like the oily feeling of the latter.
Using a not too oily balm
Well, I've recently found something great for removing my eye makeup. It's not oily-oily, if you know what I mean but just oily enough to remove color stains easily. My new eye makeup remover is in the form of a balm and more specifically, it's the Alexander Essentials Organic Yarrow Beauty Balm that I mentioned back in August. I love it!
Dab not rub
What I do is to use a small amount of the balm with a cotton pad and then I'll go dab-dab-dab on my eyelid. Because the balm melts into oil on contact, my eye makeup gets off really quickly! And by dabbing, I avoid any pulling, rubbing or tugging on the delicate skin around my eyes. Sometimes if the makeup gets a little resistant, what I'll do is to press the cotton pad with the balm on my eye area a little longer before I continue dabbing.
Other methods
I've seen some videos where the makeup gurus recommend saturating a cotton pad with either a makeup remover solution or oil before leaving on the eye area and then gently "sliding" off the makeup. While this method does help to remove eye makeup quickly too, what I dislike is that I have to use a tissue paper to wipe off the solution or oil or I can't open my eyes at all after that!
I'm not sure how many of you are already using this eye makeup removal method. However, I thought sharing it might help others because I still see some girls rubbing off their makeup based on the videos I've seen.
Comments