Chemical ingredients can cause skin damage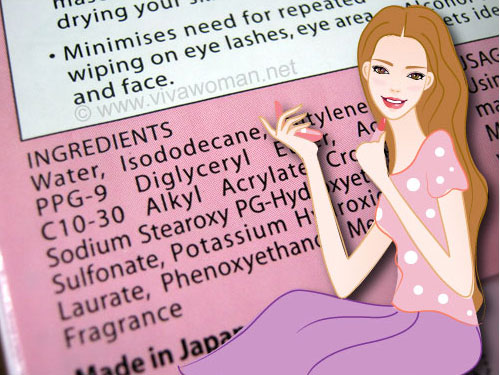 I was just reading an article from Daily Mail that discusses why chemical-based skincare and makeup are not so great for our skin. The topic is not something new but what caught my eye was that the article quoted doctors as warning that make-up full of chemicals could leave women with unsightly skin conditions. I found that quite a surprise, that some medical experts are actually leveling accusations against chemically formulated products, quite unlike what I've often been reading.
The general consensus among medical experts is that daily applications of cosmetics and skincare products can lead to increased skin sensitivity and allergic reactions on the face…'In particular, heavy or glittery eye make-up, mascaras with kohl in them or heavily scented or chemically laden anti-ageing eye creams can become more problematic to middle-aged and more fragile skin.'(source)
According to one of the doctors quoted, strong chemicals such as preservatives can strip away the natural defences and dry out the skin. This can head to a series of skin issues such as inflammation or eczema in some cases. The article did not indicate specific ingredients except for fragrances and formaldehyde so it's a bit hard to know what to avoid.  But I think "the dirty dozens" are usually those that are considered toxic and generally avoided.
1. Butylated hydroxyanisole (BHA) & butylated hydroxytoluene (BHT): Used as a preservative in moisturizers and makeup.

2. Coal tar dyes: Used in hair dyes and other products containing artificial colorants. Look for "CI", "FD&C Blue No. 1", or "Blue 1" on labels.

3. DEA: Used in creamy and foaming products (i.e. moisturizers, shampoos). Look for "DEA", "MEA", and "TEA" on labels.

4. Dibutyl Phthalate (DBP): Used as a plasticizer in some nail products.

5. Formaldehyde-releasing preservatives: Look for DMDM hydantoin, diazolidinyl urea, imidazolidinyl urea, methenamine and quarternium-15 on labels.

6. Parfum/Perfume/Fragrance: Used in a wide variety of products.

7. PEGs: Used in many cream-based products. Look for "propylene glycol", and ingredients with "eth" (e.g., polyethylene glycol) on labels.

8. Petrolatum: Used as a moisturizing ingredient and moisture barrier.

9. Siloxanes: Used in a variety of cosmetics to soften, smooth and moisten. Look for ingredients ending in "-siloxane" or "-methicone" on labels.

10. Sodium laureth sulfate: Used in foaming cosmetics, such as shampoos, cleansers and bubble bath. Look for sodium lauryl sulfate and other ingredients with the letters "eth" (e.g., sodium laureth sulfate) on labels.

11. Triclosan: Used in antibacterial cosmetics, such as toothpastes, cleansers and deodorants.

12. Paraben, Methylparaben and propylparaben: Used in a variety of cosmetics as preservatives.
Before you think this is a crusade against chemical-based cosmetics, the article is also balanced with pointers that natural and organic products are not always more superior as some of them do contain irritants that cause skin issues as well – something I've mentioned before. So the key is to discern what you put on. As a guide, the fewer the ingredients, the safer your options.
I hope those so-called learned scientists are not going to hit back by suggesting that doctors are also full of misinformation, pseudo-scientific nonsense and pure garbage. Surely the words of these medical experts do count for something as compared to many of us who are not "scientifically" trained?
Comments