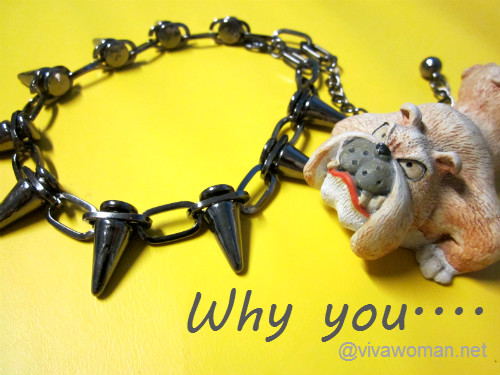 My husband says the most unkind words to me when it comes to what I wear. Actually downright mean and exasperating most of the time but he has a way of making it sound so funny, I usually can't help but laugh out loud. Like when he saw this spikes necklace, the first thing he said was that it reminded him of a bulldog cartoon. And you know what? It occurred to me that he was…right. (o_O)
Anyhow, bulldog or not, I'm still wearing the necklace. I just have to make sure I don't wear it when I'm out with him. That, is the art of staying married. Heh.
And I don't think I look anywhere close to a bulldog with this spikes necklace. Perhaps I should be adventurous and try wearing a spikes collar next time. (~_~)
Oh, for those interested, I got the necklace from here.