Gracie is in a bag alright but she is not in a doggy bag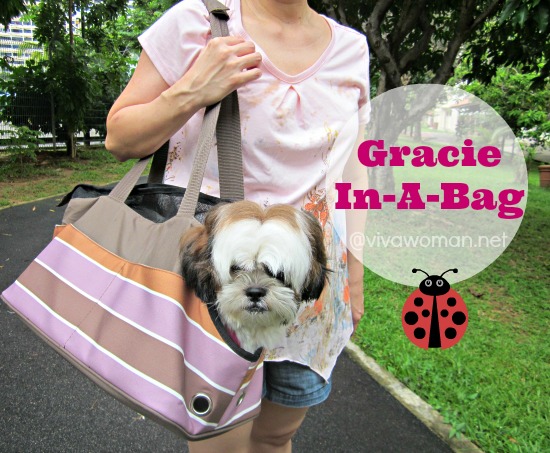 After almost six months with us, Gracie has grown. Grown a bit too fat to be carried around for long that is. HA. My hubby has been asking me to get her a doggie carrier for months but I've not paid heed because I'd thought it's okay to carry her around if I need to. But after some encounters when we brought her out, I think he's right that putting her in a bag makes it easier for us to go to places where dogs may be frowned upon. So I finally succumbed and got her a simple dog carrier from Pet Lovers. Not the best looking I guess but it's functional for our needs.
Anyway, there are rather limited designs available and I wasn't so keen to spend too much or order online. This particular one is brandless but I just need something that looks decent, fits Gracie and is sturdy.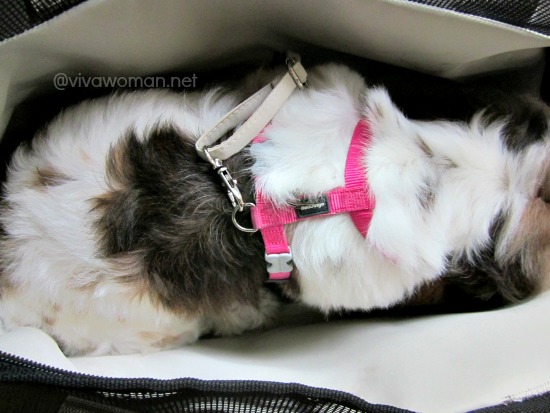 Good thing the size fits Gracie well. She is quite secure in the bag and is unlikely to slip or jump out. However, because she tends to curl up in the bag and as a result, there is a tendency for the weight to accumulate at one end. I just have to consciously tilt the bag a little just so that she won't seem like she's about to fall.
Gracie is a very sweet-natured dog and she has no issues about getting into the bag. In fact, I think she's quite happy to be carried around in it. But I would admit that this bag is better used when it's indoors in an air-conditioned environment. Otherwise, she may feel too hot and stuffy after a while although besides the hole for the dog's head, the bag comes with a zippered mesh lined panel to provide plenty of ventilation.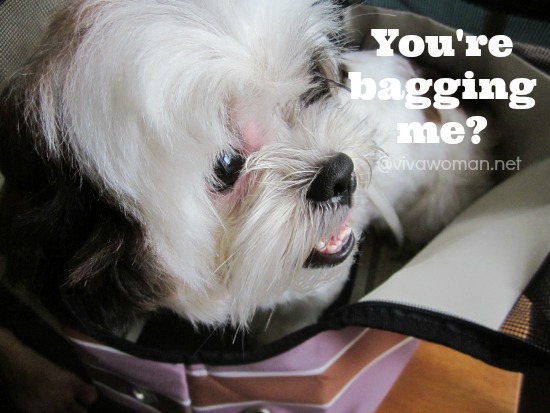 Unfortunately, she isn't lighter just because she's in a bag. Oh no. She weighs just as heavy and because I carry the bag on one shoulder, her weight isn't well distributed compared to when I was carrying her with both hands. That's kinda a bummer but I don't think I have any choices for now. I'll just make my hubby carry her when she gets too heavy. HEH.
Anyway, this dog carrier reminds me of a time when I was shopping for a specific baby bag. Then, I was more particular about functionality over design too. But the difference is, instead of bagging milk bottles and diapers, I'm bagging a dog this round. (#k8SjZc9DxkO#k8SjZc9Dxk)
Comments