Badger Balm Antioxidant Face Sunscreen SPF16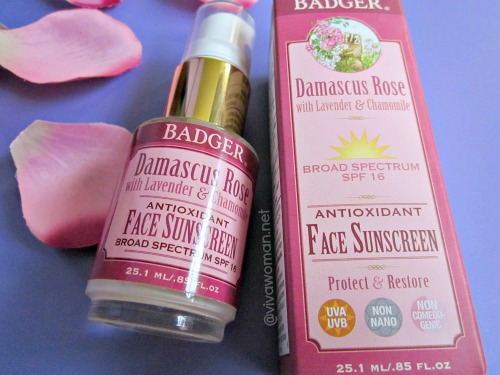 I just have to begin my first review of the year with a product from my favorite category—sunscreens! And it's none other than the Badger Balm Damascus Rose Antioxidant Face Sunscreen SPF 16. Some of you had recommended me to try this and so I ordered it from iHerb recently and have used it for about three weeks now. First of all, let me say that this is very different from the Badger Broad Spectrum Sunscreen SPF34 I'd reviewed awhile ago.
Broad spectrum protection from UVA & UVB rays
The Badger Balm Damascus Rose SPF16 Face Sunscreen is formulated to be a light, nearly invisible lotion ideal for everyday use, even under makeup. This is described as a nearly invisible sunscreen for the face that protects from both UVA and UVB rays while nourishing and soothing the skin. And like all of Badger's sunscreens it contains only the purest, most natural ingredients-some of which are certified organic.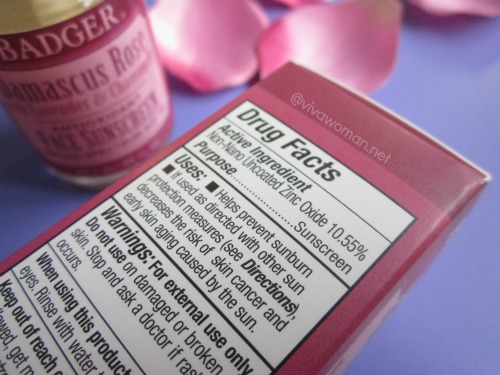 Badger Balm Damascus Rose SPF16 ingredient list
Active Sunscreen Ingredient:
Non-Nano, Uncoated Zinc Oxide 10.55%
Other Ingredients:
*Aloe Barbadensis (Organic Aloe) Extract, *Olea Europaea (Organic Extra Virgin Olive) Oil, *Sucrose Polysoyate (from Organic Soybean), *Ethyl Palmate (from Organic Palm), Aqua (Purified Water), *Sucrose Cocoate (from Organic Coconut), *Glycerin (from Organic Palm), *Citrus Medica Limonum (Organic Lemon) Extract, Chondrus Crispus (Carrageenan) Extract, Xanthan Gum, *Lavandula Angustifolia (Organic Lavender) Oil, *Hydrolyzed Soy Protein (from Organic Soybean), *Rosa Canina (Organic Rosehip) CO2 Extract, *Hippophae Rhamnoides (Organic Seabuckthorn) CO2 Extract, *Rosa Damascena (Organic Rose Otto) Oil, *Anthemis Nobilis (Organic Roman Chamomile) Oil, and *Calendula Officinalis (Organic Calendula) CO2 Extract. * = Certified Organic
Total Organic Content (excluding water): 75.31%
ingredients
Low zinc oxide content
This product comes with a pretty clean ingredient list but I'm a little perturbed by the low percentage of zinc oxide used in the formulation. Hence, I'm unwilling to use this much on my face, especially not when the sun is so hot now. However, I bought it specially for my neck as most sunscreens that work well for my face don't work well for my neck; they either turn out too greasy or too drying.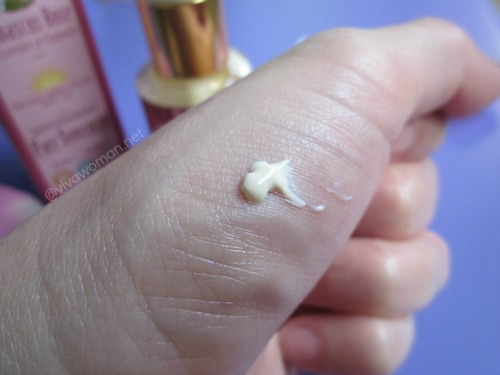 Spreads evenly leaving no whitecast
Although described as a lotion, the texture of the Badger Balm Damascus Rose SPF16 Face Sunscreen is creamy but not rich and spreads out very well on my skin. In fact, I could not see any traces of whitecast after application. It is the equivalent of a moisturizer and I guess this is why it's quite a hit with many women. In addition, the soothing lavender and rose scent makes this product even more appealing.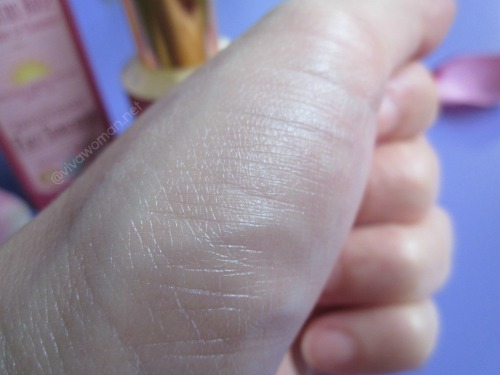 Price and availability
Because sunscreens below SPF30 typically don't protect my skin too well, I won't use this much on my face unless I'm hybernating at home and not stepping out under the sun at all. But like I'd mentioned, I bought this to use on my neck and so far, it works well as it doesn't leave any greasy or drying whitecast. If you're good with sunscreens with SPF15, then you might want to give this a try when you get the chance. The 25.1ml bottle retails for US$16.20 at iHerb.


Comments