What am I gonna do with a colorful nest of skittles?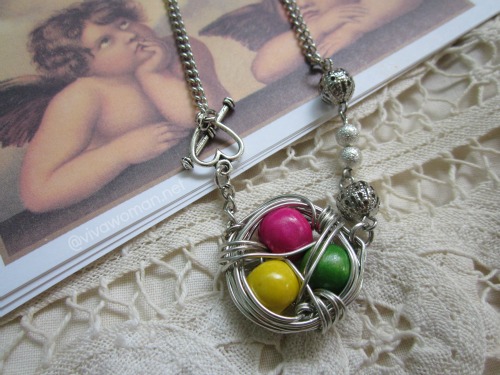 I realized that we have very talented ladies in the blogging circuit and I'm not talking about makeup skills or photography flair. I'm talking about ladies who are gifted with deft fingers to handcraft works of wearable art like this colorful nest of what looks like eggs but are really skittles! Delicious looking? You bet! And no, you can't eat those skittles because they're baked from clay with no sugar added. Ha!
So who's the blogger behind this piece of handmade necklace? It's Xin of Pretty Beautiful! She started an online store based in Malaysia awhile back, selling cute and delicious looking accessories handmade from raw clay. She sent me these for X'mas and I realized she's added so many more designs to her collection since I last checked.
Besides necklaces, earrings, bracelets, bag charms, her store, Cute Little Craft, now features bookmarks and lanyards! Some of the designs are cute, others are sweet, and you have some others that are delicately handmade with rustic charm. And her prices start from RM10! International shipping is also available if you ask nicely. Go check it out already!
So the answer to my question in my title is pretty obvious. Anyway, I was wondering how Xin knew that green is my favorite color and she was so pleased that her guess was spot on. And yes, I do love that heart-shaped toggle clasp too!
Comments