Why an oversized top is a good idea when you overeat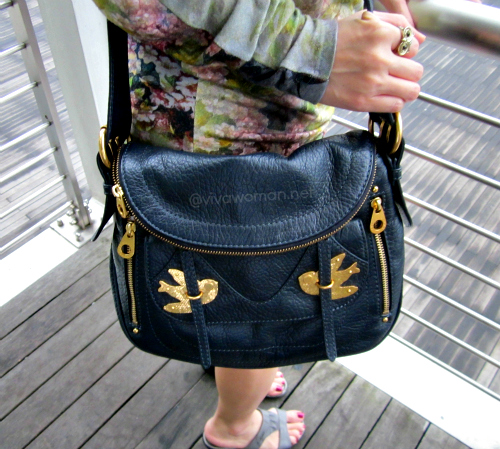 Peeps, it's still Chinese New Year where I'm based and as I'm typing, I can hear some "lions" dancing in the distance. It's good thing CNY happens once a year but a stretch of 15 days is really too much especially because it gives many of us a valid excuse to indulge our tummies. But too much of a good thing in the tummy isn't always fine for the waistline or the hips. I realized my tummy is no longer flat! And so to conceal the bulge, I'm resorting to loose outfits!
I rather like this roomy bat sleeve sweatshirt that's got a vintage feel about it. I was a tad disappointed when I received it because it looked too big but turned out, it's a good size for days when I need some concealment. LOL.
What I really really like about the top is the one-sided floral design and the wash-out look. I was glad that the watch necklace, the owl ring and the Marc By Marc Jacobs Petal To The Metal Natasha Bag compliments the top. Sometimes it's bit hard to tell if the accessories go well with the outfit when it's early in the morning and you're in a hurry.
And oh yes, I wear this to work. That probably tells you a little about my workplace culture eh? Pretty much random with no fixed dress code.
For those interested, I got the floral top from ASOS and the bag from Shopbop. The necklace was from Etsy, the skater skirt from Southaven Boutique and the Pierre Cardin shoes from Metro.
Comments