Sparitual Spring 2013 Nail Lacquer Collection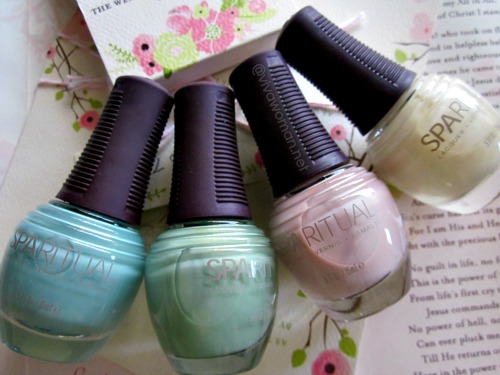 If you're into candy sweet, pastel shades, then you'll definitely love the feminine hues of the Meditate Spring 2013 lacquer collection from Sparitual. I usually prefer dark colors but I have to say these are pretty! These are not natural (anyway, not possible for nail polishes to be so) but I was glad to know that Sparitual nail lacquers are 4-free, which means they do not contain DBP, Toluene, Formaldehyde, and Formaldehyde Resin. In addition, they are said to be 100% vegan.
Six cool and calming colors
The Meditate nail lacquer collection comprises six cool and calming colors: Peace & Harmony, a white matte, Transcend, a pale gold shimmer, Quietness, a nude creme, Calm & Clear, a pink crème, Introspective, a green shimmer and Energy, a blue crème. And here are the four shades I tried–Introspective, Calm & Clear, Energy, and Transcend. Lovely, aren't they? I thought they look fitting for a bride in white!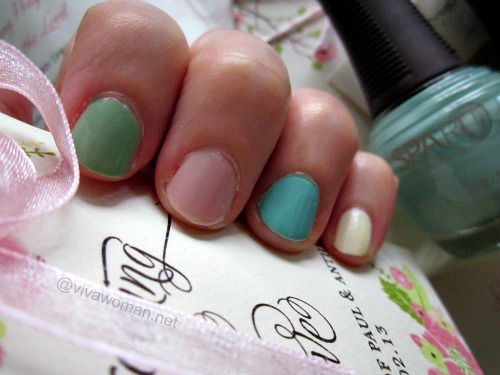 Application and scent
I found Energy, which is the one in blue, the easiest to apply. One coat is sufficient but two is fine too. For the rest, especially the lighter shades like Transcend, I needed about two to three coats for the colors to look perfect on my nail. And while these Sparitual nail lacquers are said to be 4-free, they smell like typical nail lacquer although I have to concede that the smell is not quite as strong as some of the others I've used.
Infused with bamboo
But interestingly, I learned that each lacquer for this collection is infused with bamboo that are sustainably gathered from India and islands of the Pacific Ocean. The purpose of using bamboo is to absorb water and oil from the nail bed, thereby making for stronger nails by increasing the thickness of the nails up to 35%.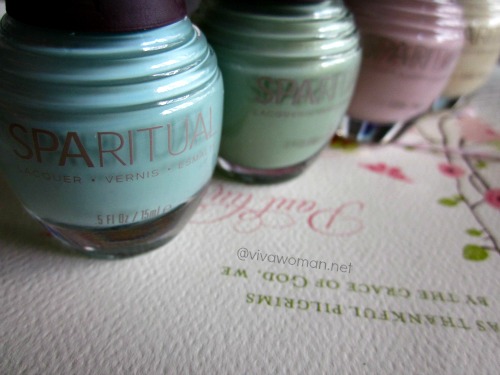 Availability & 10% promo code
The Sparitual Meditate Spring 2013 Collection is available for S$25 at all LadyFinger Nail Spa, Damai Spa, Grand Hyatt and also online retailer mylife-store.com. And from now till 24 March 2013, you can get 10% off the collection if you shop at mylife-store.com. Just use promo code VIVA10OFF at checkout.
Comments