Nail it right with 10 benefits of water-based nail polishes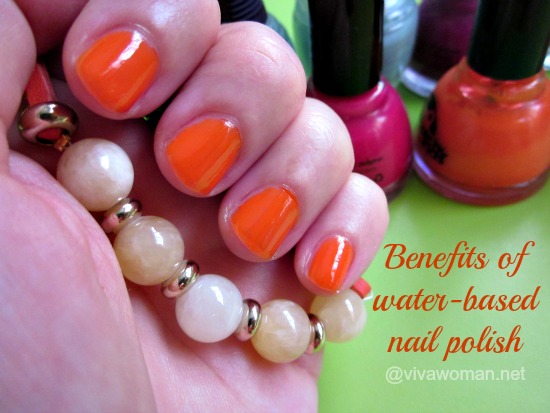 Many people tell me that they don't know how to paint their own nails. Well, I can totally empathize because I was once like them. I can manage toenails no problem but when it comes to my fingernails, I often need the help of the professionals. Somehow, painting my fingernails always turns out a mess especially for those on my right hand. But you know what? Increasingly, I'm finding it a breeze to apply nail polish on my fingernails. Yessiree I've finally nailed it right and it's all thanks to water-based nail polishes! So if you're still a rookie when it comes to applying nail polish, read on and find out why water-based nail polishes may just be the thing you need.
Unlike lacquer-based nail polishes, water-based nail polishes do not contain toluene, formaldehyde, and dibutyl phthalate (DBP) and the solvent is being replaced by water. Some of them are even free of camphor, ethyl acetate, butyl acetate, nitrocellulose, acetone, heavy metals and artificial colors, using only FDA approved colorants or natural colorings. A small amount of plastic, usually in the form of co-polymers is present but in essence, this group of nail polishes minimize use of synthetic ingredients and chemicals. Some even claim to be hypoallergenic and hence, would not cause irritations to the skin or nails.
Now, with that introduction on water-based nail polishes out of the way, let's look at 10 reasons why I recommend using water-based nail polishes: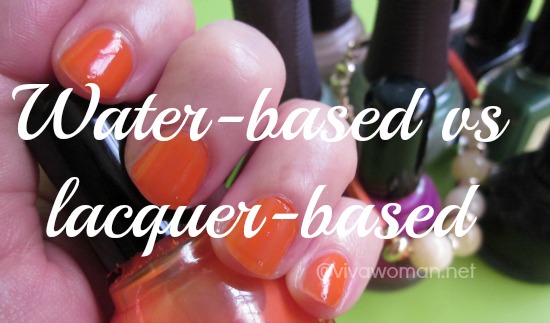 1. Easy to apply
Because water-based nail polishes contain mostly water, they are very easy to apply and a gem for novices like me who are unskilled with nail polish application.
2. No need for thinner
So far, I haven't had the issue of a water-based nail polish hardening or drying up on me. But even if they do, all I need is to add a drop or two of water instead of having to resort to using thinner. If that isn't brilliant, I don't know what is.
3. Quick to dry
What I really love about water-based nail polishes is that they dry so quickly! This is why there is little issue of smudging and making mistakes. I can apply water-based nail polish just half an hour before heading out. Although you can say that lacquer-based nail polishes can dry up quickly using a quick dry spray, I'll go with water-based nail polish any time!
4. Mistakes easy to correct
I always nail it right the first time I use a water-based nail polish—not something I can do with lacquer-based ones. Believe it or not, but I can wipe away mistakes with a wet cloth or cotton pad if I am quick enough before the nail color dries up. Otherwise, I'll just layer the coats. I usually apply two coats but sometimes three and even if I add another layer, my nail polish won't look overly thick.
5. Little to no nasty smell
I was quite surprised that the water-based nail polish have no nasty smell. Well, they have a smell all right but it's nothing awful like the lacquer-based ones.
6. Easy to remove
Some brands of water-based nail polishes can be removed by peeling or rubbing after soaking in hot water. Well, not completely based on my experience but that's probably because I apply two coats or more. But still, I find them easier to remove with an acetone-free nail polish remover compared to lacquer-based nail polishes.
7. Non-toxic
Water-based nail polishes are odor free, non-toxic, biodegradable, and safe for pregnant women. Unlike chemical-based lacquer polishes, they are said not to cause cancer, birth defects, reproductive issues, allergies, or yellow, discolored nails. So as a whole, they are touted as great for people with chemical sensitivities, allergies, and those who are not currently using nail polish due to harmful chemicals and vapors. Some new brands are even vegan and gluten-free.
8. Decent selection with rad colors
Although water-based nail polishes do not come in the great variety of colors compared with popular lacquer-based ones, the color selection is definitely not boring. You might like to know that some brands like Scotch Naturals have selections in really rad colors.
9. Relatively long lasting
I've worn water-based nail polish on my toenails for up to two weeks and a week on my fingernails especially since it's so easy to refresh over an old coat if needed. So it's not really true that water-based nail polish don't last quite as long.
10. Fairly competitive pricing
I haven't tried all brands of water-based nail polishes and some brands are obviously quite expensive. But most of them are reasonable enough.
Having discussed the benefits of using water-based nail polishes, I do need to qualify that not all are great. Some brands are quite blah in performance. My favorites so far are Scotch Naturals and Hopscotch Kids. I really like using them and they do meet all the 10 benefits I've highlighted. Well, perhaps I'll try some new brands soon and review them when I get the chance. If you've used any water-based nail polishes and find them worthy, do recommend them in the comment box.
Comments