Tips to share: 3 tips to get more from your sunscreen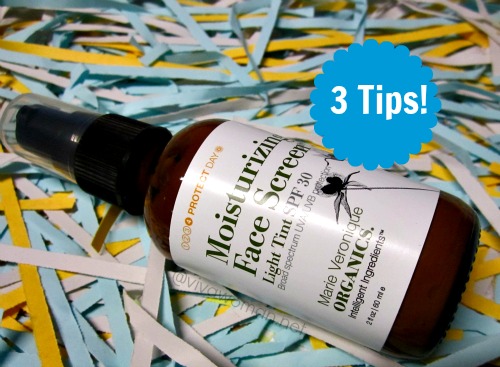 I am so pleased that my new order of the Marie Veronique Organics Moisturizing Face Screen SPF30 arrived within a week of my order! I haven't kept a record but this could possibly be my 8th or 9th bottle. For those who don't know, this is my daily sunscreen and today, I thought I'll share with you, three tips I use to get more from this product. When I mean daily sunscreen, it's really for casual sun protection and not for intense, prolonged sun exposure. Perhaps I can come up with something like "3 INTENSE tips to get more from your outdoor sunscreen" the next round. LOL.
Tip #1. Apply a 2nd layer at prominent areas
The rule of thumb for sunscreen dosage for the face is 1/4 to 1/3 of a teaspoon but it is not always easy to apply that much of sunscreen as many of you know. It really depends on the texture and consistency of your sunscreen. With MVO Moisturizing Face Screen, it can be a challenge as too much will make me look too white. So what I do is to apply a thin layer, followed by reapplying a second layer on my cheek area since that's the area most prone to sun exposure.
Tip #2. Pat not rub
I usually apply my sunscreen by patting the lotion into my skin. I hardly rub it on and I also dab on my makeup over either with a sponge or a brush. The act of patting and dabbing ensure that I am not rubbing off my sunscreen.
Tip #3. Wait 10 mins before applying anything over
Because I'm using a mineral sunscreen containing zinc oxide, there's really no need to wait because it's effective as soon as I apply. If you're using a chemical sunscreen, then you should wait a bit longer like 15 to 20 minutes before putting on your foundation or makeup because it takes that length of time for sunscreens to optimally distribute themselves within the stratum corneum (horny outer layer of the epidermis). But even though this does not apply for me, I still like to wait about 10 minutes for my sunscreen to settle on my skin before using makeup.
Although these are tips that work for the sunscreen I'm using, I believe it can be applied to other sunscreens which you are using too. In any case, I'll certainly be happy to know if you have other tips to share on how your optimize your sunscreen for daily usage.
Comments