AusPro Dr Oatcare: nutritious wholegrain goodness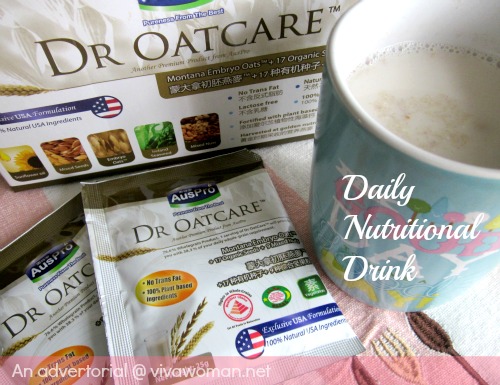 I need my calcium supply but the thing is, I don't like drinking milk and I don't eat that much green vegetables either. So when I was introduced to AusPro Dr Oatcare, I thought it might work for me because this is a nutritious blend with 76.6% wholegrain ingredients consisting mainly of Montana Embryo Oats plus 17 organic seeds, 9 mixed nuts, seaweed derived calcium and flaxseed oil. Woah…what a combination! Whole grain ingredients, lactose free, plant-based calcium, and dietary fiber. In addition, the blend is cholesterol free, made with no trans fat, no flavorings, no additives, no preservatives, and is suitable for vegetarians. Sounds really healthy but the first thing that I asked was, is this going to taste awful?
Better than oats
Before I answer that question, let me give a bit more background on AusPro Dr OatCare. This product is made with 100% USA ingredients and its primary ingredient, Montana Embryo Oats, is said to be harvested during golden time of oats. In essence, Montana Embryo Oat is higher in protein, dietary fiber and calcium and lower in sodium as compared with ordinary oats. Woot. Better than oats!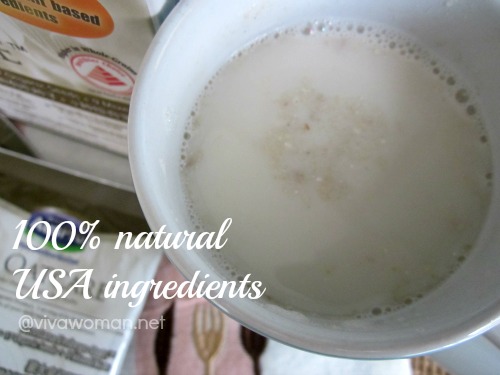 Ingredients
Here's a full listing of what AusPro Dr Oatcare contains: Montana Embryo Oatsâ"¢, Sunflower Oil, B-Carotene, US Soy Lecithin (Non-Genetically Modified) and isolated Soy Protein (Non-Genetically Modified), Golden Flax Seed, Golden Flax Seed Oil, Calcium (derived from Ireland Seaweed), America 17 Grains (Black soy Beans, red lentils, Soy Beans. Crimson Lentils, Whole Red Lentils, Split Yellow Peas, French Green Lentils, Black Beluga Lentils, Green Lentils, Hard red wheats 13% Protein, Hard Red Wheats 15% Protein, Rye Grains, Soft White Wheats, Whole Barleys, Oats, Buckwheats, Sutters Gold Lentils) and Mixed Nuts (Pine Nuts, Dates, Chestnuts, 1.5% Glucose, Almonds, Pistachios, Cashew Nuts, Lotus Seeds, Walnuts, Job Tears).
Great for lactose intolerant
Unless you're allergic to nuts, AusPro Dr Oatcare is something I would recommend you to try. Make no mistake. This is an advertorial but I find it a better alternative to milk because this is lactose free and hence, is suitable for lactose intolerance and great for those who are allergic to milk. I can't consume too much milk and so this one works well for me. And you might feel more assured knowing that AusPro Dr OatCare meets the nutritional guidelines set by the Health Promotion Board as a healthier choice.
Great for clearer skin
Those who are acne prone may also like to know that whole grains can improve your complexion. On top of the fiber, a study by The American Journal of Clinical Nutrition notes that a low-glycemic diet, such as one containing more whole grains keep insulin steady, and zits at bay.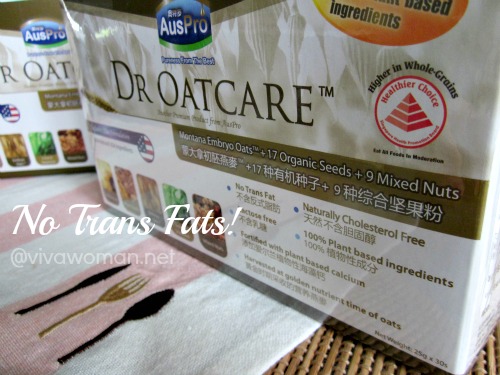 Easy to make and easy to drink
The nutritional beverage is easy to make. Just add one sachet to 250ml of hot or warm water and stir. It's not thick but you need to keep stirring the drink to keep the mixture from settling to the bottom of your cup. The drink is not very filling. This is why you can drink this up to three times daily if you like.
Taste is comforting
And how does this taste? Is it palatable to my tastebuds? Well, the good news is, it taste better than I expected. I wouldn't say I love this when I first tried it. It taste like oats and although I don't mind oats, this is without sugar. But when I tried the second time, I found it better and now, I am good drinking it. My husband loves it though and he has just the right word to describe the drink—very comforting.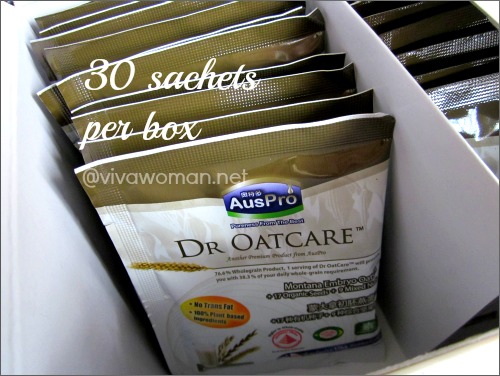 Price
Each box of AusPro Dr Oatcare comes with 30 sachets and each box cost S$33.50, which means each drink cost you slightly over a dollar. I'll say it's very reasonable!
Availability
The product is widely available at Fairprice Finest, Fairprice Xtra, National Health Group Polyclinics, Watsons, Guardian, and Unity Pharmacies and so there is no excuse for not being able to find it. If you need more information, check out Health Domain, which is the company that produces the product.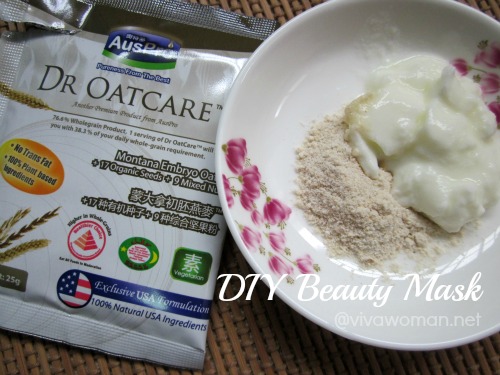 Use some for a DIY face mask
Okay, after going through the ingredients, I couldn't resist using some of the mixture to make a DIY face mask with yogurt. I've long wanted to use some of those ingredients like almonds, barley, lotus seeds, job's tears and this is a good excuse for me to try. Anyway, I didn't need to use a lot each time and so this should give you assurance that using it this way isn't wasteful or overly indulgent. In any case, I definitely like the idea that AusPro Dr Oatcare makes a good nutritional beverage that can double up as a beauty mask!

Comments