Laidbare Pack Your Bags Tighten And Lighten Eye Cream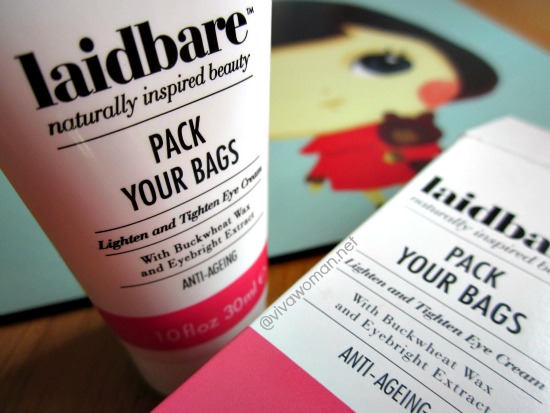 I bought this Laidbare Pack Your Bags Tighten & Lighten Eye Cream on a whim at Naturisimo. I was on the prowl for a good eye cream and the name caught my attention. Since this can supposedly help with eye bags and dark circles, I decided to give it a try. No harm if it doesn't work out because the price tag of £7.99 made it a no-brainer for me to just add to cart. I was actually mentally prepared to pack it away if it didn't work well.
About Laidbare
This is the first time I've come across Laidbare. It's a UK brand in the natural category as it promises products with no synthetic or damaging ingredients, but full of natural rich skin nutrients suitable for all skin types. Aside from that, Laidbare offers skin care products that are formulated to be vegan and cruelty free in chic and fresh looking packaging.
Ingredient list
The Laidbare Pack Your Bags Tighten & Lighten Eye Cream contains buckwheat wax, an ingredient to help reduce puffiness and dark circles. It also contains shea butter to hydrate and eyebright to reduce the appearance of redness and brightens the skin. Here's the complete list of ingredients:
Aqua (water),Aloe Barbadensis (Aloe Vera) Leaf Juice, Cetearyl Alcohol (Palm Kernel Oil),Caprylic/Capric Triglyceride (Coconut),Glyceryl Stearate (Palm Kernel),Cetearyl Glucoside (sugar),Glycerin (Coconut),Prunis amygdalus dulcis (almond)oil, Butyrospermum perkii (shea) butter, Dehydroacetic Acid, Benzyl alcohol (naturally derived preservative), Polygonum fagopyrum (Buckwheat) seed extract, Panthenol (Vitamin B5), Euphrasia officinalis nalis(eyebright) extract, Camellia sinesis (green tea) leaf extract, Xanthum Gum(naturally derived thickener), Potassium sorbate(naturally derived preservative), Sodium benzoate(naturally derived preservative) Warning – Contains Almond Oil

Performance review
I've been using this eye cream for almost two months now and I'm double-minded about it. On one hand, I sort of like it because it does help to make my eye area look somewhat better. Eye bags are a wee bit reduced and dark circles are less obvious. I think there is a bit of lightening effect and that's why it helps with the appearance of dark circles. The difference isn't a great deal but I'll say it's acceptable for that price point. In fact, I think it is comparable to some other more expensive eye creams I've tried. It's also moisturizing enough to ease my fine lines and so I'm quite happy to use it.
However, I find that this eye cream is only good when it's used. It seems like the buckwheat wax works immediately once applied to limit the appearance of eye bags and dark circles but the effects don't last. Okay, maybe it'll help with longer term usage but this is how I see it now. Plus, this product can't be used during the day because the texture becomes a bit flaky when used with makeup so it's quite a bummer because I want the effects to be visible in the day and not during the night when I'm sleeping.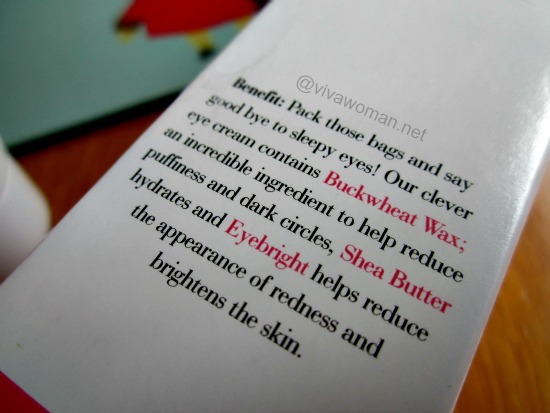 Laidbare Pack Your Bags Tighten & Lighten Eye Cream
reviewed by
Sesame
on .
Can be used on neck and lip
To be fair, I'll say the Laidbare Pack Your Bags Tighten & Lighten Eye Cream is not bad for what it cost. At least it is able to do something for me. Interestingly, this product is not just an eye cream. It is also an effective treatment for neck contouring, brightening dull skin and to help firm the lip area. Not a bad deal for £7.99 if you ask me. However, I've not tried using it elsewhere other than my eye area.
The 30ml cream comes in a recyclable plastic tube. The tube will take awhile for me to use up since I only need a little each time. However, it is recommended to be used within 12 months of opening. I'm not sure if I'll be able to finish the tube but I'll try to use it for longer until I come across a better product.
I purchased the Laidbare Pack Your Bags Tighten & Lighten Eye Cream from Naturisimo, which offers free international shipping. I've been ordering stuff from this store and so far, shipping has been prompt and products received were in good condition. If you're keen on checking out the eye cream, look it up there. Otherwise, you can always consider getting other products packed into your shopping cart.
Rating: 3.5


Comments