Honeybee Gardens nail polish remover and nail polish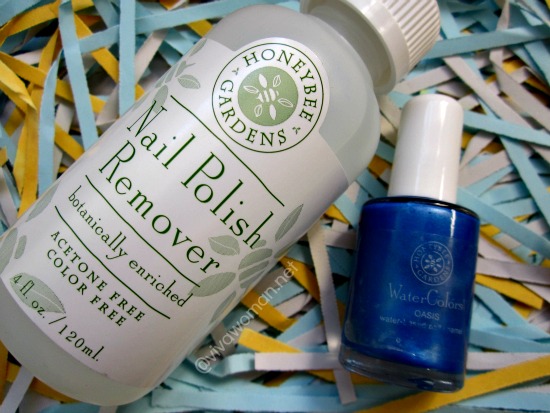 A couple of times now, I've added products from Honeybee Gardens to my shopping cart at iHerb only to remove them at the last minute. I don't really know why but let's just say the brand doesn't compel me to want to part with my dough. But given my reignited interest in water-based nail polish and the fact that I've run out of my acetone-free nail polish remover, I thought I'll just start out with these two items from the brand first.
For those unfamiliar with Honeybee Gardens, this is a natural brand of cosmetics and skin care products that hails from US and has been around since 1995. Their WaterColors Nail Enamel contains water, water-miscible acrylic, polyurethane formers and thickeners, non-ionic soaps. It may also contain ultramarine blue, carmine, mica, iron oxides, and/or titanium dioxide. Well, as you can see, the ingredients of the nail polish are not exactly natural but they contain no formaldehyde, toluene, dibutyl phthalates or FD& C colors.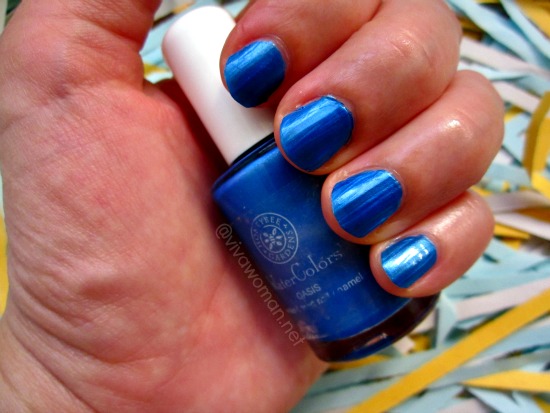 Honeybee Gardens WaterColors Nail Enamel | 14 ml US$9.17
Unlike solvent-based nail enamel, Honeybee Gardens WaterColors Nail Enamel is free from harsh chemical odors and is not stinky! It smells pretty similar to Suncoat's nail polish which by the way reminds me of those tubes of paint my son uses for his art lessons. So those who absolutely hate the smell of the usual solvent-based nail polishes, this one may suit your olfactory system.
But smell aside, I have nothing to rave about this product. It is not that easy to apply, does not dry quickly enough and definitely streaks upon application. I have to apply two coats to even out the application but even then, the streaks are quite obvious. In addition, the Honeybee Gardens WaterColors Nail Enamel is not long lasting. It chips off almost immediately the next day even after application of the top coat. I'm not sure if it's due to the choice of color (and it's Oasis in my case) but I'm disappointed with the performance and will not consider purchasing the product again.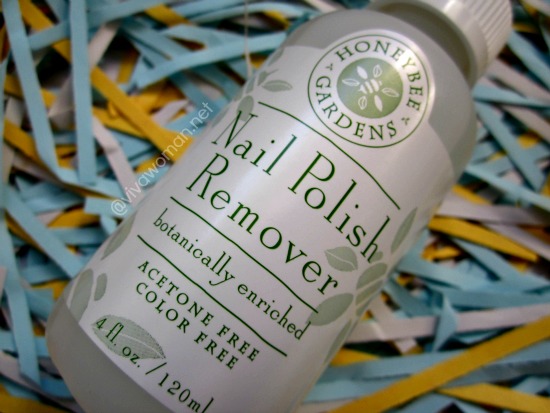 Honeybee Gardens Nail Polish Remover | 120 ml US$7.06
reviewed by
Sesame
on .
The Honeybee Gardens acetone-free nail polish remover is said to be enriched with horsetail extract and is able to remove their WaterColors Nail Enamel as well as conventional polish. Each bottle contains: methyl acetate, butoxydiglycol, aloe barbadensis leaf juice, equisetum arvense (horsetail) extract, tocopheryl acetate (vitamin E), fragrance.
Well, it is true that Honeybee Gardens' nail poish remover is able to remove nail polish but it is not quite as effective as Karma Organic Nail Polish Remover that I was using. I take longer to clean up my nail polish and even then, I had to make quite an effort. So I don't think I have the patience to see the bottle through and I definitely won't repurchase this again.
Rating: 3


Overall summary
All in all, I'm not impressed by the nail products from Honeybee Gardens. The performance of the nail polish is particularly disappointing and I'm now so glad I only bought one bottle to try out. While the price point of their products is pretty decent, I'm definitely steering clear of their nail products in future.

Comments