Non-toxic nail polishes & nail polish remover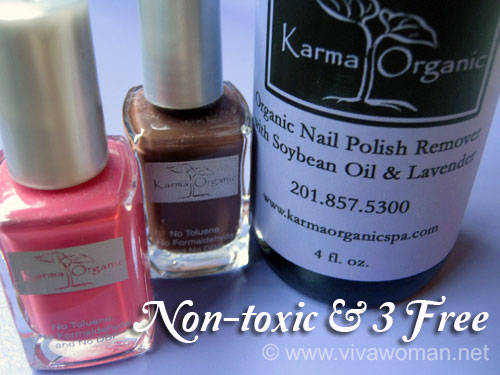 See what I bought from an organic store in Serangoon Gardens – two non-toxic and chemical-free nail polishes plus an organic nail polish remover, which are all free of toluene, formaldehyde, & phthalate (DBP)! I was actually spoilt for choices as there were an assortment of nail colors to pick but since each bottle was retailing at S$16, I decided to only pick two to try out first.
Safe for pregnant women and children
According to the website, this brand of Karma Organic nail polishes and nail polish removers are said to be natural and comes in than 90 colors, including glow-in-the-dark shades for children. The store in Singapore doesn't offer all the 90 shades, but I would say they're more than enough to brighten my nails. I'm not familiar with what it really means when a nail polish is said to be natural, as even though the Karma Organic nail polishes are indeed 3 free (no Toluene, Formaldehyde, or DBP) but I still find them smelling like normal nail polishes. However, I would concede the smell isn't so strong; at least the smell is only evident upon first application and doesn't linger in the room like my other nail polishes. Hence, while I am unable to concur that the nail polishes are 100% natural but they're definitely more so than the usual brands. I'm assuming based on what I've read that nail polishes that are 3 Free are good enough as they're said to be safe for both pregnant women and children.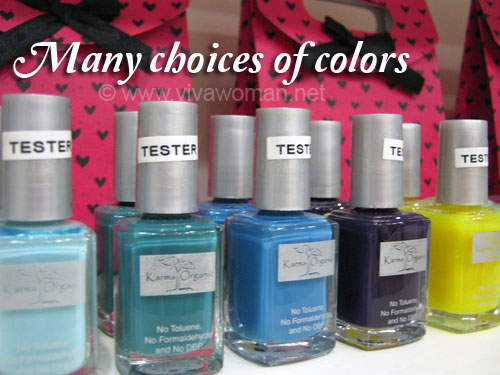 Wide assortment of colors
Before coming across this brand of non-toxic nail polishes, I was under the impression that non-toxic and chemical-free nail polishes are probably more limited in terms of choice of colors. But it's apparently not. While I didn't make a count, but the store carries at least 20 to 30 shades of nail polishes and some colors are pretty exciting looking. They even have glow-in-the-dark shades.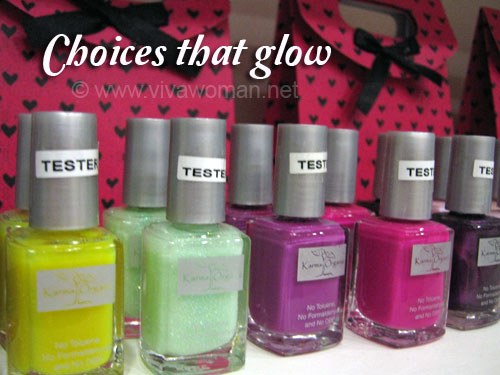 Shades I picked
As many of the shades were pretty, I had a hard time deciding. Eventually, I settled for a normal pink color – 10 Mauve – and a shade I've never tried – 288 Coffee, Tea or Me? The latter is in a brown shade that makes it easy to go with most of my apparel.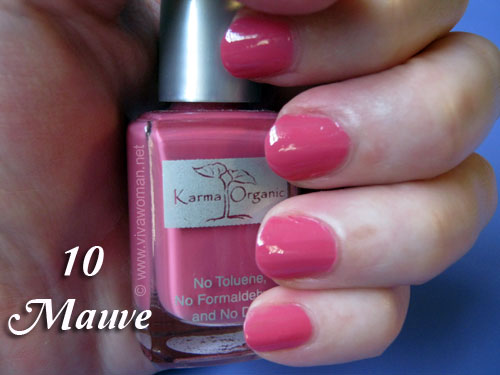 Consistency seems to vary with shades
The 10 Mauve pink shade is very easy to apply but I found the 288 Coffee, Tea or Me? a little thick in terms of consistency. So I had to be careful with how much I used each application. But even though it's thicker than the mauve shade, I still had to use two coats for the color to turn out perfect, like what you see here. It's an interesting color isn't it?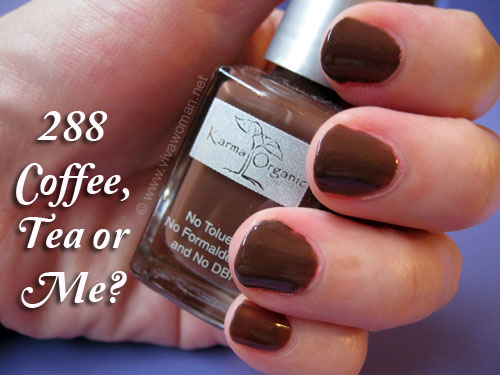 Organic soy nail polish remover
Karma Organic also offer an organic mixture soy nail polish remover that is free of any petroleum ingredients. According to the website, the ingredients for this nail polish remover are:
– Propylene Carbonate – odorless, colorless liquid used as a solvent
– Soybean oil methyl exter – used as a solvent in liquid separations
– Tocopheryl acetate or Vitamin E – for unscented only
Three choices of nail polish remover
It comes in a 4 fluid ounce bottle and is available in three choices; lavender, tea tree, or unscented with Vitamin E Oil. I picked the lavender scent and this one definitely feels and smells more natural to me. In fact, it feels a tad oily upon usage and so it's necessary to clean the nails with paper towel or tissue after that.   But despite that additional step, I love this nail polish remover! Because it doesn't contain acetone, and so I didn't need to saturate a whole cotton pad but just a pour on one cotton pad is sufficient to remove my nail polish on my 10 fingernails! And my usual standard is to use about 4 cotton pads to remove the nail polish on my toenails but with this, I only needed to use 2. You can also see the usage of this nail polish in action from this YouTube video.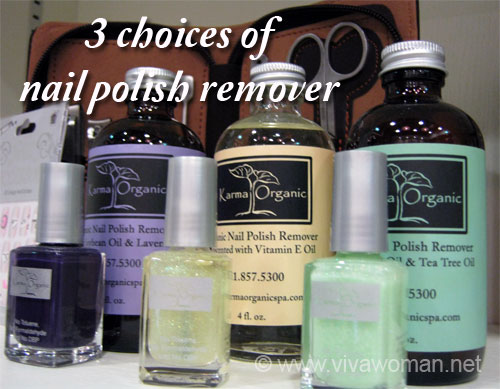 Price and availability
The nail polish remover cost S$24 and is much more expensive than the usual out there but it'll definitely last longer. Plus, it's better for my nails too because this one doesn't leave my nails or the skin around dry and brittle looking.
The Karma Organic nail polishes and nail polish removers are available at Organic Basic, located at #01-06 inside the new (but dull looking) myVillage at Serangoon Gardens. The store also carries some other organic skin care products and you can see more pictures of the nail polishes and the store my Viva Woman Facebook page. Check them out! Those in US should also be able to locate Karma Organic nail polishes and nail polish removers easily as the company is based there (click to get to the website).
Comments