Weleda Pomegranate Hand Cream: Hands-Down Winner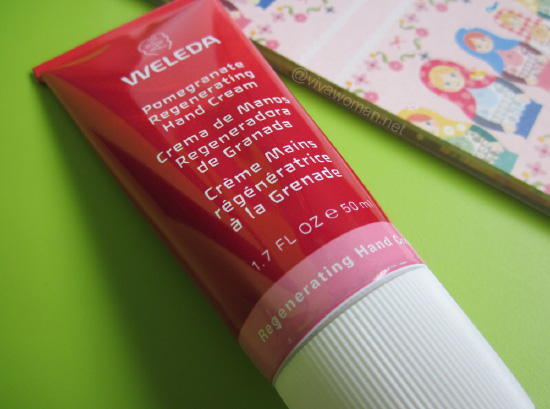 How is it I've never checked out Weleda? Well, I don't know. I should have because I'm quite impressed with the first product I've purchased from the brand—the Weleda Pomegranate Regenerating Hand Cream. In fact, I consider it on par with some of the best non-natural hand creams I've tried. And though I don't really like metallic tubes because of how they warp after awhile, I am somehow very attracted to the packaging of this one. The gorgeous red color must have won my heart hands down!
Reputed brand from Germany
Anyway, it was only when I looked up Weleda's website that I realized they're a big brand from Germany which manufactures over 2500 pharmaceutical products, 120 natural cosmetics and 10 dietary products worldwide. I had no idea! I mean, I've seen some of their products around but never thought much about them. It seems the company even has their plant-based raw materials where 77 percent are cultivated in controlled organic and biodynamic environments. So the brand is a clear leader in the natural category. In fact, all Weleda's products are made from pure natural substances and artificial preservatives are never used.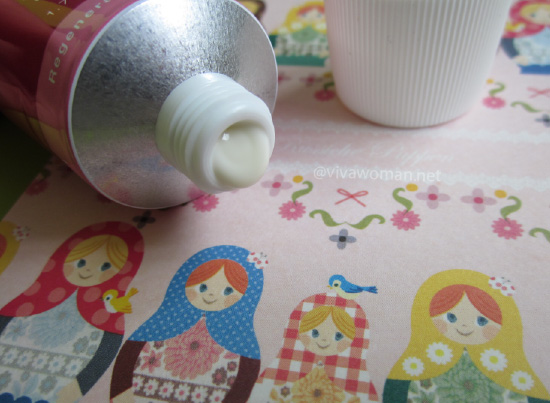 Key ingredients
So Weleda Pomegranate Regenerating Hand Cream has been certified as natural skin care, free of synthetic preservatives, fragrances, colorants, and mineral oil. As the name implies, this hand cream contains antioxidant-rich, organic pomegranate seed oil. On top of that, it has organic shea butter and pure natural plant extracts, the former being a great ingredient that works very well in hand and foot creams.
Full ingredient list
Here are the ingredients used in the product: water (aqua), sesamum indicum (sesame) seed oil, glycerin, alcohol, glyceryl stearate SE, butyrospermum parkii (shea butter), olea europaea (olive) oil unsaponifiables, helianthus annuus (sunflower) seed oil, stearic acid, punica granatum seed oil, panicum miliaceum (millet) seed extract, ruscus aculeatus root extract, helianthus annuus (sunflower) petal extract, xanthan gum, fragrance (parfum)*, limonene*, linalool*, citronellol*, benzyl benzoate*, geraniol*, citral*, eugenol*, coumarin*. (*From Natural Essential Oils)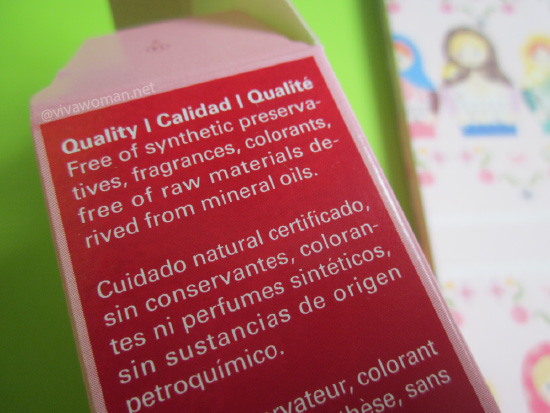 Weleda Pomegranate Regenerating Hand Cream 50ml reviewed by Sesame on .
Performance
I really love this Weleda Pomegranate Regenerating Hand Cream. The cream is not too thick but it's not light either. It is also not greasy. Application is a breeze as the cream melts into the skin very quickly without leaving any oily or sticky stains. My hand felt moisturized, smooth and supple with every usage. My cuticles also look well nourished and neat. In addition, the smell is very pleasant with a hint of tangy citrus edge but I reckon some of you may find it too strong. Nonetheless, this hand cream has garnered 4.2 out of 5 rating from 106 reviewers at iHerb and is clearly quite a winner with many smooth hands.
Affordable and premium quality
I haven't checked the Singapore outlets that stock Weleda products to know if this is available here but the 50ml tube retails for US$9.60 at iHerb. I find the price very reasonable for the quality it provides. If you're in the market for a hand cream to use in the day, I highly recommend this. If you've the habit of getting hand creams as gifts, this certainly makes a very appealing one based on the premium quality, mostly natural ingredients and affordable price. I think the red packaging makes this product look very upmarket and more expensive than it really is. It's been a long time since I've rated a product so well and I would certainly be getting more of this item as X'mas presents!
Rating: 5



Comments