Weleda Body Oils Essential Kit and Creamy Body Wash

I wasn't expecting myself to be such a fan but I can totally gush about Weleda! I really like their bodycare products. They are pure indulgence for the senses, very pampering for the skin and completely easy on the pockets. The hand cream, the first item I've tried from their slate is such a treat and so are their creamy body wash and body oils. I'm totally in awe and in love! Yes, you can be certain that this won't be the last review on the brand.
I wrote a quick introduction about Weleda the last time I reviewed the Weleda Pomegranate Regenerating Hand Cream. But for those who need a quick recap, the German brand formulates a line of organic beauty and natural skin care products made from plant-based raw materials where 77 percent are cultivated in controlled organic and biodynamic environments.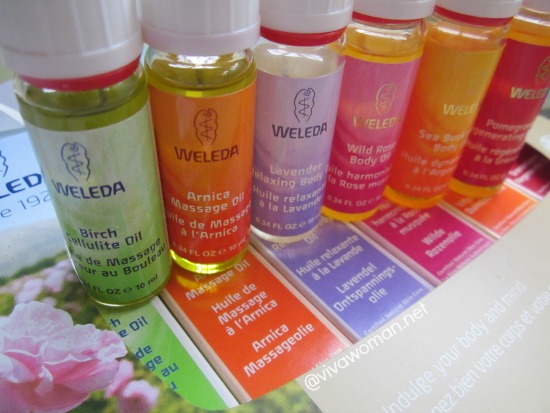 Weleda Body Oils, Essential Kit, 6 Oils, (0.34 fl oz Each) | US$12.27
Although I love facial oils, I'm not exactly hot about body oils. What a surprise? Well, I use them yes, I have them on my bedside table yes, but I'll stop short of saying I love them to bits. Somehow, I won't go all out to try them. I'll even admit that I actually prefer body lotions over body oils. That's why I haven't even given some of the popular ones a shot. I won't mind if they're gifted to me but for me to buy them, I'll probably think thrice.
So it's a big surprise to me that I was eyeing the Weleda body oils. I think all your positive comments stirred up the "oilies" in me and I was just rearing to give their oils a go. It also helps that the brand has cleverly packaged one essential kit containing six body oils:
Birth Cellulite Oil
Arnica Massage Oil
Lavender Relaxing Body Oil
Wild Rose Body Oil
Pomegranate Regenerating Body Oil
Sea Buckthorn Body Oil
Each oil is formulated for a different reason and that gave me a good excuse for wanting to sample them all. However, the kit is very popular as it is always out of stock. I had to put it under notification and as soon as new stocks came in, I just added the item to my cart and checked out. It was a bit of a wait but it's well worth the wait. I love them very much as they're not overly thick and easy to spread on my skin. The sample size allows me to test each oil before deciding which ones to buy in full size. I actually like all of them with the exception of Arnica because my nose couldn't agree with the scent. If you insist on knowing which is my favorite, I'll put my finger on the Pomegranate Regnerating Body Oil. It smells exactly like the hand cream.


Weleda, Pomegranate Creamy Body Wash, 204 g | US$9.22
This is a creamy body wash that lathers up and foams too. Being lotion like in its consistency, this body wash does not dry out my skin. Yet, because it's foamy, it cleanses grime pretty well. More importantly, it is pleasant to my nose. As a matter of fact, it smells exactly like the pomegranate hand cream and body oil.
Here's the full ingredient list of the product: Water (Aqua), Coco-Glucoside, Sesamum indicum (Sesame) Seed Oil, Alcohol, Disodium Cocoyl Glutamate, Helianthus Annuus (Sunflower) Seed Oil, Glycerin, Fragrance (Parfum)*, Chondrus Crispus (Carrageenan), Macadamia Ternifolia Seed Oil, Punica Granatum Seed Oil, Panicum Miliaceum (Millet) Seed Extract, Helianthus Annuus (Sunflower) Petal Extract, Xanthan Gum, Lactic Acid, Limonene*, Linalool*, Citronellol*, Geraniol*, Citral*, Coumarin*. *From Natural Essential Oils
For the quality of this product, I actually consider the price very affordable. I could totally add this to my under $10 Christmas list too! In fact, I'm most likely going to buy myself the Sea Buckthorn Creamy Body Wash. I was slightly leery that the smell might be odd but having tried the oil, I think I'll like it.

Overall summary and product availability
I am completely a fan of Weleda hand cream, body oils and body washes. They're of premium quality and the prices are almost too-good-to-be-true. I'm not sure if the prices at the retail stores are much more expensive but I got all my Weleda products from iHerb with free international shipping. Whoohoo! You still have a few more days if you want to enjoy the free international shipping via SingPost for October. So if you're keen to try the products, it's time to go click click!

Comments