A short but fun staycation at Grand Hyatt Singapore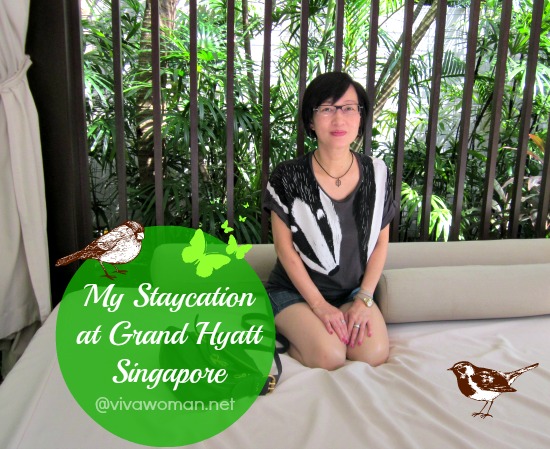 So on Friday night, I headed to Grand Hyatt Singapore for a staycation with the family. It was rather last minute, something I did not plan for as I went on invitation by the hotel. The timing however was perfect because it was the beginning of school holidays for my son and it also happened a week after we had some renovation works at home.
This is the first time I've stayed at Grand Hyatt Singapore. I'll be honest that this is not a venue we've ever considered for a staycation. As a matter of fact, we try to avoid staying at hotels in Orchard because the entertainment in that area is not something we're too keen on. But surprisingly, we enjoyed this short staycation. Even my husband thought it was fun and I'll tell you why in a bit.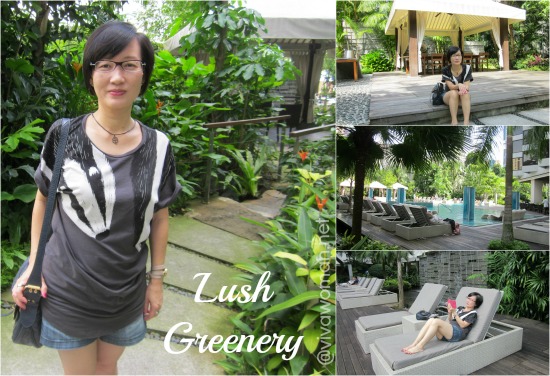 Massage at Damai Spa
I've been to Grand Hyatt a couple of times for meals and I've always thought the hotel as just a luxury business hotel. Little did I realize that the hotel is also designed with a spa and around a resort-like theme. So even though we were there as a family, we didn't feel like we were out of place as we were surrounded by plenty of lush greenery and a pretty nice pool. I even managed to squeeze in time for an hour of body massage at Damai Spa! That totally eased the knots in my muscles and helped me to relax from all the previous weeks of hectic schedule—definitely put me in the best frame to enjoy the rest of the staycation!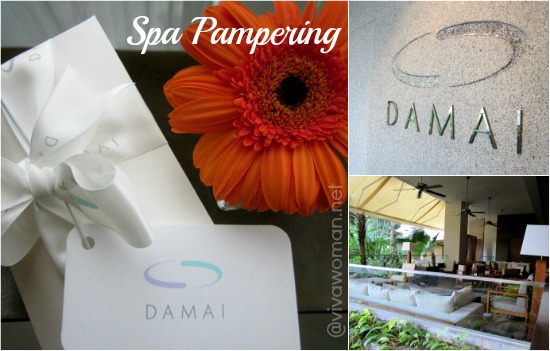 Delish sweet treats
One of the things that came with my invite was a little survey where Grand Hyatt wanted to find out more about my travel personality. In my reply, I had asked to be pampered with some treats and boy were there treats! Besides fruits and snacks, we had a whole cake custom-made just for our staycation! Not only that, we had an assortment of teas complete with different types of tea sets to our disposal.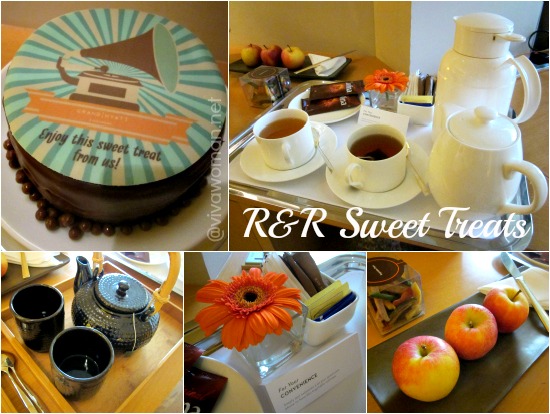 Spacious room with a generous king-size bed
But the highlight of the staycation was the king-size bed. In our experiences with king-size bed at a few hotels locally and overseas, this is the first that could hold three of us comfortably. It was a good thing that I did not settle for an extra bed for my son because we're the kind of family that likes to snuggle in bed. So even though all three of us were sharing the bed, it didn't feel squeezy and we could sleep well through the night. My husband was so pleased with the king-size bed that he kept talking about it even after we came back. You see, we have a king-size bed at home but it somehow feels smaller than the one at Grand Hyatt.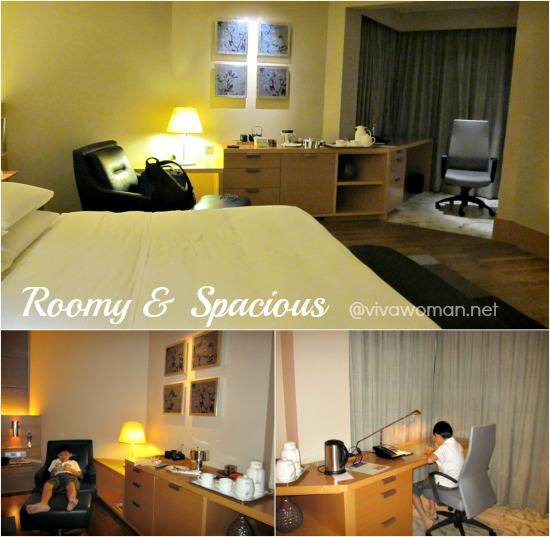 Large bathroom with vanity counter
Okay, I think it's safe to say that most people check out the bathroom in the hotels to determine if they like their room. Well, this one is really large and spacious with distinct corners like a vanity table that is away from the basin area. While I wouldn't say the bathroom is luxurious, it's very functional and well maintained. It also comes well stocked with all the essential toiletries, with shampoo and soaps from June Jacobs Spa Collection. Interestingly, I also noticed that Grand Hyatt Singapore has created a list of "Missing Must-Haves" where what guests can keep and what they can borrow or buy are listed clearly. I think that's really great because guests can have a better idea of what they'll like to take home as "keepsakes".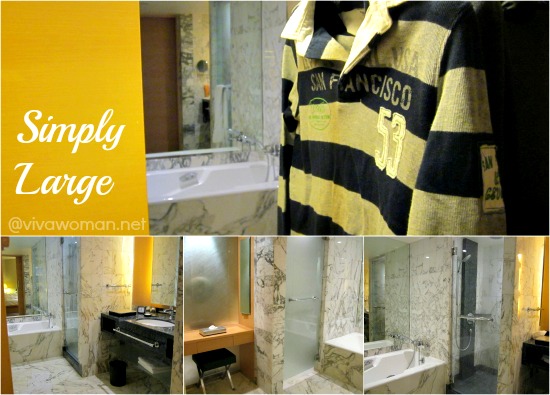 Considerate little details
Anyway, I must tell you two features I like very much about our room. One is that the closet is linked to the bathroom; so instead of having to bring in my clothes into the bathroom, I can just select what to wear by sliding a door to the closet! Ingenious! The other is that they've included a table clock in the bathroom, other than having one by the bedside. I can't begin to tell you how impressed I am about that little gesture because it means that I can watch my time as I go about my stuff in the bathroom. If that's not considerate, I don't know what is. And something else that is perhaps less apparent but again I don't always see it in the other hotels—that they leave a bottle of water and a glass by the bedside, making it convenient when I need a sip in the middle of the night.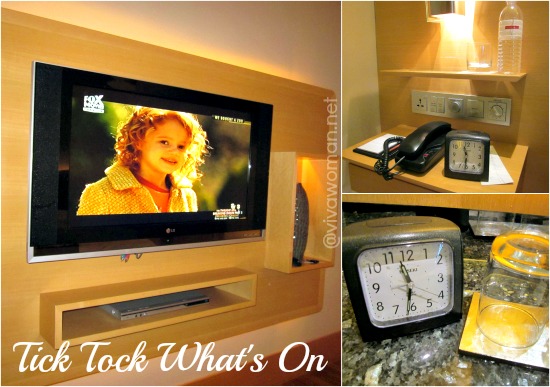 Scrumptious dinner and breakfast
All right, it's time to talk about the meals at Grand Hyatt Singapore. We were treated to dinner at Oasis Restaurant, where we enjoyed a delicious BBQ dinner with an open bar by the pool plus a free flow of selected beers, wines, margaritas and soft drinks. I didn't snap any pictures because I got there pretty late but yes, the food was scrumptious. I don't mind heading back there for a meal another time. The only food pictures I manage to snap were shots of our breakfast at Grand Club Lounge on Level 15 the next morning with a decent spread of mainly English breakfast. Anyway, I'll never make it to food blogging as you can tell from my limited pictures and descriptions. Haha.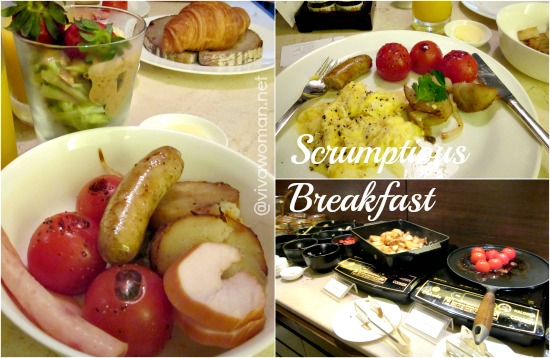 Limited activities near hotel
We definitely enjoyed our mini staycation at Grand Hyatt Singapore. Although activities around the hotel are rather limited unless you count shopping at different malls as varied, we managed to sneak out later on Friday night for some beer. We don't usually like coming down to Orchard as a family and so we took the time to walk a little down to Tanglin and it was quite interesting for us. It was also great not having to watch what we drink because we didn't need to drive after that. That, and the bed, truly made my husband a happy man!
Excellent amenities and level of service
So is it worthwhile to have a staycation at Grand Hyatt Singapore? I think it depends on what you like to do really. If your idea of staycation is to spend most of the time within the hotel, then yes, this is a place to consider based on the amenities and level of service. However, if you prefer to explore the surroundings, then a hotel right smack in Orchard may not appeal to you. Like I said, this wasn't a hotel we've ever considered for our staycation simply because of the location. But having stayed there now, we definitely won't mind coming back again. Well, we'll look forward to enjoying the comfortable king-sized bed for sure!
Comments