Drink, wash and look years younger with Pu-Erh tea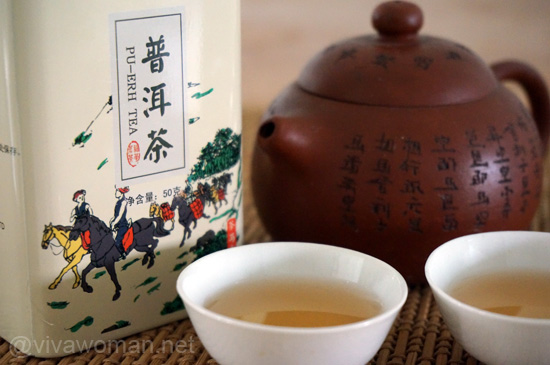 I never used to drink much Chinese tea, at least not daily. It's something that I consume only when I visit a Chinese restaurant. So while I know about Pu-Erh tea and probably drank it a couple of times before, I don't remember how it taste. However, since reading a beauty tip about the benefits of this tea, I went out to grab a tin and have since, been drinking a cup of Pu-Erh tea every day. Aside from drinking, I've also been including this beverage in my beauty routines. How? Read on to find out. (#k8SjZc9Dxk_#k8SjZc9Dxk)
Helps a 60-year-old look 20 years younger
According to a Chinese book I was reading, drinking Pu-Erh tea regularly has tremendous beauty benefits. A woman in her 60s look 20 years younger because she has been drinking Pu-Erh tea regularly and using the tea topically on her face. When interviewed, she said that Pu-Erh tea helped to clear up her skin and keep it even toned. Okay, this probably sound like a tall tale and I must come across too gullible to fall for it but still, I see no harm giving it a try.
Exquisite smooth taste that is not bitter
If you've tasted Pu-Erh tea, you probably won't mind trying it out for yourself. It's an exquisite full-flavored tea that is very smooth and somewhat earthy. It's one of those tea that is not bitter even when the leaves have been steeped for a long while. I'll even say it's one of the better Chinese tea I've tasted. Definitely much better than Oolong!
High in antioxidants
Pu-erh tea is made from the leaves and stems of the Camellia sinensis plant. According to what I've read, Pu-Erh is great for weight loss, anti-aging and cutting grease. I ran some quick check on the web and only found this resource that promotes Pu Erh as an ingredient that has freckle-removing, skin moisturizing, menstruation-regulating and dampness eliminating effects. Sounds kinda incredulous but still, I decided to give it a try because Pu-Erh is rich in antioxidants and flavonoids. It also contains vitamin C, vitamin E and vitamin B2.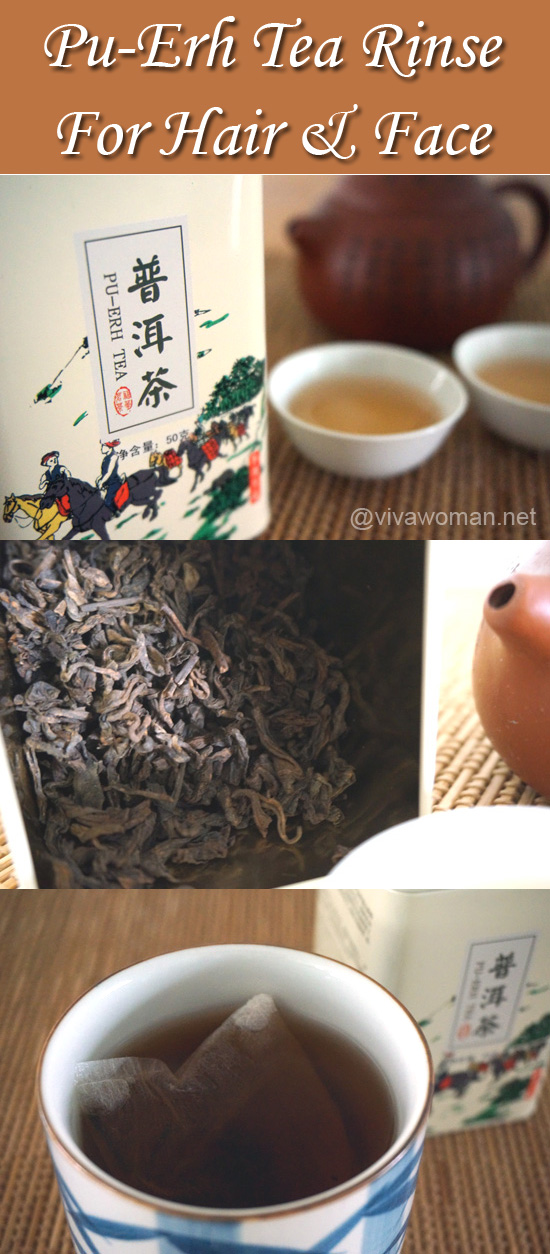 Light and pleasant scent
So I've been making a brew of it and drinking a cup daily. It makes a great drink after a heavy meal. I then steep the tea bag in a second cup which is then used to rinse my face and hair after it has been left to cool. The pleasant light scent makes this a great rinse as I don't have to worry about any strong smell lingering on my hair or my face.

Used as a toner to increase hydration
Pu-Erh tea makes a great facial toner too. Immediately after rinsing my face with the tea, I'll pat and press the tea drops onto my skin and then quickly seal in the hydration with a facial oil or serum while my skin is still damp. I can't say if it has made my skin any better but I like using it a lot. But what I've found is that it has helped to ease off greasiness from my scalp and that's something I'm grateful for. Compared to the other types of hair rinses that I've tried, this is relatively easier to make and use daily.
Steep in empty tea bags
I purchased the tin of Pu-Erh tea leaves from Hock Hwa at S$8—not exactly very cheap as the tin lasts about a month or lesser with daily consumption. I'm already into my second tin. However, one teaspoon of leaves is sufficient for a cup and I steep them using an empty tea bag that can be purchased from the supermarket or Daiso. Alternatively, you can use a strainer.
Directions to steep
Put a teaspoon of the leaves in an empty tea bag. Pour some hot water directly on the tea bag to rinse the tea leaves. Pour away the water before making a full cup. Steep for 5 to 10 minutes before drinking. Remove the tea bag to another cup and steep in hot water. Leave to cool before using it to rinse your hair and your face. Please note that I always use filtered water to make the tea and that's why I don't mind using this on my face too.
Give it a try
If you like Chinese tea, you may already like Pu-Erh to begin with. But even if you don't, I promise you that this tea is very palatable. So no harm giving it a shot to see if you can derive any benefits from it. However, as with any home remedies, don't expect an overnight miracle. Even a good cup of tea requires some patience especially to being steeped multiple times without losing flavor or complexity.

Comments