Enchanting tale of Argentum Apothecary La Potion Infinie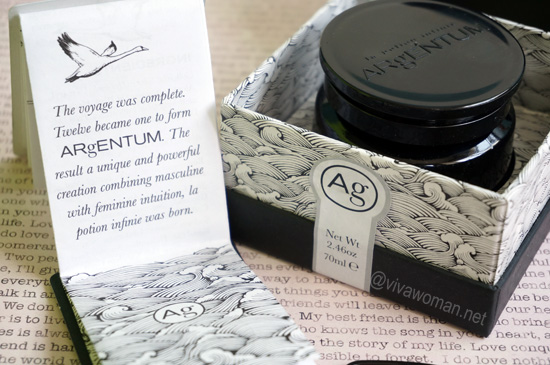 Going by the price tag alone, the Argentum Apothecary La Potion Infinie is definitely a luxe moisturizer. Yet, this is no ordinary luxe moisturizer. Every part of the patent pending fusion—from the name, the 99.5% naturally derived ingredients, the ultraviolet onyx-colored glass tub, the 12 Argentum archetype cards and the signature scent—was created to imbue a sense of mystery and mystique befitting a unisex cult beauty product.
Argentum Apothecary La Potion Infinie is said to be a super hydrating, restorative anti-aging cream that acts as a powerful antioxidant to regenerate damaged cells, nourish and firm skin complexion. While I don't completely get the packaging and I'll tell you why later, I'll concede that La Potion Infinie is an intriguing product because it contains Silver Hydrosol, DNA HP and Caffeine, ingredients that are not common in the skincare products I've used. Plus unlike some other cult beauty "la" brand, this tub also doesn't contain any of the mineral oil, paraffin, lanolin alcohol, alcohol denat or synthetic fragrance.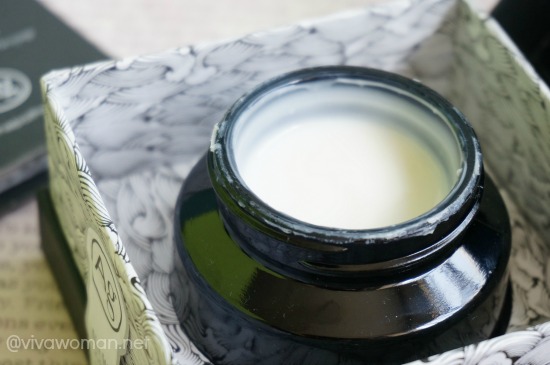 Here's a quick look at the ingredient list of La Potion Infinie with some insights into the two key ones, namely Silver Hydrosol and DNA HP.
Full ingredient list
Colloidal Silver (Hydrosol), Cetearyl Alcohol (Coconut Oil Wax), Hydrogenated Vegetable Glycerides (Palm Oil), Dicaprylyl Carbonate (Vegetal Origin), Prunus Amygdalus Dulcis Oil (Sweet Almond Oil), Glycerin (from Karanja Tree), Argania Spinosa Kernel Oil (Argan Oil), Butyrospermum Parkii Butter (Shea Butter), Caprylic/Capric Triglyceride (from Coconut Oil), Aqua, Cetearyl Glucoside (Sugar and Coconut Extract), Caffeine, Sodium DNA (DNA HP), Sodium Stearoyl Glutamate (from Vegetal Oil), Helianthus Annuus Seed Oil (Sunflower Oil), Xanthan Gum (Vegetal Origin), Aloe Barbadensis Leaf Extract (Aloe Vera Extract), Parfum (Essential Oils), Potassium Sorbate (Soil Association / Ecocert Preservative), Tocopherol (Vitamin E), Sodium Benzoate (Soil Association / Ecocert Preservative), Citric Acid (Vegetal Origin), Limonene (Essential Oils), Linalool (Essential Oils), Eugenol (Essential Oils)
Silver Hydrosol
The purest and highest grade (made of 99.99% pure silver) of all the colloidal silver categories, this has a high content (96%) of ultra-fine, positively charged silver ions (Ag+), suspended in pharmaceutical-grade purified water. It also has powerful anti-inflammatory and anti-bacterial properties, regulates skin flora, increases the process of tissue regeneration, decreases irritant effects caused by oxidative stress and stimulates skin elasticity.
DNA HP
A natural marine sourced ingredient, based on the work of Nobel Prize winning scientists. It works by trapping a toxic radical, namely hydroxyl, which is highly reactive to biomolecules such as collagen and elastin causing their oxidation and degradation. Additionally, its structure is such that it can penetrate cutaneous intercellular space, thus promoting and increasing skin hydration by carrying 10,000 times its weight in water. This is unlike any other hydration product, which simply attempts to 'trap' water in the skin.
In short, the Silver Hydrosol has natural balancing, anti-inflammatory and anti-bacterial properties while DNA HP is a marine-sourced element which promotes cell regeneration, deliver maximum hydration and fight toxic radicals. The result? An anti-aging cream that works miraculously to treat oxidative stress, signs of ageing and blemishes.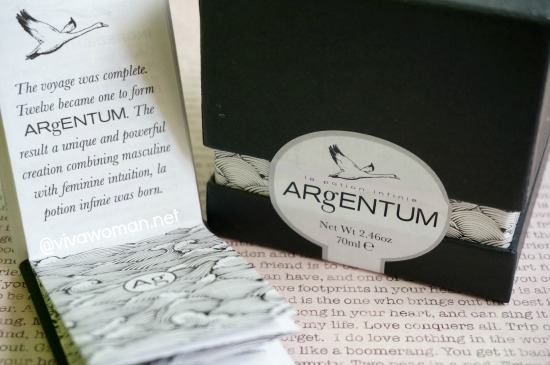 Texture, scent and performance
The consistency of the lotion is creamy and silky without being heavy nor greasy. But it comes with a rather seductive signature scent—with notes of orange, bergamot, rosewood, geranium, sandalwood, and patchouli. What's interesting is the moment you apply La Potion Infinie, you will feel a unique but pleasant tightening effect on your skin. This is due to the combination of DNA HP delivering instant hydration and caffeine working to stimulate circulation.
La Potion Infine most certainly melted into my skin upon application. While I did feel the instantaneous tightening effect after application, I can't say I'd noticed anything exceptional. Maybe I need to use it for a couple more months to know. But the good thing is the lotion feels comfortable on my skin and I don't wake up to an oily face. Does that mean that my skin was adequately hydrated? I don't know because it still feels like normal to me.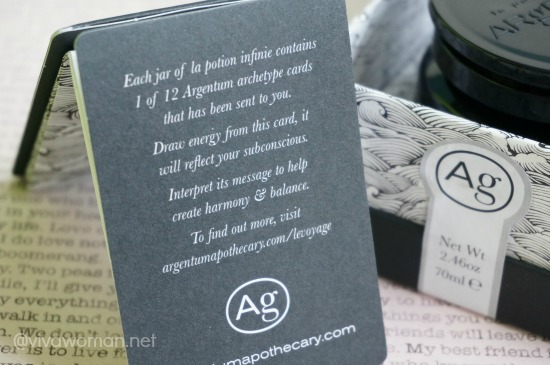 Packaging with protection
The jar used to contain La Potion Infinie apparently offers optimal protection with a patented protective violet glass that works by blocking the complete spectrum of visible light with the exception of the violet light. Through this protection, the life span and potency of the product is prolonged. It also comes with a spatula so you don't have to dig in the jar with your fingers.
Finally, each jar of Argentum La Potion Infinie also comes with one of the 12 archetype card delivered by chance: The Creator; The Sage; The Caregiver; The Magician; The Everyman; The Ruler; The Jester; The Innocent; The Rebel; The Explorer; The Hero and finally The Lover. Whichever box happens to befall you is supposed to tell you something about your life. Okay, I know this is all supposed to be enchanting but I tell you, I find it offending. For goodness sake, I'm into skincare not some silly make-believe fortune telling. Don't send me some random card, especially not one printed with a snake! (-_-) So while others may ogle at the illustrations and the mystique behind those cards, they turn me off completely.
As mentioned, this is a luxe moisturizer and hence, is naturally expensive by the normal standard. I've had the 70ml Argentum La Potion Infine jar sent complimentary to me for review purposes but it usually cost £147 and is available at Argentum Apothecary and Lovelula. Seriously, I am very curious how many people are willing to dish out that kind of money for a high-end moisturizer created to turn on the psychic in us.

Comments