5 of my favorite lip balms and you can get one for free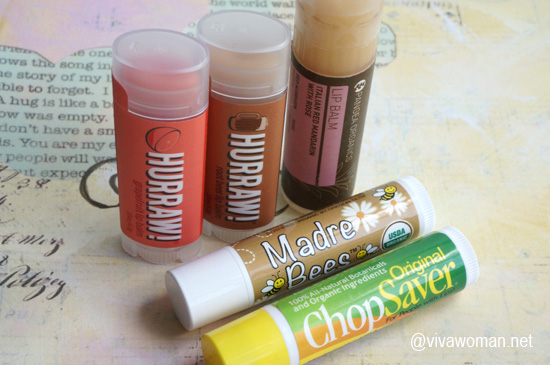 While I don't take special care of my lips, I'm quite a lip balm addict. I don't think I've ever finished using a tube though as I always have a handful on rotation and even before I'm done with any of them, I will usually add new ones to my collection. So what is it about lip balm that appeals to me? Well, I can't quite put my lips to it but I just know I can do without lipsticks but I can't do without a lip balm. Anyway, I wanted to show you some of the lip balms that are on current rotation. They are either stashed in my bag or strewn on my desk.
But before I talk about them, I want to preface this by saying that while I claim to be a lip balm addict, they're not in any way addictive. Hello? Did I just contradict myself? Well, no. As a lip balm addict, I just like them but I don't necessarily need to use them all the time. So in a day, I use my lip balm like twice or thrice at most. I also don't go into a withdrawal symptom when I can't get to use them for some reason. So with that qualification out of the way, here's a quick look at five lip balms I currently like.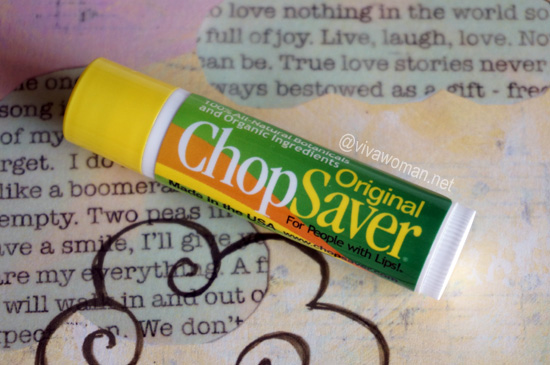 Chopsaver Original
This is by far, my favorite lip balm and I was glad to receive it again. Originally created for musicians—people who use and abuse their lips on a daily basis, ChopSaver Original is 100% all natural. It combines the goodness of herbs with nature's finest oils and moisturizers like shea butter, mango butter, avocado oil and aloe. Kissed with the essential oils of citrus, ChopSaver soothes your lips like no other product on the market whether you are a musician or not.
The ChopSaver Original lip balm comes with these natural ingredients -Castor Oil, Candelilla Wax, White Beeswax, Shea Butter, Mango Butter, Aloe Vera, Carnauba Wax, Avocado Oil, Apricot Kernel Oil, Grapeseed Oil, Extracts of Arnica, Extracts of Calendula, Extracts of Comfrey, Extracts of Raspberry, Extracts of White Willow, Vitamin E, Citrus Essential Oils. Because of the shea butter, this lip balm provides some level of sun protection on its own but if you want more, than you can choose the one with SPF15.
S$8.90 from Pucker.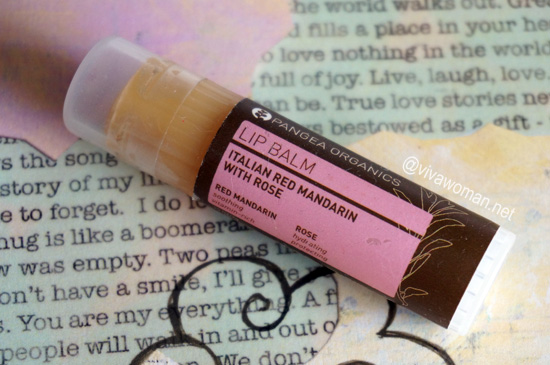 Pangea Organics Lip Balm, Italian Red Mandarin With Rose
I remember when I first tried the Pangea Organics Lip Balm, I'd rated them as average. But somehow this particular lip balm works great for me and I loved it so much, I almost finished the tube. This certified organic lip balm offers deep-moisturizing with its organic oils that provide tremendous staying power without that unwanted waxy feel. Certified under the USDA National Organic Program and gluten free, these are the ingredients that go into its making:
Helianthus annuus (organic sunflower) seed oil, cera alba (organic beeswax), simmondsia chinensis (organic jojoba) oil, lecithin (soy), cannabis sativa (manitoba harvest organic hemp) seed oil, butyrospermum parkii (organic shea) butter, citrus aurantium dulcis (organic sweet orange) oil*, citrus nobilis (organic red mandarin) oil*, cymbopogon martini (organic palmarosa) oil*, rosa damascena (organic rose otto) oil*, calophyllum tacamahaca (organic tamanu) oil, aloe barbadensis (organic aloe vera) gel, tocopherol (vitamin E) * Essential oil
S$14.50 from Bellabox. Also available in Pyrenees Lavender with Cardamom and Egyptian Fennel.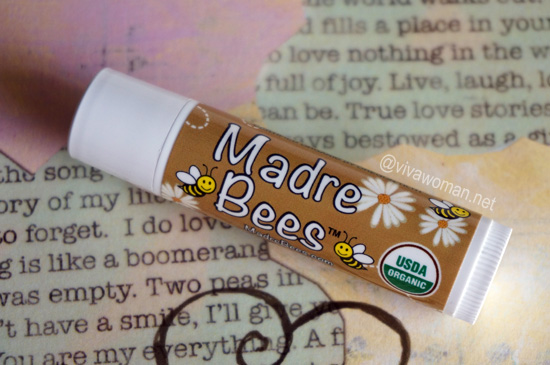 Madre Labs Lip Balm
I received this with the purchase of my AFC supplement and upon using it, found it to be very smooth, moisturizing and long lasting. Using USDA-certifed organic beeswax, this lip balm contains the shortest ingredient list: Extra Virgin Olive Oil*, Beeswax*, Cocoa Butter*, Sunflower Seed Oil*, Non GMO Vitamin E (*Organic) and is certified by Oregon Tilth.
While I still see Madre Bees sold in the market, the brand is changing its name to Sierra Bees, without changes to the product.
Free from iHerb. Available in seven different flavors which are Cocoa Butter, Honey, Mint Burst, Pomegranate, Tea Tree & Tamanu, Unflavored and Vanilla.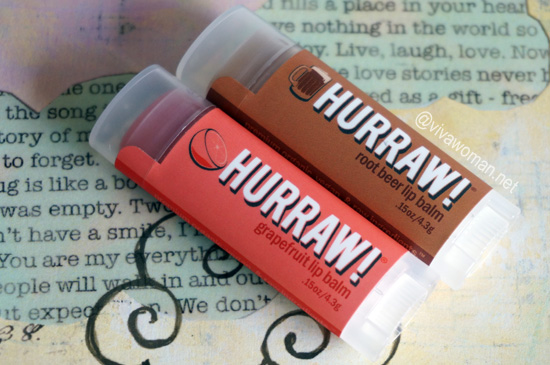 Hurraw! Lip Balm
Of the lot, Hurraw is the least moisturizing for me but I like that it is cute with many different flavors. Hurraw! Balm is a certified vegan product and contains certified organic, cold pressed and centrifuged extracted, nut/seed oils and butters that have been processed below 118F degrees and are still chocked full of their essential nutrients and enzymes. I like the fresh and zesty pink grapefruit balm made with fresh cold pressed organic oil from the grapefruit peel.
Ingredients: Alkanna tinctoria (alkanet) infused *Prunus amygdalus dulcis (sweet almond) oil, ***Euphorbia cerifera (candelilla) wax, **Cocos nucifera (coconut) oil, *Simmondsia chinensis, (jojoba) seed oil, **Theobroma cacao (cocoa) seed butter, *Ricinus communis (castor) seed oil, *Olea europaea (olive) fruit oil, Citrus paradisi (grapefruit) peel oil, Tocopherols (sunflower) *cold pressed / organic **raw & organic ***wildcrafted
US$3.37 from iHerb. Available in over 20 flavors.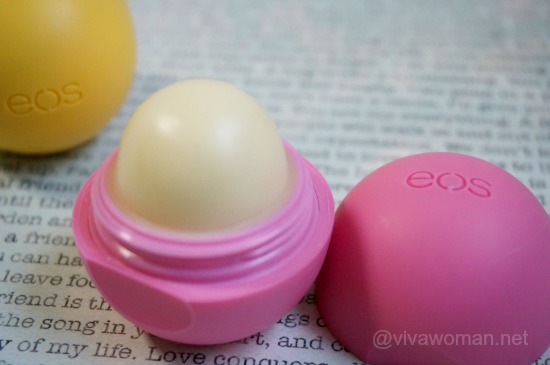 EOS Strawberry Sorbet Lip Balm
And the last on the list is the cute egg-shaped Smooth Sphere Lip Balms from Evolution of Smooth or EOS in short. It makes a great eye candy and is definitely a novelty. But it is not as convenient as the tube form and take up more space for sure. Anyway, the EOS Lip Balm in Strawberry Sorbet that I have is 95% organic, 100% natural, gluten, phthalate, paraben and petrolatum free.
Ingredients include: Olea Europaea (Olive) Fruit Oil*, Beeswax/Cera Alba (Cire D'abeille)*, Cocos Nucifera (Coconut) Oil*, Simmondsia Chinensis (Jojoba) Seed Oil*, Natural Flavor (Aroma), Butyrospermum Parkii (Shea Butter)*, Stevia Rebaudiana Leaf/Stem Extract*, Tocopherol, Helianthus Annuus (Sunflower) Seed Oil*, Fragaria Vesca (Strawberry) Fruit Extract*, Limonene**, Linalool**. *Organic. **Component of Natural Flavor. Certified Organic by Oregon Tilth.
US$3.29 from EOS. Available in eight flavors including Blueberry Acai, Pomegranate Raspberry, Summer Fruit, Sweet Mint, Honeysuckle Honeydew, Strawberry Sorbet, Medicated Tangerine and Lemon Drop with SPF 15.
Get one for free
As you can see, the prices vary quite a bit. Some belong to the luxe category while others are going for a song. I highly recommend Madre Bees or Sierra Bees from iHerb because it's free and it's really good!
Comments