Going street style with high-top wedge trainers from Nike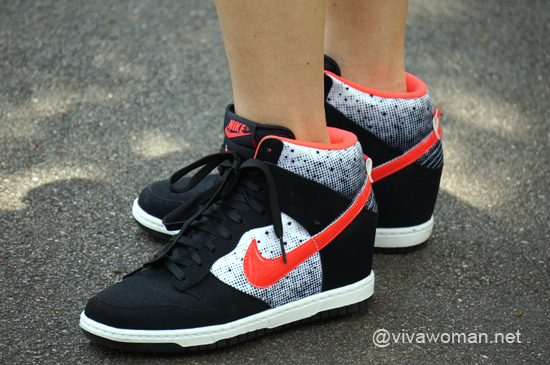 Okay, I just scored myself a pair of Dunk Sky Hi trainers from Nike and…I love them! This is a pair of wedge trainers and I get both height and comfort all at once! And they look really fashionable too! I had so many people coming up to compliment me about the shoes. So I don't really care if they're in fashion or out, or that they're meant for under 19. They're just going to chalk up some mileage with me for awhile.
Okay, my legs are kinda short and stumpy and so I was leery about high-top trainers. But with the hidden wedge insole, this pair of Nike Dunk Sky Hi Wedge 'Queen Of Hearts' make my legs look somewhat longer (but not any leaner) than if I were to wear a pair of flat sneakers. So yes, I like the combo, even though some fashion experts are trying to dissuade. Suprisingly, the fashion policeman at home, aka my husband, had nice things to say about them.
But I need to thank JD Sports for sending me this pair of cool trainers, all the way from UK no less. I looked really hard at the online store and selected this Nike pair because it doesn't look bulky or hideous but somewhat feminine and stylsh. To the untrained eye, they look just like an ordinary pair of high-top. And what I like is that the shoes fit my feet snugly and the padded collar and tongue together with the EVA midsole offer plenty of cushioning and comfort for every step I make.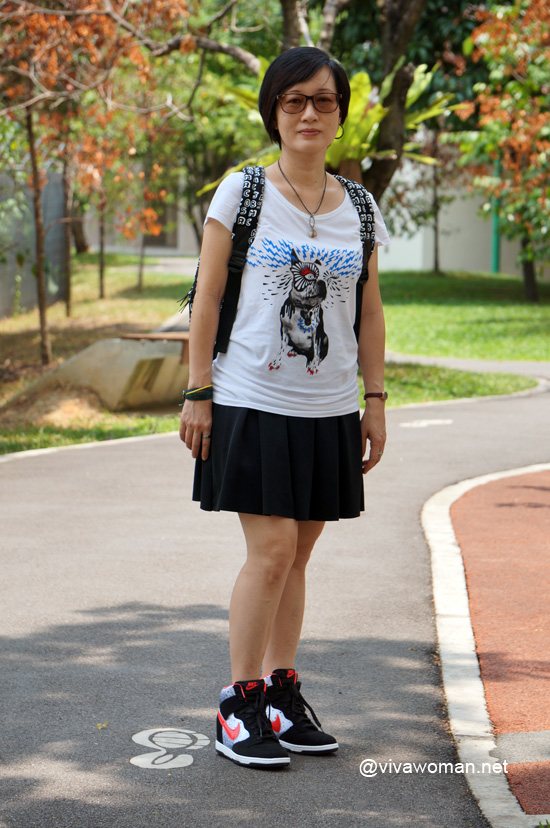 Outfit of the day
My outfit of the day complete with my slightly oversized backpack. This outfit by the way, looks similar to this, but the pieces are actually different. I've been told I look like a teenager, perhaps not as a compliment but do I care? My fashion attitude is this: I dress to please no one except myself. Next time, I may try wearing a dress with the trainers. Until then.
Details
Marc by Marc Jacobs Olive Printed Tee in white from Shopbop.
Black skaters skirt from Zara.
Marc by Marc Jacobs Dynamite Logo 13″ Computer Backpack from Shopbop.
Nike Dunk Sky Hi Wedge 'Queen Of Hearts'from JD Sports.
Comments