Additive-Free Japanese Skin Care System From HABA
I first learned of HABA from a reader some years back and recall seeing them at the basement of Takashimaya. I even wanted to try their washing powder at one stage. But because I couldn't erase the image of my mom using washing powder to wash clothes back when I was a kid, I gave up the idea quite quickly. So the brand soon slipped under my radar. It only resurfaced recently when I was invited to their Suntec outlet and that was when I found out about their full range of additive-free or Mutenka cosmetics that are free of parabens, fragrances, mineral oils, chemically synthesized tar colors and petrochemical surfactants.
If you think HABA reminds you of Fancl, you are not alone. Both are Japanese brands that advocate the Mutenka philosophy and offer a wide range of skincare products, beauty supplements and makeup items. HABA skincare products however, are centered around the key ingredient Squalane—extracted from the liver oil of deep-sea sharks and purified to the maximum level of 99.9%. So while HABA subscribes to being additive-free, it is not vegan.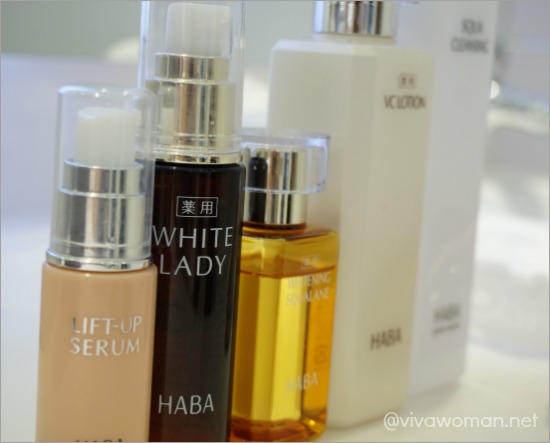 3-step skin care system
Like many, the Japanese brand also promotes a 3-step skin care system that includes cleansing, moisturizing and protection. For cleansing, HABA offers a range of cleansers, all formulated with squalane, that work for different skin types by removing dirt and makeup without removing moisture. I was introduced to their Squa Cleanser that is oil based but I also got to try their water-based Micro Force Cleanser at home.
Interestingly, moisturizing the skin is introduced by way of a toning lotion and this is where I learned about the 5-times toner application method. According to the company, the concept works like watering a plant: pour too much water at one go the water overflows but if you pour a little repeatedly, letting the soil absorb the water gradually, more water can be absorbed by the plant. So in the same way, for toner to penetrate fully into the skin, it is necessary to repeat the application of toner more times in smaller amounts. It is an enlightening concept but it definitely is more time consuming.
Finally, protection is just applying one drop of squalane which can protect the skin from external irritants like dehydration, UV rays and dirt. I like the idea of protection with oil but I don't know if squalane is as effective as sunscreen if one were to step outdoors so I'll still advocate using a sunscreen after this step.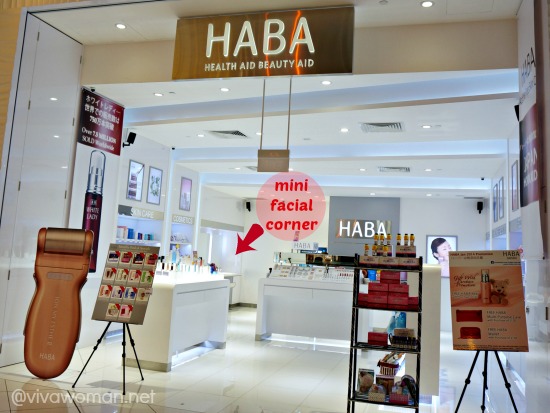 Mini facial at Suntec outlet
When I received their invitation to their Suntec store, what was pitched to me was a mini facial. Because of my conventional perception of the word "facial", I had no idea that it was something done at a little corner within the store in the full view of walk-in customers. It seemed awkward but because there weren't that many customers at that time, I didn't feel so odd.
The whole objective of the facial was really for customers to get a first-hand feel of HABA products. I'll say this is a very clever strategy because it allows customers to experience the products before committing themselves to any purchase. While I was told that customers will never be coerced to purchase anything, I suppose most will end up purchasing one item or another especially if some improvement were seen after the facial. Afterall, people who walk into a store usually do so because they're looking for something to satisfy their need.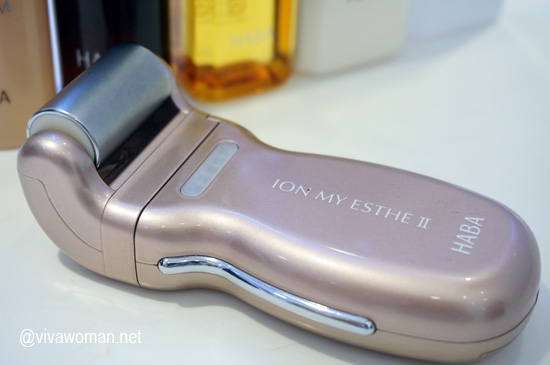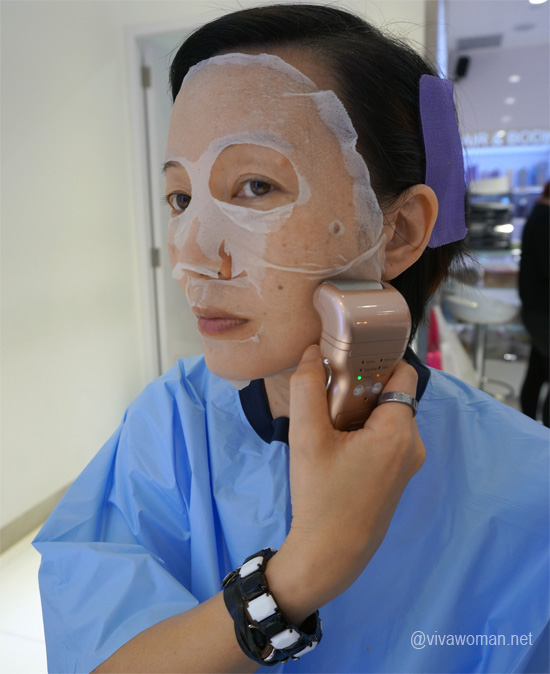 Ion My Esthe II for firmer and whiter skin
Apart from sampling the products, I got to test out their Ion My Esthe II, an ionizer positioned as a home aesthetic treatment device to extract dirt from the skin in its ion cleansing mode or to deliver serum deep into the skin in its ion care mode.
I was assured that I can see a marked difference to the level of fairness and firmness in my skin in just 8 minutes! Well, it does but the whole process needs to be done really slowly to be effective. Anyway, this gadget cost S$350—not exactly expensive if you consider that this is a one-time investment and you can get the kind of results promised at salon level.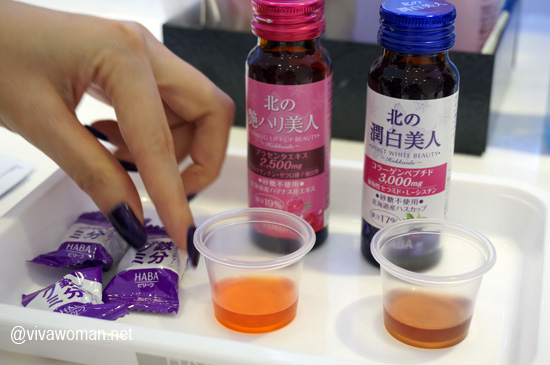 Instant results with Moist White Beauty supplement
But of all their products, the category that got most of my attention was their beauty supplements. I'm a beauty supplement junkie and these things speak to me. HA! So I found out that HABA carries a few types of beauty supplements but Moist White Beauty, a 2-in-1 beauty drink that can replenish collagen levels and whiten skin at the same time is their bestseller. It contains Haskap (blueberry honeysuckle) found only in Hokkaido, which is known as the "longevity fruit" among the indigenous Ainu people and has long been coveted for its powerful whitening and anti-aging properties. Each bottle also contains 3000mg of collagen, which is the maximum amount our body can absorb daily and the entire content is just 21 calories.
I was given just a bottle to take home and let me tell you, this stuff is potent! I drank it and woke up next morning to a visibly firmer and bouncy looking skin on my face! I WAS SOLD on the instant effect and am seriously considering swapping my AFC supplements for this! But what's deterring me is that each box cost S$49 and only contains 10 bottles.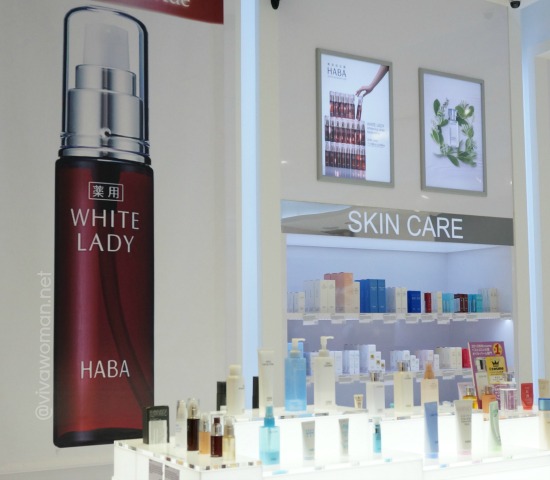 White Lady
I was given a set of HABA skincare products to try and amongst them was their White Lady, an intensive skin care serum containing Sasa Kurilensis Water and water-soluble vitamin C that is both stable and penetrating. I was told that within a week of using White Lady, my skin would becoming fairer, firmer and more hydrated. Well, I don't get the fairer effect probably because I already have vitamin C in my skincare regime but I do see that my skin has gotten more hydrated and somewhat firmer. My pores also appear to look tighter. So if you are looking for a vitamin C product for your skin, you might want to give this a try. The smallest bottle at 10ml cost S$29.
HABA 15% promotion for Viva Woman readers
Okay, here's the deal. From now till end of April 2014, you can get a 15% discount off your purchases at any HABA shop (Taka, Suntec & OG Orchard) if you quote my name (Sesame of Viva Woman). But better still is that from now till 23 March, you'll get 20% off their new store at OG Orchard as part of their opening sale!  To find out more about the HABA products and promotions, you can also check out their website here.
Any users of HABA products? If you are, do let us know how you feel about the products in the comments section.
Comments