Shorter eyebrow thanks to Barbara Carranza Tweezer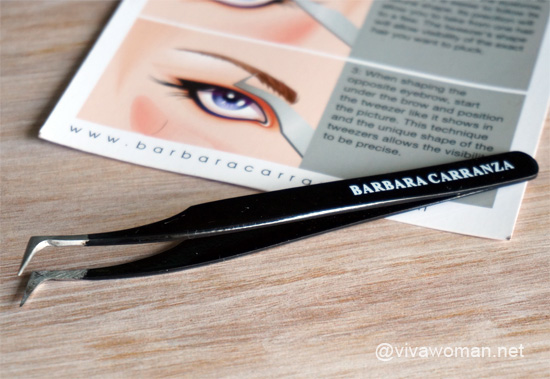 I experienced an eyebrow disaster using this Barbara Carranza Eyebrow Tweezer. Fortunately, it was remediable or I would have to hibernate at home till my eyebrow grows out. Well, what had happened was that I had over tweezed one side of my eyebrows in my enthusiasm. As a result, one side is now a few centimeters short of the normal length! Does that mean that this tweezer is a flop? Well no…because the disaster was not the fault of the tweezer but the person who handled the tweezer!
Designed for perfect eyebrow plucking
Anyway, eyebrow disaster aside,I was interested in the Barbara Carranza Eyebrow Tweezer because of its unique shape. Plus I thought that since the tweezer is designed by a Mexican makeup artist who is an expert in eyebrow shaping, particularly having come from an environment where a perfectly shaped eyebrow is an absolute must, this tweezer must be the ultimate tool for perfect eyebrow plucking. So I agreed to try it to see if the tweezer is indeed as effective as described.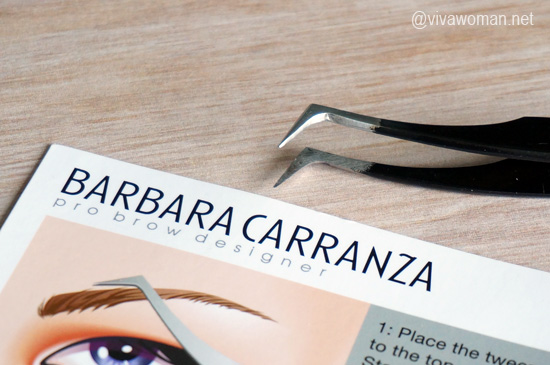 From demerit to merit
I must qualify by stating that I am no expert with eyebrows nor eyebrow tweezer. I have been using Tweezerman all these years and naturally, I would pit the Barbara Carranza Eyebrow Tweezer against it. In fact, when I first used the Barbara Carranza Tweezer, I was totally unimpressed. I couldn't see much merit with the tweezer and was quick to dismiss it as only good enough to pick up fluff. But good thing the unique head somehow kept calling out to me and I decided to give it another go and this time, I began to appreciate it better.
Various benefits
First off, the length and angled grip of this tweezer make plucking a clear breeze with no obstructed view. Second, having a pair of tweezer that can align to the eyebrow makes shaping a lot easier. I have to admit that because of its alignment, it is easier to follow the natural line of the actual brow shape, something I have not experienced with Tweezerman. Next, I discovered the tip of this tweezer allows fine hair to be plucked out quite easily without nicking at my skin. I did not discover the usefulness of the tip until much later and that's why I had dismissed the tool very quickly at first. I thought it was not sharp enough to remove fine hair.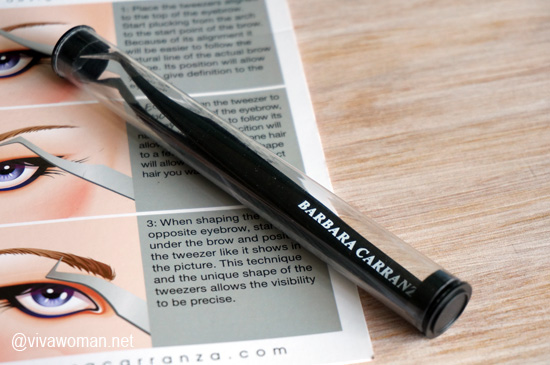 Makes eyebrow plucking fun
So after getting a hang of using the tool, I found that eyebrow plucking is quite fun and so I began picking at my eyebrow hair more often. That was when I over plucked and disaster struck! You can say that I got carried away and kept plucking…too much!
Use to apply fake eyelashes
How does it pit against Tweezerman? Well, if you're using Tweezerman, you may need some persuasion to switch to the Barbara Carranza Eyebrow Tweezer. Initial reception is probably expected to be lukewarm and it will take some patience to see its merit. However, the Barbara Carranza Eyebrow Tweezer can be used to apply fake eyelashes and so that certainly chalks up quite a large brownie point. So in that sense, the extra function of this tweezer makes its price tag of £15 somewhat more justifiable.
If you're interested to check out the Barbara Carranza Eyebrow Tweezer, information is available online at Barbara Carranza. Meanwhile, I've gotten more used to this tweezer now and is unlikely to repeat the disaster. But if anyone knows how I can grow my eyebrow hair more quickly, pray tell me k?

Comments