DIY Beauty: Apple Cider Vinegar for hair & acne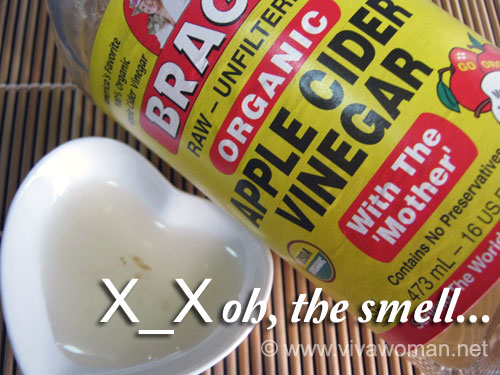 Sometime ago, Jyoan of Positively Nice mentioned in one of her comments that she's been drinking Apple Cider Vinegar as a beauty aid three times a day. I understand that Apple Cider Vinegar can help to create a more alkaline pH in our body and hence, is great for detox as well as slimming. We bought a bottle back then but because of the funky smell, I haven't been able to bring myself to even take a sip. My husband drank most of it and he said he quite like how he felt afterwards but because we started taking the Fit Solution all-in-one complete supplement, he hadn't gone back to drinking it anymore. I still have some of it left in the fridge and have been using it for my hair and acne instead.
Used to balance pH of hair and aid hair loss
Apple cider vinegar can help to balance the pH of our hair and remove the buildup from using silicone-based shampoos and conditioners. What I do is I saturate a cotton wool full of undiluted apple cider vinegar and dab it to my scalp after washing my hair. It is actually best not to rinse out but the smell is unbearable even though it does dissipate after some time. So I usually just let it sit for about 10 minutes before rinsing off. I can't say that I've grown more hair but I do like how my hair looks and feels afterwards – more volume and looks kind of glossy. But the smell is really too much for my liking.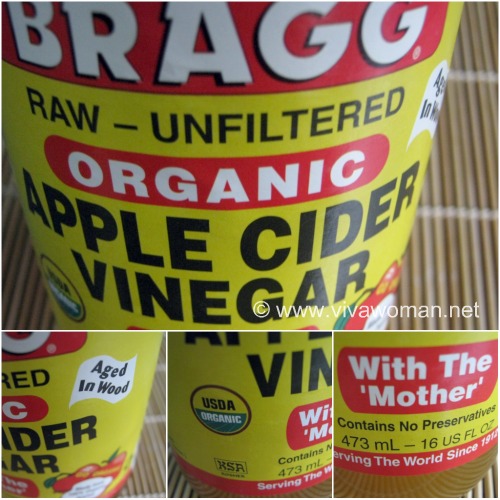 Used to regulate pH of our skin and combat acne
Apart from being able to regulate the pH level of our skin, Apple Cider Vinegar is said to be rich in alpha-hydroxy acids and hence, is great as a natural skin exfoliator. I've tried applying ACV neat on some of my acne spots and it does help to reduce the redness and inflammation for some of them. I know some use ACV as a toner, diluted either with mineral water or green tea but personally, I'm not keen to use it so often as it can irritate the skin. So I would recommend this as a spot treatment for blemishes.  I read that ACV is great for those suffering from back acne!
Hosts of health benefits when ingested
Apple Cider Vinegar has a host of other health benefits when ingested. Besides providing detox and slimming benefits, it contains beta-carotene, which help to counteract damage caused by free radicals and also potassium, and that is good for fighting common colds and allergies. I believe that with long term consumption, this ingredient can help improve one's health and beauty. That is, if one can take to the smell and taste.
Erm…any of you loving Apple Cider Vinegar?
Comments