Karen Murrell Summer Bouquet: no nasties on my lips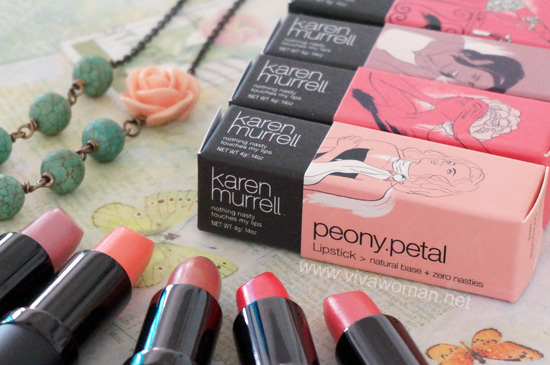 The Karen Murrell Summer Bouquet Lipstick Color Collection are all made from natural based ingredients and contain no mineral oils, animal-based material, parabens or preservatives. They also come in environmentally friendly packaging that help minimize emissions that cause global warming. The brand is created based on the mantra: nothing nasty touches my lips. Sounds like serious? Yet, these lippies are anything but boring and dull. Like flowers, they are created to be be vibrant and colorful to brighten both your lips and day! And check out those boxes! Arent't they too pretty? I can't bear to throw them away.
I think I've mentioned not too long ago that I don't always wear lipstick color. Well, I often forget. But this collection of Karen Murrell Summer Bouquet has inspired me again. Created to be easy and fun to wear, the collection comes in five new floral inspired hues, each rich in natural pigment, ensuring each lipstick has intense colour, is long wearing, and does not feather. It's easy to fall in love with them but I must warn you first that pretty as they look, this is not a glowing review. However, before I tell you why, let me give you a brief intro on the brand.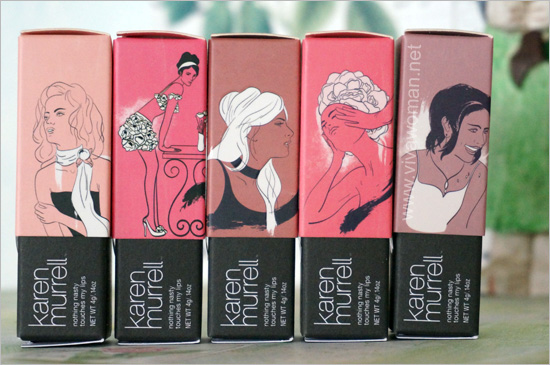 New Zealand eco-friendly brand
Karen Murrell (KM) hails all the way from New Zealand. The founder first began with skincare products but later formulated lipsticks because of her love for color cosmetics. She'd seen a gap in the market for a natural lipstick that was environmentally friendly yet functionally as good as any top international brand. So the range of Karen Murrell lipsticks was born. What you see here is only their summer collection. Besides these five, they have another 11 colors plus one lip balm–all made from mostly based ingredients that are said to be nourishing for the lips.
Going by the description on their website, the company has also put in a lot of effort to ensure that their packaging is eco-friendly. According to them, their lipstick canisters are made from PLA (polylactic acid), a corn resin based material that will start to dissolve back into Mother Earth within 100 days. It is also greenhouse gas neutral, helping minimize emissions that cause global warming. The packaging of the Karen Murrell range, with its original artwork, has been designed with sustainability at the forefront. The outer packaging is a 100% recyclable and renewable box made from New Zealand trees and printed with soya ink.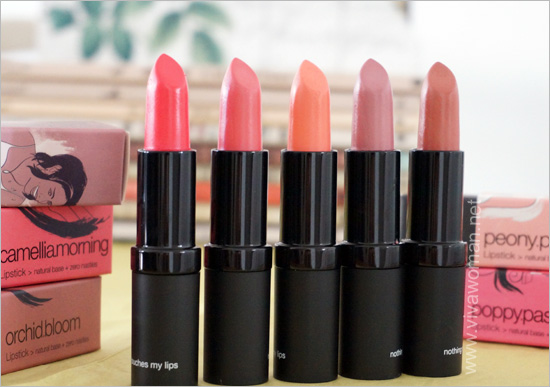 Active ingredients
Interestingly, I noticed that the brand provides a lists of the active ingredients for their lipsticks, the way some skincare products do. Perhaps it's just me but I've never thought of lipstick as a skincare too. If I want skincare, I'll go for a lip balm perhaps but a lipstick? But I guess the lipsticks are still considered as color cosmetics just that they have some lip care properties and these are featured in the forefront as follows:
Candelilla (Euphorbia cerifera)
The candelilla plant grows in the semi-arid environment of northern Mexico. Plants growing in the hottest and driest areas produce a protective covering, which yields a hard vegetable wax of superior quality after processing. Candelilla wax is yellow, and is celebrated in lipstick production for its hard, brittle, glossy and slightly tacky properties.
Evening primrose oil (Oenothera biennis)
Rich in omega-6, soothing and very moisturising.
Castor oil (Ricinus communis)
Excellent emollient properties and a high-acting pigment dispersant. Due to its high viscosity, castor oil also helps to suspend pigment in the manufacturing process to avoid settling when hot. KM Lipstick pigments are milled into castor oil in a ball mill. The milling process reduces particle size and ensures even suspension and distribution.
Here's the full ingredient list based on one of their lipsticks, Poppy Passion:
Ricinus Communis (Castor) Seed Oil, Euphorbia Cerifera (Candelilla) Wax, Chinensis (Jojoba) Esters, Isopropyl Jojobate, Simmondsia Chinensis (Jojoba) Alcohol, Copernicia Cerifera (Carnauba) Wax, Ethylhexyl Palmitate, Caprylic/Capric Triglyceride, Cera Alba (Beeswax), Persea Gratissima (Avocado) Oil, Limonene, Calendula Officinalis (Calendula) Oil, Simmondsia Chinensis (Jojoba) Seed Oil, Tocopheryl Acetate, Cinnamal, Oenothera Biennis (Evening Primrose) Oil, Butyrospermum Parkii Butter (Shea), Cinnamomum Cassia (Cinnamon) Oil, Citrus Sinensis (Sweet Orange) Oil, Linalool
Eugenol, Tocopherol
Product May Contain: CI 77019 (Mica), CI 77891 (Titanium Dioxide), CI 77491 (Iron Oxide), CI 77492 (Iron Oxide),CI 77499 (Iron Oxide), CI 15850 (Red 6 Lake, Red 7 Lake), CI 45410 (Red 27 Lake), CI 17200 (Red 33 Lake), CI 19140 (Yellow 5 Lake), CI 45370 (Orange 5 Lake), CI 42090 (Blue 1 Lake), CI 77861 (Tin Oxide), Calcium Aluminium Borosilicate, Calcium Sodium Borosilicate, Silica, Corn (Zea Mays) Starch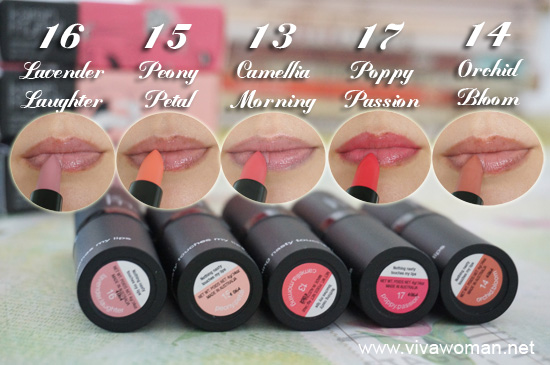 Personal favorites
As you can see from the swatches of the Karen Murrell Summer Bouquet, the colors are rather natural and mostly pinkish. The brightest of the lot is Poppy Passion (17), apparently also a favorite of the founder. I haven't worn bright colors for awhile so this one needs some getting used to but at least the color works for me. I like the rest very much with the exception of Lavender Laughter. I'm not sure if I'll wear it because on first application, the color reminded me of how some sick people look–complete washed out.
Finishing of each lipstick
One thing I'd noticed when I first twisted up the lipsticks is that the finishing on each lipstick isn't smooth or glossy like what you would expect of most lipsticks when you first opened them. The finishing looks a little rough and unpolished and I could see tiny faint irregular line imprints on them. At first, I thought it was just one but all five look like that. To be fair, they don't look bad but considering that each lipstick cost NZD$30 (around US$25 or S$31), I'll be quite upset to receive them as a customer especially after I read that they are as good as any top international brand. Plus, this is not the first time I've used natural lipsticks so I know it's not a trademark of that category.
Texture and scent of the lipsticks
In terms of quality, I find them decent enough. I wouldn't say they're very moisturizing for my lips. While they are creamy and can be applied straight to my lips without prior conditioning, I find they apply and look better when I use them over a lip balm. Without applying lip balm as a base, these lippies appear matte on my lips. Oh, and they all come with a very distinct smell of cinnamon. Depending on whether you like cinnamon, the scent can be a great turn on or steer clear. Personally, I love eating anything with cinnamon but applying lipstick with that scent? Well, it's bearable but I can't say I love it.
Overall summary
Overall, I think the Karen Murrell lipsticks are great in terms of ingredients and colors but for that kind of price, some improvements need to be made to the finishing of the lipstick. Using color cosmetics is not just about application or texture. We're talking about giving consumers a great sensory experience. If you've put that kind of effort into designing pretty boxes, then putting a little more into making the lipsticks look glossy isn't all that difficult. This is what that feel-good factor is all about! Come on, as a green beauty blogger, I would love to be able to support green cosmetics that are stellar in all front, making them worthy to compete with conventional non-green brands! But I can't justify giving a brand an ace just because they're green. Especially not when you're telling me that your lipsticks are positioned to be as good as international brands.

Comments