Everyday Minerals Flat Top Brush Is Too Dense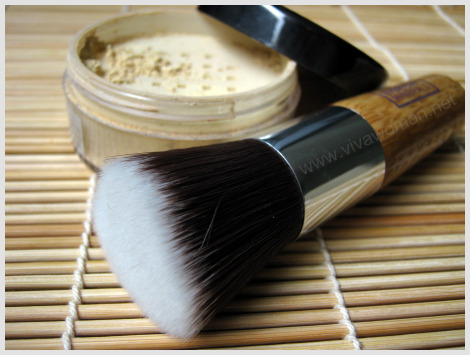 So I caved in to all the raves I've read on the beauty forums and from fellow beauty bloggers and bought the Everyday Minerals Flat Top Brush finally.  It was on sale and I only paid S$10 for it.  I was very excited about this brush and expected it to perform better than the current synthetic kabuki brushes I'm using from Momo Minerals.   But did it?
Synthetic fibers very dense
This is a super soft brush made with synthetic fibers and comes with a bamboo handle. The first thing I did was to compare the Everyday Minerals Flat Top Brush with Momo Minerals Long Handed Kabuki Brush.  I had initially thought the brushes from Momo Minerals were the same as those from Everyday Minerals but I might be wrong.  The Everyday Minerals Flat Top Brush is a lot more dense!  But you know what?  I don't really like it as much as I thought I would.
Comparison with Momo Mineral kabuki brushes I'm using
I'm back to using mineral makeup on most days now and I've been happy with the kabuki brushes from Momo Minerals.  The foundation brush in the travel kit is rather small but it works well for my face and I alternate with the bigger, long handed kabuki brush.  The bristles while dense, are not as dense as the one from Everyday Minerals but they both give me good coverage.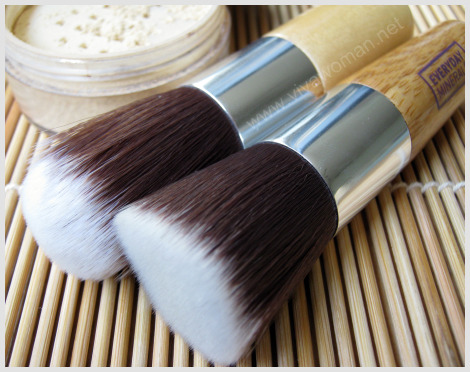 Coverage is too au natural for my liking
While I agree completely that the Everday Minerals Flat Top Brush is very soft, but it's so dense, I find it hard to blend – it doesn't swirl very smoothly on my skin.   The other reason for the difficulty in blending is also because the bristles are shorter.   But I noticed that this brush actually blends my mineral makeup into my skin very well, so much so that I can't get the coverage that I like.  The coverage is almost sheer and my blemishes were far too obvious after my foundation application.  It's definitely way too au natural for my liking with the same amount of foundation I use.  In addition, it shedded the first time I used it and that was after just a wash.  Although it was minimal shedding but I was somewhat disappointed as I do not expect my brushes to shed the first time after a wash.
May work better with powdered foundation
Having said that, I did find that my finishing looked better using this Flat Top Brush because my pores are not as obvious.   So yes, it is a good brush for blending if you look at it from that angle.   I've no idea if this will give me better results with my powdered foundation since I don't use them again.  Maybe I'll try it one day with my Paul & Joe foundation or maybe I'll just keep this brush for my finishing only.
An affordable brush 
Good thing the brush is not expensive and it's easy to wash too.  And despite being dense, the brush dried after a day of washing.  I guess the hot weather must have helped too!  I read some gripes that this brush cannot apply on corners too well but I didn't find that to be a problem though.
Okay, I know many of you love this brush but don't knock me out for not raving about it.  It's a fine brush by itself but it's just not my brush.
Comments