Bonusbay: Earns You Cash While You Shop Online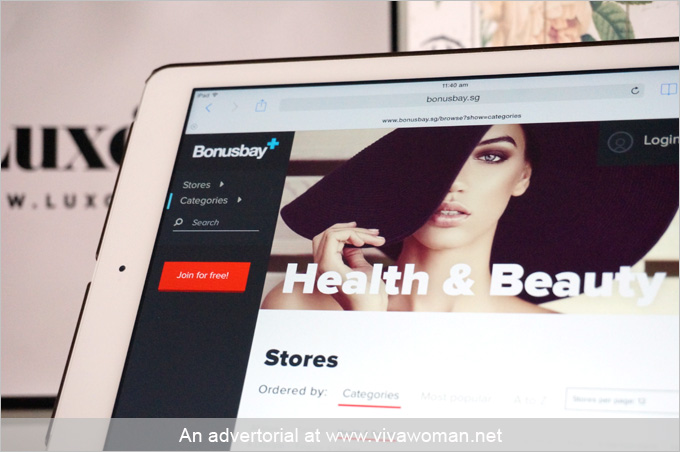 If you like to shop online a lot, you might want to pay closer attention to this post because I'm about to introduce you to a new online service that is going to save you money. Oh wait, let me correct that–it's a service that doesn't just save you money, it's actually going to help you get some of your money back when you shop! And what's it going to cost you? Nothing.
Huh? A free service that helps you get money back on your online purchases? Sounds kinda incredulous? Well, how many times have you gone retail shopping with your credit card and got to enjoy some cashback? Did you think for a moment that it was too good to be true? But we know it's for real. So is this one and here's the Math:
When you buy something through Bonusbay.sg, for example, from Zalora for US$250, you can get US$20 in bonuses through Bonusbay. If you make a S$500 reservation with Booking.com, you will get S$19 bonus. Once your balance hits a limit of S$15, you can ask for the amount to be transferred to your PayPal account. Easy peasy. Easy money back.

So how do you go about getting these bonuses?

1. Register an account with Bonusbay.sg
First of all, you need to register an account with Bonusbay.sg because you must be logged in to your Bonusbay account to get bonuses of your purchases.
(Please note that Bonusbay is based on cookies. Hence, bonuses can only be registered if your browser allows Cookies. Therefore AdBlock programs should be disabled as some of these programs that block advertisements delete these cookies and, thereby, prevent the crediting of bonuses.)
2. Click through the "Get Bonus" link to the webstore
Once you're logged into Bonusbay.sg, go look for the webstore(s) you want to shop with, click through the link that says "Get Bonus" and you'll be directed to the webstore of your choice. This step is essential so that the webstore will recognize you as a user of Bonusbay.sg. Just shop and make a purchase in the webstore as you normally would.
3. Wait for the bonus to be reflected in your account
When your purchase is successfully made, you will see your bonus reflected in your Bonusbay.sg account. However, do note that it may take a few days. You will also see the information on My Profile at www.bonusbay.sg/my-profile by clicking tracked cashback tab.
4. Ask for your bonus to be credited to your PayPal account
Once your balance hit S$15 or more, you can ask for the amount to be transferred to your PayPal account. Do note that Bonusbay.sg pay bonuses upon being paid the commission from the participating webstore. In all cases, an indication of how long you'll be paid will be reflected on the landing page of the participating webstores. It could be a month but it looks more like two months in most cases.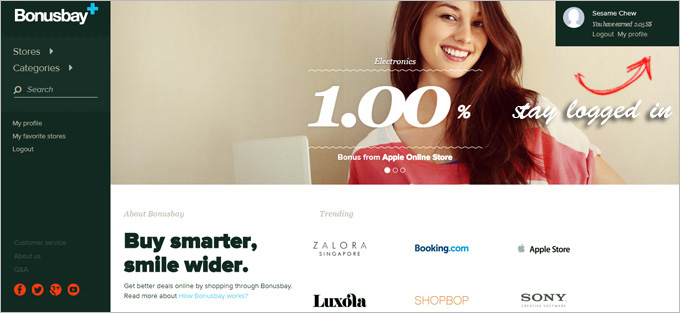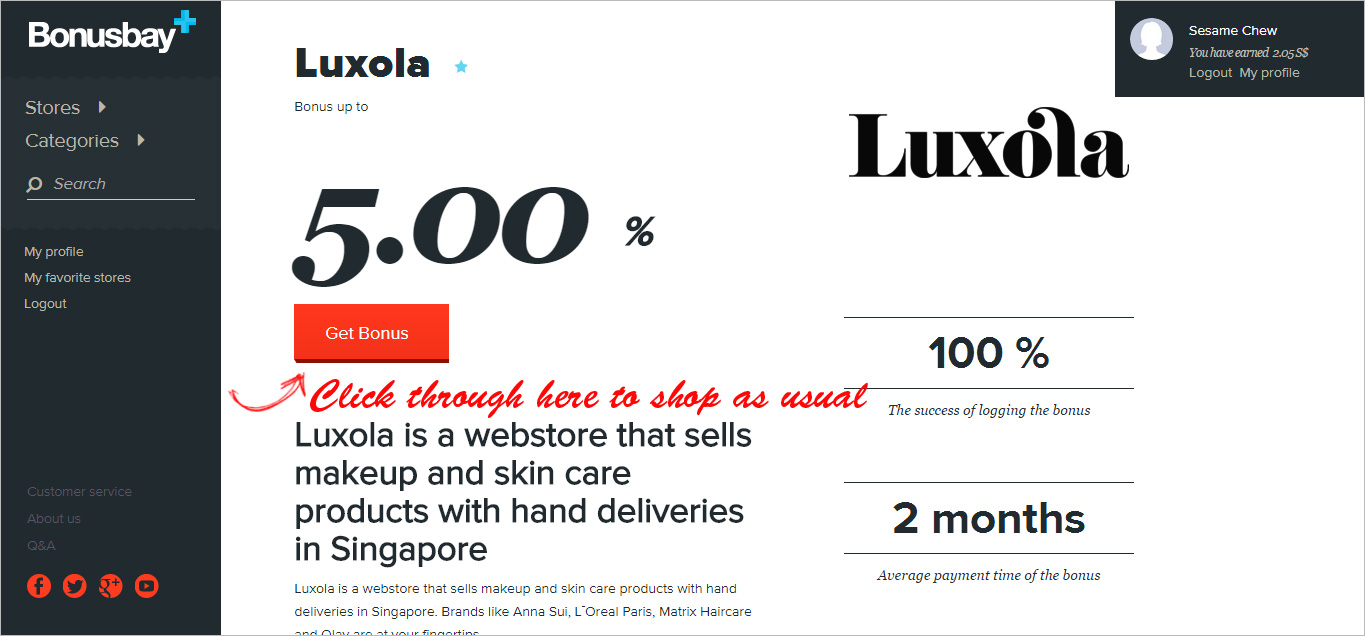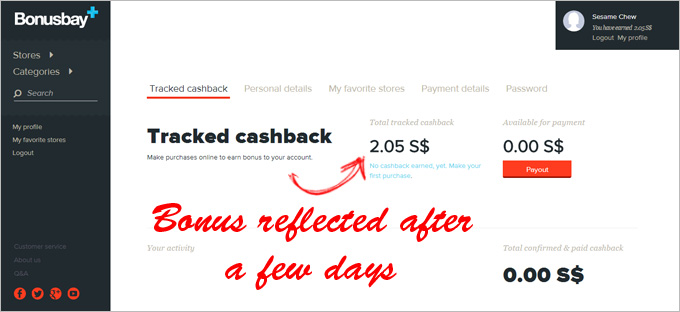 Some of you are probably thinking that this is too troublesome. Well, I thought so too but after trying out the service, I realized it is not. I made two purchases at Luxola using the service. In one case, I deliberately kept my purchase very low–like S$10–just to see if I get any bonus and I was happy to say I did!
At this point, there are close to 600 webstores and over 700 brands spanning different categories–beauty, health, fashion, electronics, home & lifestyle, grocery, kids, entertainment and many more–participating at Bonusbay.sg. I noticed some favorites, like Shopbop and Free People. You can even earn bonuses for booking your airline tickets and hotels through Bonusbay.sg's service! Since these are higher expenditure spending, you are definitely going to get more cashback.
But do note that the level of bonus earned varies according to the participating website. Some are very generous while others are more conservative. But in any case, you'll still get some money back when you use this service as opposed to when you don't. (Sure you can choose not to but I don't know why anyone would have an issue with getting some of their money back.)
Get $5 when you sign up now
So if you shop a lot online, why not register a free account with Bonusbay.sg? In fact, you can sign up through the Viva Woman Bonusbay page and get S$5 as a welcome bonus.Truly you've got nothing to lose but something to gain. In addition, if you have an online store you like and it's not participating in this service, you can make a suggestion to Bonusbay.sg and they may just be included.
Oh, just to qualify: I won't get anything from your sign ups in case you're wondering.
Comments