Spa Organics Australia Aromatherapy Hair And Body Care Review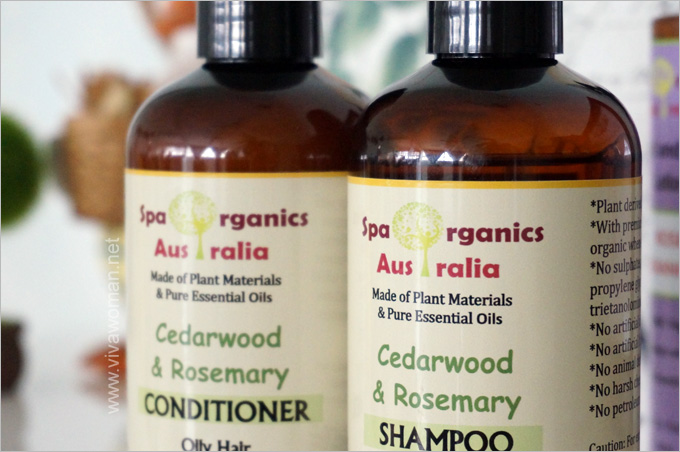 By virtue of the name, Spa Organics Australia is a made-in-Australia natural aromatherapy range of products. Comprising shampoos, conditioners as well as hand & body lotions, this range is specifically formulated to meet the needs of those who have skin irritations and health concerns. So all products are made without any toxic ingredients and skin irritants such as sulphates, parabens, petrochemicals, propylene glycol, trietanolomine, mineral oils, artifical fragrances and coloring. Instead, they are formulated with plant derived ingredients and pure essential oils.
All in all, there are nine products under the Spa Organics Australia brand and six of them are for the hair. As part of my invitation to review the products, I got to pick three from the range and I chose the Cedarwood and Rosemary Organic Hair Shampoo and Conditioner, as well as the Rose Geranium Hand and Body Lotion.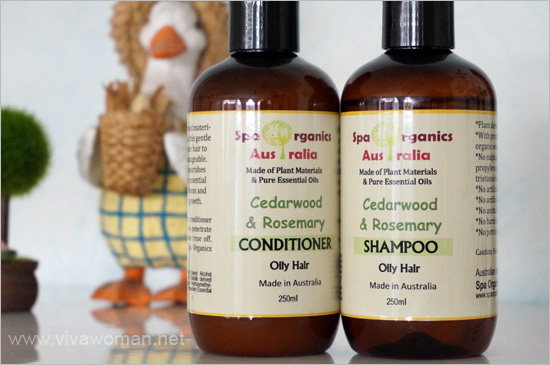 I like to think that I don't change hair products as much as I do with skincare products. That seems to imply I care for my hair more than my skin? Well, not exactly. It is really because I have very specific requirements when it comes to hair care products. They should help cut down the grease on my scalp and not cause my hair to fall flat and limp. Ideally, they should make my hair look all healthy and voluminous. So naturally, I picked the one that is formulated for oily hair–Spa Organics Australia Cedarwood and Rosemary Shampoo.
Spa Organic Hair Shampoo – Cedarwood & Rosemary 250ml
This shampoo is not only formulated to counteract oiliness, it also supposedly helps prevent hair loss and stimulates hair growth. According to the description on the shampoo, aloe vera used as the base in this shampoo acts as a natural astringent which will rid hair of excess oils yet deeply moisturizing the hair ends. The combination of cedarwood and rosemary essential oils work to balance the hair and scalp conditions and to promote healthy hair growth.
Here's the full ingredient list: Aloe barbadensis (aloe vera) leaf juice, Decyl glucoside, Coco-glucoside, Glycerin, Xanthum gum, Origanum vulgare oil, Cedarwood Essential Oil, Rosemary Essential Oil, Thymus vulgaris (thyme) extract, Olea Europeia (olive) leaf extract, Rosmarinus officinalis (rosemary) leaf extract, Lavandula angustifolia (lavender) flower extract, Glycolic acid, Malic acid, D-panthenol (pro vitamin b5), Citric acid, Tocopherol acetate (vitamin e), Hydroxypropyl methylcellulose, Macadamia integrifolia seed oil.
First of all, even before commenting about its efficacy, I like to say the scent of this shampoo is very uplifting. The combination of rosemary essential oil and lavender flower extract gives this product a very refreshing scent. But smell aside, this is a great shampoo for my oily hair. I really like how well it foams, lather up and washes my hair clean. While I wouldn't say it eradicated all the greasiness from my scalp, it certainly helped to keep the oil level more bearable. In fact, I noticed a significant reduction of oil in my hair when I wake up each morning. However, I can't say much about the promotion of hair growth as I haven't seen any significant increase on that front.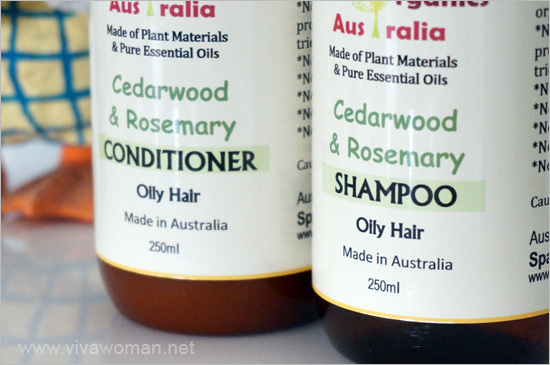 Spa Organic Hair Conditioner – Cedarwood & Rosemary 250ml
I don't have a lot of hair to condition and so I don't usually use a conditioner. In any case, I gave the Cedar and Rosemary Conditioner a go. I have to say it does what a conditioner is supposed to do without weighing down my hair or making it look flat and limp.
Again, like the shampoo, this conditioner is made with naturally derived ingredients and pure essential oils. Here's the full list: Purified Water (Aqua), Cetyl Stearyl Alcohol derived from Vegetable Oil, Cetrimonium Chloride derived from Vegetable Oil, Rosemary Essential Oil, Citric Acid, Sodium Hydroxymethylglycinate, Cedarwood Essential Oil.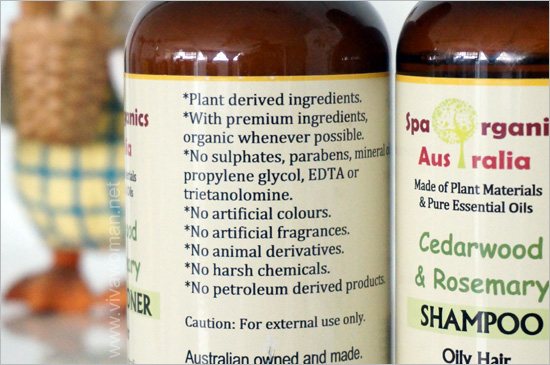 Natural Hand & Body Lotion – Rose Geranium 200ml
Besides the haircare products, I also received a complimentary bottle of Rose Geranium Natural Hand & Body Lotion. The first thing I noticed is that this is a very thick lotion! The texture is creamy–probably as a result of the cocoa seed butter and shea butter–but yet it feels light without traces of oiliness. The second thing is that this rose geranium lotion smells really nice. The smell is not overwhelming but rather subtle. Unless you absolutely hate rose scent, I'm quite sure you'll enjoy using this one.
Here's the full ingredients list for your reference: Water (Aqua), Aloe Barbadensis Leaf Juice, Cetearyl Alcohol, Caprylic/Capric Triglyceride, Glycerin, Glyceryl Stearate, Cetearyl Glucoside, Sodium Stearoyl Glutamate, Prunus Armeniaca (Apricot) Kennel Oil, Theobroma Cacao (Cocoa) Seed Butter, Butyrospermum Parkii (Shea Butter), Rose Geranium Essential Oil Triticum Vulgare (Wheat) Germ Oil, Rosmarinus Officinalis (Rosemary) Leaf Extract, Xanthan Gum, Caprylyl Glycol, Benzyl Alcohol, Dehydroacetic Acid, Lactic Acid.
Besides the rose geranium lotion, you can also choose the lemon and may chang or the lavender and ylang ylang lotions. I like that this is both a hand and body lotion and it'll make a useful and nourishing companion on your office table or bedside table.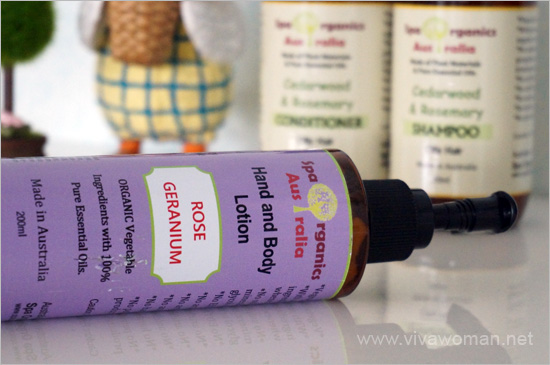 Discount code for Viva Woman readers
If you've got greasy hair and are in the market for a good shampoo that works, the Spa Organic Hair Shampoo in Cedarwood & Rosemary might be something to think about. They also have shampoos and conditioners formulated for normal and dry hair if yours isn't greasy like mine. Prices for the 250ml bottle of shampoo and conditioner are S$23.80 each. The 200ml hand and body lotion cost S$22.80.
I'll say the prices are mid range but the shampoo is something I'll consider purchasing for myself. But if you're keen to try, take advantage of the 10% discount for Viva Woman readers in the month of September. Just enter voucher code 'viva989' when you check out (applies for the other range of products too). For further information, check out the Spa Organics Australia website for Singapore/Asia or Spa Organics Australia website for Australia/New Zealand. Discount is valid till end September, 2014.


Comments