Marie Veronique Organics Anti-Aging Day Serum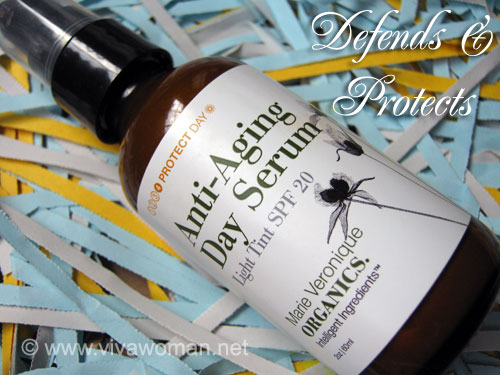 I received this complimentary bottle of Anti-Aging Day Serum, SPF20 from Marie Veronique Organics a few weeks ago for review. Called Sun Serum in the past, this is a new formulation and comes in light tint, medium tint and no tint. The one I received is the light tint version. This is a product described as providing defence against premature aging with a unique combination of natural humectants, emollients, anti-oxidants, and sunscreen. It contains powerful anti-oxidants such as coffee fruit extract and Calaguala fern. Because this is a serum, I understand that it can be used in conjunction with the Marie Veronique Moisturizing Face Screen.
The Anti-Aging Day Serum cost US$60 and like all other Marie Veronique Organics products, this serum does not contain harmful chemicals, nanoparticles, parabens, fillers, waxes, or fragrances. And if you review the ingredient list, the formulation contains many beneficial skin ingredients.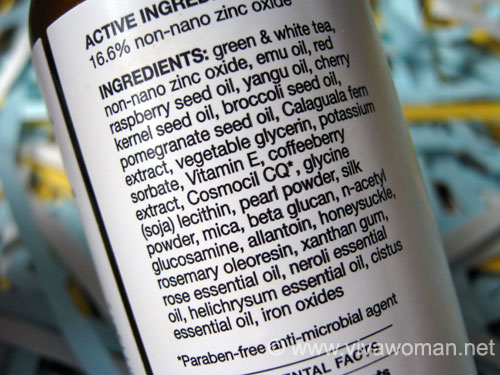 Full ingredient list
Active ingredient: zinc oxide, 18%
Ingredients: Camellia sinensis (green & white tea), zinc oxide, emu oil, Rubus idaeus (red raspberry seed oil), Calodendrum Capense (yangu oil), Prunus avium (cherry kernel seed oil), Brassica oleracea (broccoli seed oil), Punica granatum (pomegranate seed oil), Polypodium leucotomos (Calaguala fern extract), vegetable glycerin, potassium sorbate, Tocopherol (Vitamin E), Coffea arabica (coffee fruit extract), Cosmocil CQ*, lecithin, pearl powder, silk powder, Avena satire (beta glucan), n-acetyl glucosamine, Lonicera japonica (honeysuckle) Rosemary oleoresin, xantham gum, Helichrysum italicum (helicrysum essential oil), Cistus incanus (cistus) essential oil
The reason for the variation of Zinc Oxide listed on the bottle and on the list is because 16.6% is by weight, whereas 18% is by volume. Personally, I love the high concentration of red raspberry seed oil, which protects the skin from both UVA and UVB rays while repairing cellular degeneration. Along with the coffee fruit extract, the other oils such as Yangu and Cherry Kernel Seed Oil also provide inherent ultra violet protection and antioxidant benefits.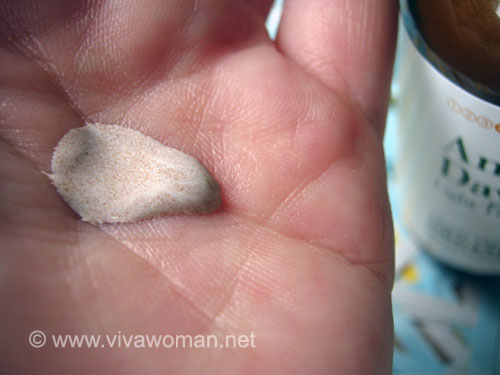 Smell, texture and application
The Marie Veronique Organics Anti-Aging Day Serum has a very strong scent, which I believe comes mainly from the red raspberry seed oil and yangu oil (yes, much stronger than the Moisturizing Face Screen). In terms of texture, this serum is lighter and not as thick as the Moisturizing Face Screen. Since this bottle I received is of a light tint shade, it does not leave a whitecast as you can see in the picture below. However, this serum is rather drying and not moisturizing on my combination skin. It does not work too well with my favorite Marie Veronique Organics Anti-Aging Oil and the skin on my cheeks felt dry and tight after a few hours of application. I have to use a normal cream moisturizer with this serum for my skin to feel normal and comfortable. While I love the ingredients, I found this product a little confusing in my skin care routine and have two concerns that I've discussed below.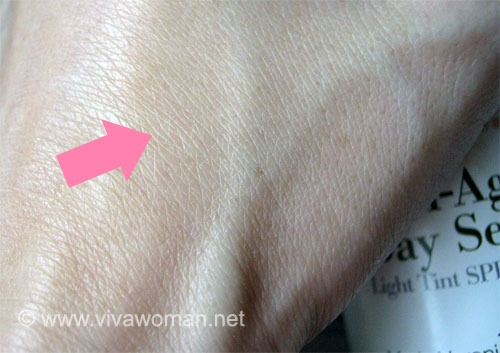 Concern number 1: over or under moisturizer?
This is a serum, and by logical deduction, I should use this under my moisturizer since its texture is also lighter than my moisturizer. However, because it contains quite a substantial amount of Zinc Oxide and is also tinted, I've been using it over my moisturizer, which is thicker in texture.
Concern number 2: layering might cause dryness
Although it is said that this serum can be used in conjunction with the Moisturizing Face Screen,  I couldn't bring myself to do that. First of all, the Moisturizing Face Screen at SPF30 already comes with 20.6% Zinc Oxide and this serum contains another 16.6%. The combination would be too drying for my skin. The second reason is that it doesn't make sense for me to layer my non-tinted Moisturizing Face Screen over this tinted serum. I suppose the non-tinted version would work better in this case.
Overall summary
The Marie Veronique Organics Anti-Aging Day Serum would work better for people who live in a colder climate and want some level of sun protection when the UV index not as strong. I say this because I use this serum on days when I'm indoor mostly or when the sun isn't as scorching. However, the UV index is very high for us throughout the year here and hence, given a limited budget, I am happy to just use my Moisturizing Face Screen daily, which comes with SPF30 and already contains many beneficial ingredients. As mentioned, I am very impressed by the ingredients of this Marie Veronique Anti-Aging Serum because many of them offer UV protection and antioxidant benefits. However, for this product to work effectively for me, I would think the Zinc Oxide needs to go. When that happens, I would be most happy to use it under my Moisturizing Face Screen.
Comments