Uniquely Singapore Handmade Kopitiam Lipbalms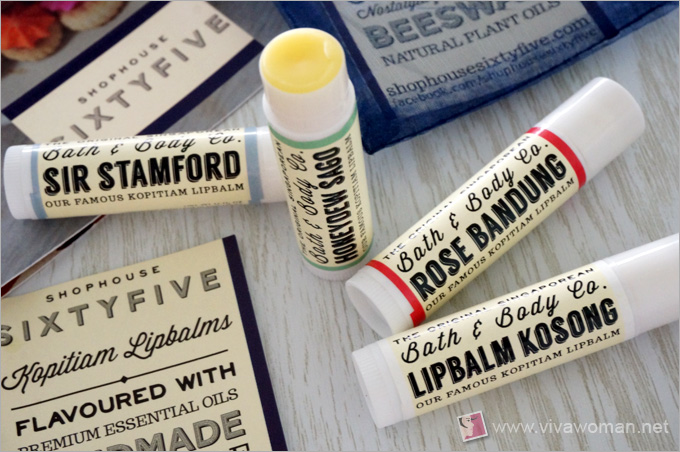 "Good day, ma'am. Welcome to Shophouse Sixtyfive! Let me introduce you to our house specialty—Kopitiam Lipbalms! You can try our Coffeeshop Kopi O, Lipbalm Kosong or Rose Bandung. Want something more atas? We have Sir Stamford, Fort Canning, Sentosa Island or Honeydew Sago. Are you ready to place your order now?"
Talk about uniquely Singapore, complete with old school nostalgia in a name like Shophouse Sixtyfive that serves nothing but handmade lipbalms lovingly handcrafted in Singapore. Without even a sip of Kopi, I'm pretty sure many of you will find them too charming to resist. Well, I do. If anything, I consider the whole retro spin based on a nostalgic local theme to be really clever.
Nostalgic inspiration
Shophouse Sixtyfive is a Singapore handmade bath and body company which is so named for the old school shophouses in Singapore. Sixtyfive denotes the year of Singapore's independence, 1965. Going by the names of their Kopitiam Lipbalms—such as Rose Bundang, Honeydew Sago, Sir Stamford, Lipbalm Kosong—it's not difficult to see how the company drew inspiration from the places, food and culture of Singapore.
Its founder, designer and handcrafter is Petrina, a recent fine arts graduate of Lasalle who happens to love skincare, beauty and scents too. So marrying all the loves of her life, she built Shophouse Sixtyfive as an expression of her love of old school quirkiness, with quality body and home products.
For readers outside Singapore or Southeast Asia not familiar with kopitiam, here's a brief extract I've obtained from Wiki to help you:
A kopitiam or kopi tiam is a traditional coffee shop found in Southeast Asia, patronized for meals and beverages. The word kopi is a Malay/Hokkien term for coffee and tiam is the Hokkien/Hakka term for shop (店). Menus typically feature simple offerings: a variety of foods based on egg, toast, and kaya, plus coffee, tea, and Milo, a malted chocolate drink which is extremely popular in Southeast Asia, particularly Malaysia and Singapore and in some parts of Indonesia, especially at Sumatra Island.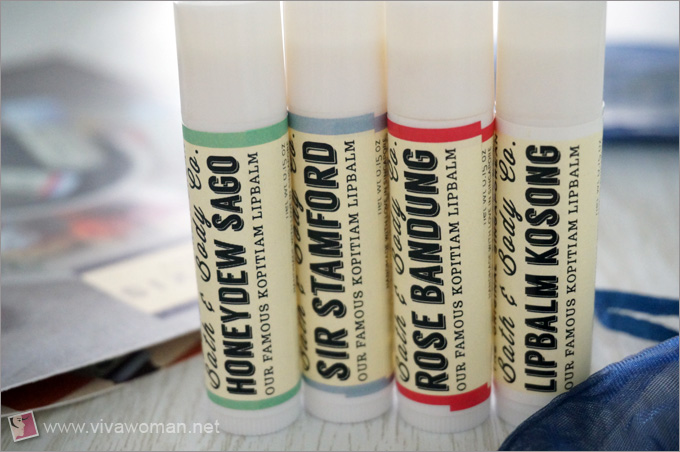 If you think about it, lipbalms aren't the most exciting beauty item. Yet, those that are packaged uniquely get a lot of appeal, especially since they're usually priced very affordably. So you bet these Kopitiam Lipbalms with its identity painstakingly built around a distinct local heritage do call out to me.
Ingredients explained
In terms of ingredients,  these lipbalms are made with beewax and contains extra virgin well distilled olive oil, sunflower oil, castor oil, soya oil, coconut oil, stevia, vitamin E and blends of essential oils and flavor oils.
Petrina explained more about the use of secret blend of essential oils and flavor oils to achieve the unique and local flavors: "We get them from our suppliers from the USA which specialize in CO2 distillation for essential oil extraction and we also use absolutes when applicable. This is to ensure a rich and multifaceted olfactory experience.
Our flavor oils are edible grade and are natural oil based. It took many trials for me to get the mixes just right and sometimes even a bit of luck, its kind of like cooking with scents. Sniff away with pleasure!"
All lipbalms are handmade in small batches to maintain freshness. They contain absolutely no preservatives. Instead, the vitamin E lends itself to this role because it is an anti-microbial.

My thoughts
I was sent the Rose Bandung, Sir Stamford, Honeydew Sago and Lipbalm Kosong for review. Apart from the intense color, I found everything else about these lipbalms very subtle. Their scent and flavor are all distinct but rather light, maybe with the exception of Honeydew Sago which absolutely taste and smell like the dessert. But overall, I don't find their scent or taste artificial or an overkill.
And if you insist I pick a favorite, I'll say I particularly enjoy the Rose Bandung favor. Definitely reminded me of the rose bundang water served in tuckshops but without the sweetness!
Speaking of which, some of you are probably concerned about the Stevia in the ingredient list because this is a sweetner that is actually 150 times sweeter than sugar. Well, you may like to know that Petrina added just a wee bit for a slight sweetness and to ensure you don't overlick your lips, which causes irritation and overdrying. Truly, I can't really taste any sweetness at all and this lipbalm is definitely not as sweet as some of the other brands of lipbalms that I've tried.
In terms of moisturizing abilities, I think these Kopitiam Lipbalms serve their purpose well. If my lips felt dry, these lipbalms provided quick relief. Every single one I tried glided on my lips smoothly and did not leave a heavy waxy nor greasy feel. My lips felt well moisturized and cushioned, and I didn't need to continually reapply until after a meal or after I've wiped it off. The scent and favor are all very subtle and refreshing—nothing saccharine sweet or overpowering. Definitely some great TLC for your lips if you ask me!
Cost and availability
Each Kopitiam Lipbalm from Shophouse Sixtyfive cost S$9.50. If you get two, the price is S$16.80. While these aren't the cheapest of lipbalms, I think the cost is fairly reasonable taking into account these are handmade with a secret blend of essential oils and the concept is a novelty. I don't drink kopi but I'm cool with whipping out a Lipbalm Kosong anytime!
So yeah, I would purchase these for myself. I would even consider purchasing these as gifts for those girlfriends who are lipbalm addicts. I can just see them going gaga over these already!
In addition to the four Kopitiam Lipbalms you see here, the other three available ones are Sentosa Island, Fort Canning and Cofeeshop Kopi O (I'm secretly hoping for more flavors to be ready soon). For more information, check out Shophouse Sixtyfive. Local orders will be delivered via regular SingPost at a flat rate shipping fee of S$2. International shipping is also available at a flat rate shipping fee of S$5.
Products highlighted are media samples and this review is in line with my disclosure policy.
Shophouse Sixtyfive Kopitiam Lipbalms
Pros
Moisturizing
Light and refreshing scents
Interesting concept
Comments