Surya Henna Cream: a story of temptation & love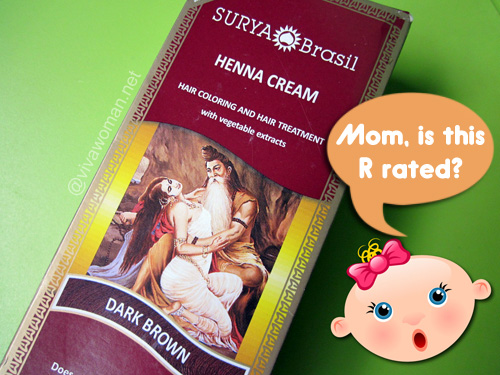 When I first saw this item, I was like, geez, what's with that amorous looking image? I mean, what has it got to do with the purpose of the product, REALLY? I'll say that the packaging did pique my interest but I doubt I would have bought this item if it did not come highly recommended by a reader. And I'm not sure if the odd image has anything to do with it but it looks like many customers are quite enamored with this product, going by the number of positive reviews at iHerb.com.
Peroxide & ammonia free
I guess it's not surprising considering Surya Henna Cream is a semi permanent hair color said to not contain peroxide, ammonia, resorcinol, PPD, heavy metals or parabens. Instead the product uses both plant dyes and gentle hair dyes, including 15 high quality herbs and fruits to add conditioners to the hair. So this gentler and healthier cream will definitely appeal to many who are looking for a natural alternative to color their hair. Plus, it cost less than US$10.
Here's a look at the full ingredient list:
Deionized water (aqua), dipropylene glycol methyl ether, genipa americana extract, cetearyl alcohol, cetrimonium chloride, orbignya oleifera (babacu) seed oil, glycerin, hydroxyethylcellulose, essential oils rose flower (rose), cananga odorata (ylang ylang), jasminum officinale (jasmine) and santalum album (sandalo), achillea millefolium extract*, aloe barbadensis (aloe vera) leaf extract*, arnica montana extract*, bertholletia excelsa (brazil nut) extract*, chamomila recutita (camomila) extract*, corylus rostrata (hazel) seed extract*, daucus carota sativa (carrot) root extract*, euterpe oleracea (acai) fruit extract*, lawsonia inermis (henna) leaf extract*, malphigia punicifolia fruit extract*, malva sylvestris extract*, paullinia cupana (guarana) fruit extract*, phyllanthus emblica (amla) fruit extract*, ziziphus joaseiro (jua) extract*, benzyl alcohol (and) dehydroacetic acid, aminomethyl propanol, sodium citrate, HC blue 2, disperse violet 1, disperse black 9, HC red 3, HC yellow 4. *Ingredients proceeding for Organic Farming
test
A fascinating love story
The product is made in Brazil with ingredients from India and Brazil, and while checking out the website, I realized there is a story about the Henna packaging! This is how it goes:
In India, Vishwamitra is well known as a king that ultimately became a great sage through many years of penance and meditation. Surya's label depicts the beautiful Manika in the arms of Vishwamitra. According to legend, the god Indra, feeling threatened by Vishwamitra's spiritual zeal and concentration, decided to tempt Vishwamitra so he would ultimately forget about his spiritual practice. He sent Vishwametra a series of tests: threatening weather, tempting women and so on and so forth. Vishwametra never opened his eyes from meditation. Indra then sent Manika, a beautiful dancer of paradise who descended from heaven. Manika was not only beautiful but wise and spiritually advanced. Vishwametra did open his eyes when he beheld Manika, but not to the end that Indra had hoped. The two beheld one another in love, were married and continued their spiritual path in union. They bore a daughter and built together an empire. Vishwametra's story is about strength and endurance and devotion.
That's quite a story huh? But I still don't get the connection with hair and all. (p_q)
Anyway, I haven't given this product a trial yet and it's been sitting on my table for over a month now. I bought this from iHerb on recommendation by Kah Ling, who has tried it and given her thumbs up. I won't be using this as yet because I'll be heading to the salon for a coloring job and so a full review won't be up till another two months or so. If you want to know how this product is faring for others, check out the customer reviews at iHerb.com. If you've tried this, do share your views with us in the comments!

Comments