Badger Broad Spectrum Sunscreen SPF 34 Review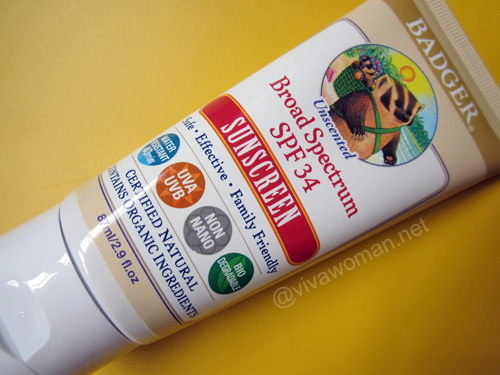 I know a number of you are familiar with Badger sunscreens but I wonder how many of you are using this Badger Broad Spectrum Sunscreen SPF34. Well, the reason why I purchased this product was because it was on offer at US$4 at iHerb.com and it so happened that I wanted a water resistant mineral sunscreen for swimming and outdoor sports. However, given that I don't really head outdoors that much, I started using this on my neck and arms daily.
The Badger brand needs no introduction. It's an established brand in the natural category and I do like a number of their products as they do not use synthetic chemicals, fragrances, parabens, or GMOs. More importantly, their products are rich in certified organic ingredients. Unfortunately, I can't say that I like the Badger Broad Spectrum Sunscreen SPF34 that much.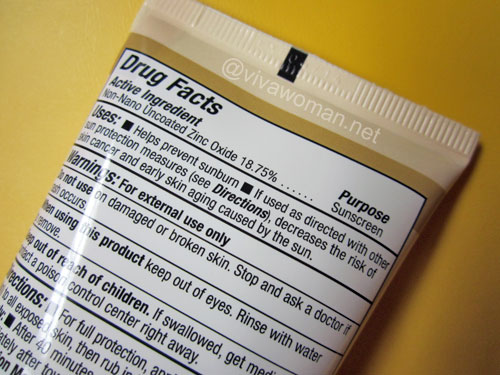 Ingredient list
Active Sunscreen Ingredient:
Non-Nano, Uncoated Zinc Oxide 18.75%
Other Sunscreen Ingredients:
*Olea Europaea (Organic Extra Virgin Olive) Oil, *Cera Alba (Organic Beeswax), *Butyrospermum Parkii (Organic Shea) Butter, *Theobroma Cacao (Organic Cocoa) Butter, *Simmondsia Chinensis (Organic Jojoba) Oil, Tocopherol (Sunflower Vitamin E), and CO2 Extract of *Hippophae Rhamnoides (Organic Seabuckthorn).
* = Certified Organic. Total Organic Content: 81.05%.
test
Natural scents
This Badger Sunscreen SPF34 uses 18.75% Zinc Oxide, which provides broad spectrum protection. It is free from essential oils and though it is indicated as unscented, it still retains the subtle natural scents of cocoa butter and beeswax. In addition, this sunscreen is now made from Vitamin E solely derived from sunflower, instead of mixed sources.
Safe for children
I like that this sunscreen is water resistant for at least 40 minutes, and safe for children of all ages. However, in terms of texture, this is really thick and rich. It's a challenge to use this on my face but it's okay for the neck and arms…for a couple of hours at least.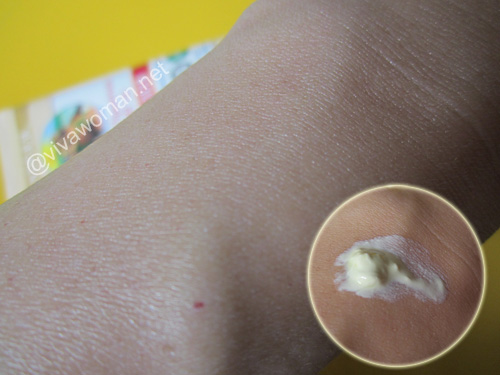 Drying after a few hours
Initially, I quite like using this as I found that if I don't use too much, it can be blended quite well into my skin and the whitecast is not too obvious. However, after using this for about two weeks now, I realized that this sunscreen is drying. By the end of the day, I can see a thin powdery texture on my arms. So I cannot use this continuously but only on some days. And in that sense, this product is good for outdoor sports and not so much for daily usage.
Price and availability
The Badger Unscented Broad Spectrum Sunscreen SPF34 is retailing for US$14.40 at iHerb. I've stopped using this daily and since I don't head out for sports that often, I'll probably have my son to use this sunscreen when he goes swimming.


Comments