Skin care tips of K-drama's hottest couple from Descendants of the Sun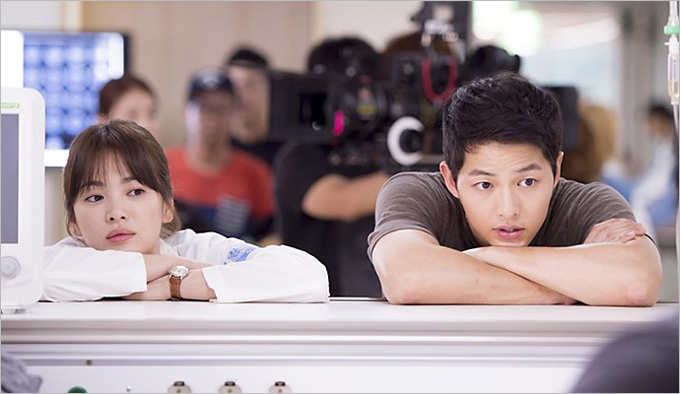 What's trending in K-drama land lately? It's none other than Descendants Of The Sun starring suave looking Song Joong Ki and sassy goddess Song Hye Kyo. Besides keen anticipation on the developments of their onscreen romance, most discussions revolve around their appearance, especially how incredibly youthful Song Hye Kyo looks at 34.
Both Songs are in their 30s. The guy is 30, four years younger than the lady. Although haters have criticized Song Hye Kyo for looking more like an auntie to Song Joong Ki, the truth is she is every inch the raving beauty she was 10 years ago. That woman doesn't seem to age one bit and certainly lives up to her reputation of being a gorgeous goddess. Does she have a secret we don't know?
And one would have not expected someone who was recently discharged from the army to have glowy, radiant skin. I'm sure BB or CC cream helped, but looking at our hero Song Joong Ki as the charming army captain in Descendants Of The Sun, it's hard to tell he has just served the military. I am sure many girls want to know his skin care secret.
So let's dig in and unveil their skin care secrets today!
Song Hye Kyo (34 years old)
This is not the first time I've discussed Song Hye Kyo's beauty secrets. I've discussed her various DIY beauty secrets including using eggs to keep her skin white, honey to brighten up her complexion and milk to keep her face soft and smooth.
Beauty secret recipe 1: egg white and honey for whitening
This is a face mask consisting of one raw egg white (without the yolk) and a spoonful of honey. Blend well and apply to the face and let it dry. After which, rinse off with water. Use this mask every fortnight and apply it just before bedtime.
Beauty secret recipe 2: honey for skin brightening
Diluted honey with double the amount of water and massage well into the face. Rinse afterwards. Again this should be used every fortnight and this recipe is good to brighten skin and reduce fine lines.
Additionally, Song Hye Kyo also mentioned another recipe of blending together a spoonful of honey, a spoonful of powdered milk and one raw egg white together. Use a cotton pad to apply the blend as a light layer on the skin. Rinse away after 20 minutes. According to her, this is great for dry skin if used every fortnight.
Beauty secret recipe 3: carrot flour mask for anti-aging
This DIY carrot flour mask really only requires three ingredients: carrot, flour and filtered water. The proportions of ingredients are 3 parts carrot, 2 parts flour and 1 part filtered water. Just grate the carrot finely, mixed it up with the flour and water. You can use oat flour or rice powder to replace the flour if you like.
Beauty secret recipe 4: milk for soft and smooth skin
Another of Song Hye Kyo's beauty secret is to use milk to wash her face as well as using milk as mask for facial. Kind of like Cleopatra who was well known to love milk for its beauty properties on her skin.
Beauty secret recipe 5: ice cubes for slimmer face
The lovely actress also uses ice cubes to massage into her skin, firming and tightening up her skin thus making her face seem smaller. I've read this trick before but I'm not so sure if ice is too good if used too frequently as it may cause broken capillaries for some skin types.
Beauty secret 6: vegetables, fruits and water for beauty inside out
Apart from these natural beauty recipes, Song Hye Kyo is also particular about her diet, staying away from food that is bad for her skin like chocolate, coke, black tea plus junk food. Report has it that the pretty actress eats lots of fruits, veggies and occassionally, eggs. She has said she likes eating pumpkin as it helps reduce swelling.
Besides clean food, Song Hye Kyo also consumes vitamin supplements to maintain skin moisture. In addition, she advocates drinking lots of water, beginning with two glasses first thing in the morning to stay hydrated.
Beauty secret 7: Skin treatments, face masks and exercising
At a recent press conference to promote the new drama, Song Hye Kyo also admitted to visiting dermatologists for skin treatments and she also uses face masks and packs to replenish her skin. I also recall reading that she believes exercising helps. Our lady is into yoga, pilate and even kick boxing.
Song Joong Ki (30 years old)
Being a guy, it's not surprising that Song Joong Ki has less elaborate skin care tips. We'll be so shock if he does. Report has it that Song Joong Ki gets his milky white skin from washing his face with milk before he goes to sleep every night. He also avoids heaters to prevent his skin from drying out. And he also exercises.
Additionally, he said on an entertainment program that it is more important to take good care of your body from the inside. This is why he eats an apple every morning.
When told that he has good skin even though he went to the army, Song Joong Ki's answer was, "The people who work the hardest for good skin are soldiers. Soldiers use three to four different kinds of products."
He continued, "I always wear sunscreen and every day, I use a mask or a pack."
Wow…ladies. A man who takes good care of his skin should be taken seriously. If you haven't be as diligent with yours, it's time to take a leaf out of Song Joong Ki's habits.
Anyway, since his looks are his assets, don't be surprised that he visits dermatologist or aesthetic doctors for extra maintainence. Afterall, our man needs to upkeep his image as the handsome oppa.
Where to watch DotS
If you've missed the drama and want to verify how gorgeous our two Songs look, check the drama up. It's available at various drama sites, including Dramanice, Dramacool, or Dailymotion. Both English and Chinese subtitles are available.
I began watching this drama for Song Hye Kyo but was so drawn in by the storyline, cute dialogues, great cinematography, and beautiful setting. The chemistry between Big Boss and Beauty (nicks of the two leads) is sizzling hot, not to mention Song Joong Ki is very convincing in his portrayal as an army captain. Even Song Hye Kyo said in her role, "Women fantasizes about men in uniform." *cough*
No wonder all the girls are swooned by him…I want my son to look like him when he grows up!
Okay, I digress. But you can probably tell that I'm so drawn in by the drama, I needed an outlet to dump. So if you're into this drama, or you love the Songs, come in and say something. We all need company till Wednesday, 10pm Korean time. Over.
Sources of info and pictures for this entry:
Asianfanatics
Soompi
Koreaboo
Kdramastars
Descendants of the Sun Facebook
* Also, check out my new post on 8 beauty tips from Descendants of the Sun.
Comments