6 reasons to shop for natural and organic beauty products at LoveLula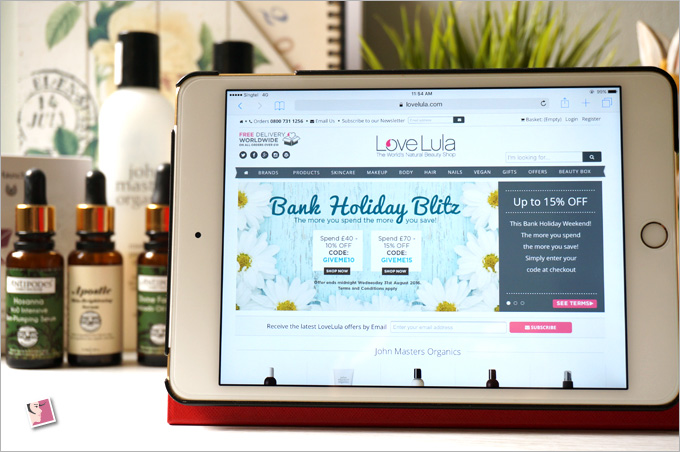 Remember LoveLula? The first online store specializing in natural and organic cosmetics that I'd featured here in 2007? Well, starting next month, you'll see me featuring products from them on a more regular basis.
You see, I'm now on board the LoveLula Accredited Blogger Program by special invitation. And as part of the program, I'll have the opportunity to try out products available from their store. #k8SjZc9Dxk0#k8SjZc9Dxk
If you're a long-time reader here, you might remember that I'd mentioned LoveLula a few times. It's one of the few natural and organic beauty online stores that I shop at from time to time. Can you understand my excitement to join their Accredited Blogger Program now?
Of course being on this program means I'll also review the products that I try on this blog. When I do, I'll be sure to indicate that review under the LoveLula Accredited Blogger Program just so you know.
I've also signed up as an affiliate member of the store. What this means is that every time you buy something through the link I promote, I will make some commission.
So this post is really to offer transparency so that you are all aware of my new collaboration. At the same time, I thought I'll also share 6 reasons why you want to consider shopping for natural and organic cosmetics at LoveLula.
1. Select from nearly 200 natural & organic brands
Love Lula is probably one of the earliest online setups specializing in natural and organic beauty products for hair, face and body.
I'd purchased products from them a couple of times because they carry a variety of brands with reasonable pricing.
Heard of AEOS, Barefoot Botanicals, JOIK, Laidbare, Little Butterfly London, Mallow + White, Mia & Dom, Oh! Organics, Ooh! – Oils of Heaven, Pretty Athletic, Priti NYC, PureChimp, Skin & Tonic, SoulTree? Neither have I.
Maybe you are more familiar with Antipodes, Balm Balm, Dr Hauschka, Giovanni, Hurraw, John Masters Organics, Kimberly Sayer, Living Nature, Madara, Rahua, REN, RMS Beauty, or Yes To?
Whether you are familiar with these brands or not, they are part of the different brands that you can pick at LoveLula today. We are not talking about 20 brands but nearly 200 different brands that you can select from.
Talk about being spoilt for choice!
2. Pick products that meet strict natural/organic standards
Perhaps some of you are thinking that 200 is a small number given the multitudinous natural and organic brands out in the market.
While there are indeed increasing more natural organic brands, LoveLula is rather selective about who they represent.
This is why brands that are offered by LoveLula are said to adhere to strict standards concerning the quality and provenance of their ingredients as set out by the certification bodies that regulate them.
Naturally, LoveLula avoids all harmful chemicals and toxins in the products sell. They also refuse to sell or stock any products tested on animals.
In addition, many of these brands are part of LoveLula's Real Beauty Manifesto that unites natural and organic beauty brands in support of a more holistic vision of honesty, integrity, community and sustainability.
This means you'll only buy real green beauty products and not products that pretend to be green.
3. Enjoy free international shipping
The real reason why I buy from LoveLula and not from some of the local or US online stores is that LoveLula offers free shipping internationally when purchases are over £10.
No need to agonize over additional shipping charges? I don't know about you but THIS is a major draw for me.
For the record, I've purchased items from the online store various times and my orders have always arrived in about a week without problems.
Hassle-free international shopping at no extra cost? Why not?
4. Redeem your purchases with loyalty points
On top of enjoying free shipping, you'll get to save as you shop through loyalty points earned when you shop at LoveLula. How?
Every every £1 spend earns you 1 point which you can accumulate and redeem against future purchases. Obviously, the more you accumulate, the more you can redeem.
Because of the program, organizing a spree might not be a bad idea…
5. Sample new brands with LoveLula Beauty Box
If you are adventurous and want to discover new natural and organic brands, you might want to check out the monthly LoveLula Box to try out the different products in a more cost-effective manner.
Subscription starts at £12.50 per month for those in UK and £52.50 for three months for international customers.
6. Enjoy frequent promotions
In addition, LoveLula runs special promotions on a frequent basis–like the current Bank Holiday Weekend Blitz that'll end on Aug 31.
Spend £40 and enjoy 10% off using promo code GIVEME10. If you spend £70, you can enjoy 15% off using promo code GIVEME15.
Go to LoveLula website for more details about their beauty box or the brands they carry. All the product descriptions come with a full listing of ingredients as well as customer reviews. You can also find out what's the best-selling product in any one category.
Who knows…with the weaker British pounds now, you might just enjoy some good deals.
So have fun exploring!
Comments