Did my new Estelle & Thild Cleansing Gel go rancid?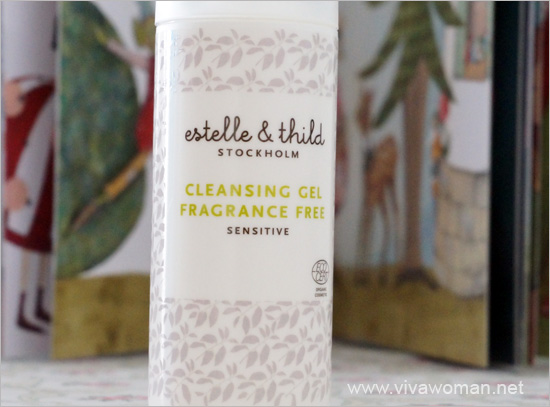 When I first used the Estelle a Thild Cleansing Gel for Sensitive Skin, I thought I'd bought an expired product. What's with that RANCID smell? I was really upset because I was looking forward to using the cleanser, having heard some nice things about it. Yet when I checked, I realized the product is well within the expiry date so my next thought was, Zalora, the store I got the product from, had somehow screwed up the storage. Oh what crap–that brand new cleanser is going down the drain!
But not quite convinced that the product has gone bad or rather not wanting to waste my purchase, I ran a check with Mei from natureLOVA, who used to carry products from Estelle & Thild. I was told that the product comes with a natural oil scent and is perhaps not rancid. She even offered to check for me if I can get the product to her. I didn't take up her offer because it was troublesome.
Anyway, I used the cleanser a few more times, each time trying to convince myself that the product wasn't rancid. Strangely, I also noticed the smell is only noticeable upon usage–it smelled all right when I sniffed at it though. But the cleanser contains sweet almond oil, which is known to go rancid very quickly. I still haven't reached a decision about the smell till now but I have definitely stopped using the product. Which is a pity because smell aside, I do like this gel cleanser.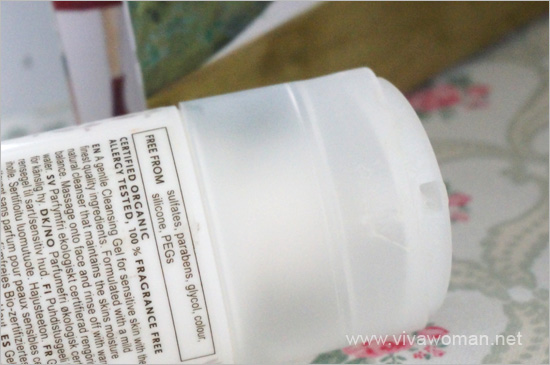 Estelle & Thild Fragrance Free Facial Cleansing Gel | 150ml, S$48
The Estelle & Thild Cleansing Gel 100% Fragrance Free formula is created for sensitive skin that cleanses skin effectively without drying out. It contains vanilla, and aloe vera to soothe and moisturize the skin. Certified by ECOCERT, majority of the ingredients are from natural origin while a lower percentage are from organic farming. Here's the full ingredient list:
INCI aqua, rosa damascena flower water*, centaurea cyanus flower water*, decyl glucoside, aloe barbadensis leaf extract*, vanilla planifolia fruit extract*, persea gratissima oil*, prunus amygdalus dulcis oil*, glycerin, xanthan gum, sodium benzoate, citric acid, potassium sorbate.
* Ingredient from Organic Farming.
Resembling a gel, the cleanser lathers up without too much foam. I use this product in my double cleanse routine, after a cream cleanser and it cleanses rather well, and as promised, does not dry out my skin. I've to say I really like it if not for the smell. Plus the clean packaging appeals to me.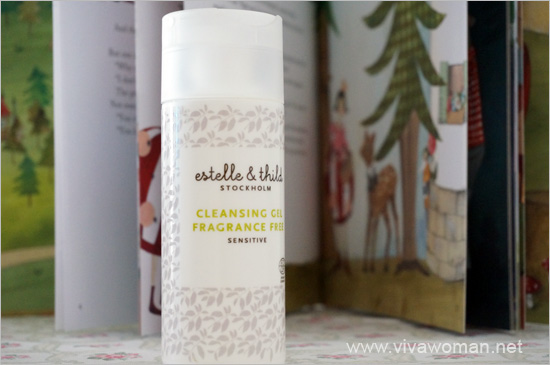 Pricey
I don't really have sensitive skin but I do have a sensitive nose. Whether the smell was natural from the ingredients or rancid, I don't like it and I can't recommend it. In addition, this cleanser is rather pricey at S$48 for 150ml and so my expectations were naturally upped. If anyone has used this cleanser before, do share your experience so that I have some basis for comparison.
About Estelle & Thild
Estelle & Thild formulates products with natural ingredients of highest quality with the help of dermatologists and toxicologists. The company does not mix too many plant extracts to lower the risk of irritability for those with sensitive skin. The ingredients they use are based on vitamin rich oils and plant extracts that aims to preserve the skin's natural balance, benefiting the skin and making it safe for people with sensitive skin. This company is certified organic by Ecocert, uses organic and natural ingredients that are free from parabens, mineral oils, sodium lauryl/laureth sulfate, propylene glycol, silicone, urea, DEA, TEA, synthetic emulsifiers, PEG and dyes. Their products are also not tested on animals and are environmentally certified Nordic productions that uses recyclable packaging.

Comments