Homemade natural sunscreen anyone?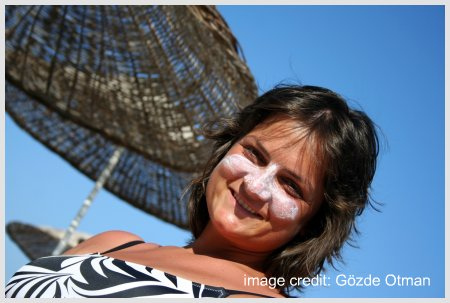 Sometime ago when I was reading up about sunscreens, I learnt that there are some folks who would rather make their own sunscreens.  I was both surprised and intrigued by the idea.  So when Leon started her new beauty forum on organic and natural skincare, I immediately raised this topic and this is the natural homemade sunscreen recipe that Leon shared with me:
3 tbsp. Grated Beeswax
3 Tbsp Shea Butter
1 Tbsp. Avocado Oil
1 Tbsp. Coconut Oil
1 Tbsp. Sesame Oil
1 tbsp. Canola Oil
3 tbsp. Aloe Vera Gel
3 tbsp. Lavender Hydrosol
1/2 tsp. borax powder
1 Vitamin E Gel Caplet

Take Beeswax, Shea Butter, Avocado Oil, Coconut Oil, Sesame Oil and Canola Oil and melt it in a double boiler. (Do not boil). Add Vitamin E Gel Caplet to the melted oil/butter. Now warm the Aloe Vera Gel, Lavender Hydrosol and borax powder in a separate pan until the powder is mixed well with the other 2 ingredients. Mix it with the melted oil and butter. Whisk properly until you get a creamy texture.Store it in an airtight jar and keep it refrigerated.

You can refrigerate it for up to a month if you have not used any preservative but if you use 5-6 drops of Grapefruit Seed Extract(Natural Preservative), it will last more than a year. You can take it out of the fridge 10-15 minutes before applying.
Besides vitamin E which fights free radicals and help to prevent skin damage from too much sun, there are a number of plant oil content in that recipe, some of which contain natural sunscreens according to what I've read at a holisitc resource and an environmental health resource. "Sesame oil resists 30 percent of UV rays, while coconut oil, peanut oil, olive oil, and cottonseed oil block out about 20 percent."
Leon told me she is using this homemade sunscreen and absolutely loves it because it contains no chemicals nor zinc oxide or titanium dioxide.  In fact, I realized through a keyword search that many people are into making their own homemade sunscreens.  One particular recipe I came across seems a lot simpler and to me, offer more protection because the main ingredients are zinc oxide or titanium oxide mixed with almond oil and beeswax.  However, all the mixing and heating certainly makes me think twice about making it on my own.
Well, I guess while I may prefer natural ingredients but I don't necessarily want to rely on something that is homemade for sun protection as I can't tell if I'll be getting sufficient broad spectrum protection from using it. 
But if you've tried using a homemade natural sunscreen, I'll certainly like to have your opinion.

Comments