Do facial blotters make your face oilier?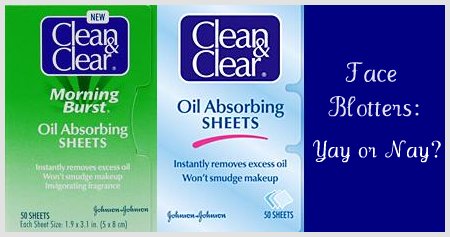 I was at Watsons the other day and realized that there are now so many brands of facial oil blotters! I haven't bought them for a long time and have lost track of the new products.
Help to keep away the shine
I know many women absolutely must have one of these in their cosmetic pouch. In fact, I used to buy the Clean & Clear Oil Absorbing Sheets but after using them for a few years, I just decided to stop one day. I just found that they're a waste of money and don't make much of a difference to help control my facial oil anywhere. Despite what some of them suggest, facial blotters merely keep away the shine, temporarily. I guess it was kind of fun to see the oily stains on the sheet but really, a tissue paper did about the same job for me. In fact, an ex male colleague suggested I use the kitchen paper towel in jest because it is a lot cheaper!
Do not use excessively
A funny thing I've heard is that using such blotters can contribute to more oil on your face. I don't think this is true because you're merely using these sheets to blot away excess oil, unless of course you're over using them and keeping your face too dry as a result. Because a dry face will produce even more oil to counter its extreme state of dryness. And for goodness sake, these are blotters; so don't rub your skin with them!
Avoid powdered facial blotters
Of course if you like using these facial oil blotters, by all means, continue because they do absorb facial oil and keep away excess shine. The only thing you want to take note is to avoid those powdered facial blotters because the layer of powder will just clog up your pores and potentially cause more skin problems later!
So do you think facial blotters are necessary? And if you like using facial blotters, what is your favorite brand?
Comments