Review: Muji unbleached facial cotton pads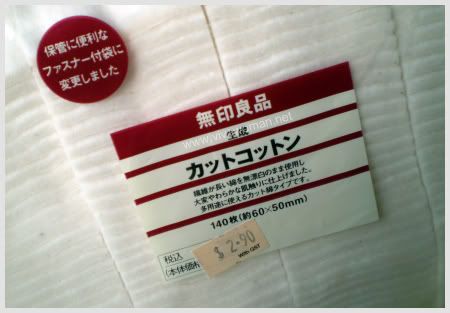 I have to rave about these unbleached facial cotton pads from Muji. I bought them because I remember a reader, fwy, had left a comment about them in my entry Are organic facial cotton better for our skin?
Super soft and absorbent
They have a fabulously soft texture and are very absorbent but don't dry up so quickly on me. Definitely way better than my Suzuran Attirer Facial Puffs and even The Body Shop Organically Grown Facial Cotton Rounds because my toner dries up far quicker on these two, leaving me with no choice but to pour out more toner.
Natural and hygenic
The big pack containing 140 pads only cost S$2.90 and the best part is that these are unbleached so definitely no traces of bleach residues on my skin when I use them! It comes in a zipper bag so it's hygenic too. The only problem is the sides of these pads are not stitched together and I saw a lot of tiny fibres in the bag and on my hands when I held up the cotton pads. However, when drenched in water or toner, I don't see any lint left on my skin. Neither do they shred easily just from wiping.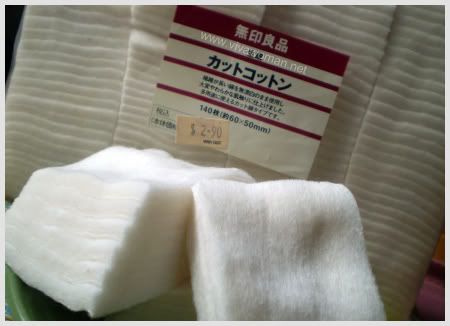 Very affordable
These facial cotton pads are non-organic but they certainly feel very gentle on my skin and they are not chlorine bleached. Plus they're really affordable and you can even get the 3-1 bag which cost S$5.90 or so. I'm definitely going back for more the next time!
Anyway, Muji is quite a cool store with a lot of cute stuff. I really like their PET bottles and jars. I was also checking out their cleansing oil for sensitive skin which comes without parabens and alcohol. Anyone tried it before?
Comments