Eat watermelon for a dewy complexion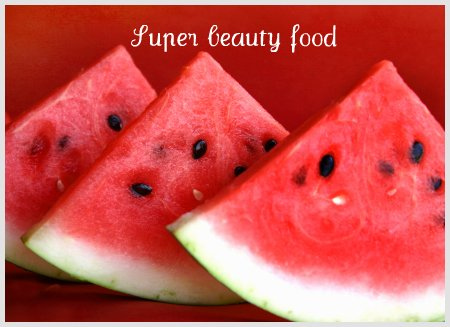 I've been eating quite a bit of watermelon these days, thanks to my husband who introduced the fruit into our daily diet. And I found out that watermelon is considered a super beauty food because it is nutritious and can combat free radicals with its high antioxidants as well as vitamins. The flesh contains vitamins A, B6 and C; the seeds contain selenium, essential fats, zinc and vitamin C, all of which help against free radical damage and aging.
Watermelon, especially the yellow-orange varieties, are loaded with a key compound citruline, an amino acid credited with helping skin's healing and regenerative processes. In addition, watermelon contains lycopene which is a carotenoid and pigment that gives fruits and vegetables their red color. As I mentioned in my entry on beauty food tomato, lycopene may pack twice the punch of the well-known antioxidant beta-carotene which is known to protect our skin against sun damage. And watermelon is said to contain more lycopene than tomatoes!
Studies have shown that a cup and a half of watermelon contains about 9 to 13 milligrams of lycopene. On average, watermelon has about 40 percent more lycopene than raw tomatoes. (source)
All in all, watermelon is a great beauty food. Its antioxidants help to regulate the balance of water and nutrients in cells which improve hydration in our skin.
So you may want to load up on your watermelon intake. A slice a day or the equivalent of its juice will give you vibrant, healthy youthful skin. Plus you don't need to worry about putting on weight just because the fruit is sweet because watermelon is fat-free!
Comments