Bisous Minerals Weightless Lasting Foundation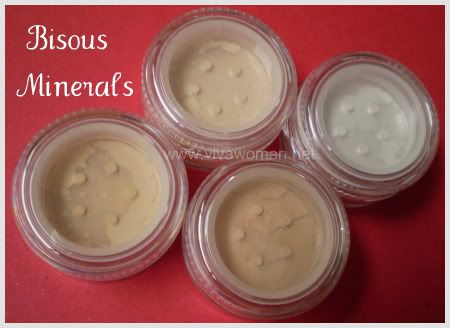 While I don't play with a lot of makeup, foundation powder is a beauty product I can't do without. Besides my quest for the perfect sunscreen, I'm also always looking out for the perfect foundation. With the introduction of mineral makeup, I thought my quest was over but since having a breakout, I think my confidence in using such makeup has been shaken. So these days, I'm very careful when it comes to using mineral makeup, especially those with a long ingredient list.
Simple ingredient list
In fact, when Anna Drut of Bisous Minerals contacted me to review their foundation, that was the first thing I asked her. And I agreed to test their products because their Bisous Minerals Weightless Lasting Foundation contain Mica, Titanium Dioxide, Zinc Oxide, Iron Oxides, Silica and Allantoin; ingredients which are not a problem for my skin. Allantoin is probably the least common ingredient but it is really just a natural active ingredient derived from roots & leaves of the comfrey plant to help protect and soothe the skin.
4-piece sample kit
These are what I received – a 4-piece sample kit consisting of three 1g sample containers of Weightless Lasting Foundation and one 1g sample container of Translucent Glow Finishing Veil.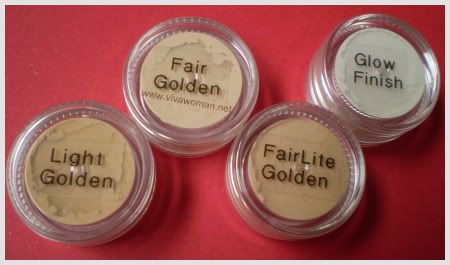 My evaluation criteria for mineral foundation
Having experimented with mineral makeup for awhile now, I have developed my own criteria for approving them.
1. The shade I see on their website matches my skin tone.
2. The foundation will not oxidize and turn darker.
3. My face will not look very oily after a day of wearing the foundation.
4. My face will not breakout after using the foundation.
And what do I have to say about Bisous Minerals after using them for two weeks? Well, I'm very happy using their mineral foundation because they meet the four criterias I've set.
Shades fit my skin tone perfectly
Although I had Anna helped me picked the shades for me, but two of them – Fair Golden and FairLite Golden were within my expectations and fit my skin tone pefectly. I haven't tried using Light Golden as the shade seems to be a tad dark for my fair skin.
Good lasting powder and no oxidization
The semi-matt foundation last a good day on my face without touch up and without changing color. No orangey tone, no oxidization. Neither did my face look exceedingly oily too – with or without the Glow Finish. In fact, my face look kind of matt throughout the day; something I like very much. And of course my face did not suffer any breakouts.
Summary
Overall, I find the Bisous Minerals Weightless Lasting Foundation to be of an excellent formulation that gives me a natural glow and even sheer coverage. However, the sheer coverage means I'll need to use some concealer for blemishes on my face. Anyway, this is within my expectation as I have yet to come across a mineral foundation that yields complete coverage like in the case of a compact foundation powder. I guess that's the compromise you have to accept if your objective is to achieve a natural look.
Sample pricing and shipping cost
The 4-piece sample kit cost US$10 now and comes with a free travel mini kabuki brush. International shipping is available and cost US$5.25 if your order is below US$25. And if you're in the US, you can benefit from free shipping if your order is US$75 and above. In addition, you may like to know that Bisous Minerals also offers custom blend for the custom shade you're looking for – without any extra charge at all.
Comments